 21-year-old Hyeon Chung caused perhaps the biggest shock of the Australian Open so far on Monday, with the Korean beating 14th seed and six-time champion Novak Djokovic in straight sets to reach his first ever Grand Slam quarterfinal.
Chung defeated fourth seed Alexander Zverev in the third round and had impressed in that match, though there was little doubt that Djokovic was the significant favorite to reach the last eight. However, despite losing notable leads in all three sets, the Korean remained firm and edged past the erratic Serbian 7-6(4), 7-5, 7-6(3) in three hours and 21 minutes of absorbing tennis.
Chung makes history with career-best win
Though Zverev is ranked higher than Djokovic, there is no doubt that this is a bigger and more significant win for Chung, with the ATP NextGen Finals champion becoming the first Korean in history to reach a Grand Slam quarterfinal.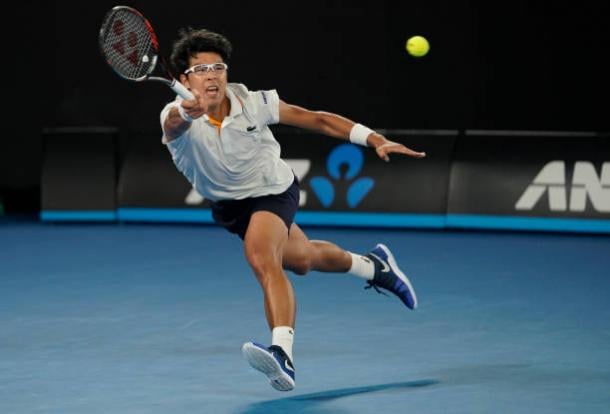 Chung got off to a flying start in the first set, breezing to a 4-0 lead as he dismantled a ragged and erratic Djokovic. The Serbian, however, was not out of it and broke once to apply pressure on Chung, which seemingly showed as he failed to serve out the first set at 5-4. The Korean managed to remain firm after that ever, serving to stay in the set comfortably two games later and took advantage from some shaky play by the 14th seed to put himself a set to the good.
Just as in the first set, Djokovic got off to a dangerously slow start, and Chung was able to take advantage as she stormed to a 4-1 lead, seemingly putting him in complete control of the encounter. However, Djokovic managed to take the next three games and even things up, though the Korean was undeterred by the former world number one's comeback. Djokovic safely served to stay in the first set at 4-5, though handed Chung a set point at 5-6, and the Korean did not miss his chance as he put himself a set away from the last eight.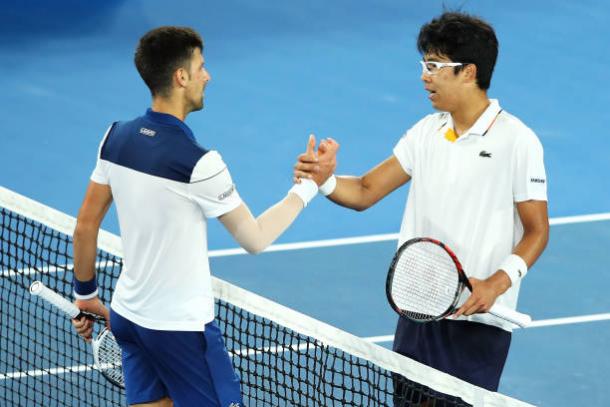 Djokovic needed a strong start to the third set and got that as he broke straight away, though he struggled to remain firm and found himself 3-1 down. Just three games away from victory, Chung faltered slightly just as he had in the previous two sets as he handed Djokovic the break back. The Korean continued to apply pressure, forcing Djokovic to save a break point at 4-3 and looked comfortable throughout the rest of the set. He took control of the eventual tiebreak early on and converted his first match point to seal it.
Though many expected a breakthrough from Chung at some point this season, very few would have expected it come so early and in such style. The Korean now has a huge opportunity to make a first Grand Slam semifinal as well, with the unseeded Tennys Sandgren standing in his way on Wednesday.