 After almost two weeks of action, the Australian Open finals are here, and the women's singles tournament will conclude with an absolutely mouthwatering clash on Saturday, with top seed and world number one Simona Halep taking on second seed and former world number one Caroline Wozniacki for the title.
Any Grand Slam final is incredibly important and has a lot at stake, though this could be a career-defining match for both women. It is the third Grand Slam final for both, with neither having won a slam title before; Halep lost in French Open finals in 2014 and 2017, whilst Wozniacki lost in US Open finals in 2009 and 2014. A first Grand Slam title, however, is not the only thing at stake- the world number one ranking is too, with the winner set to hold the top spot from next week.
Head-to-Head
This will be the seventh meeting between the two, though will be the first time they have played in a Grand Slam tournament, and also the first time they have faced in a tournament final. Wozniacki leads the head-to-head 4-2.
The Dane won their first meeting comfortably six years ago in Dubai, conceding just five games to the Romanian; this, however, came before Halep began her surge up the ranking and became one of the best in the world. It was the current world number one who was the victor the next time they played in 2013 in New Haven, winning in straight sets, whilst she came from a set down to prevail in Dubai in 2015.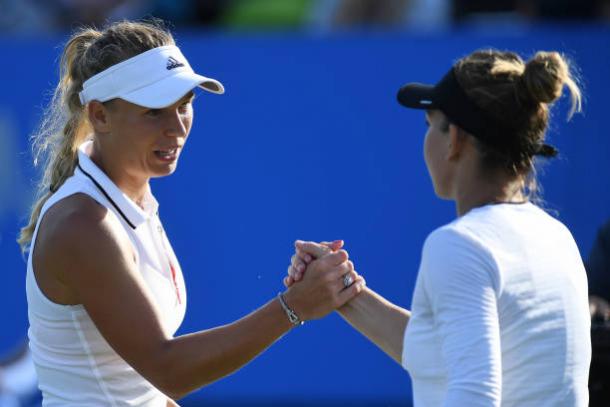 However, it is the second seed who has won every meeting since then. A few months following their Dubai meeting, Wozniacki edged past Halep in three sets on the clay in Stuttgart, before coming from a set and a double break down to prevail on the grass in Eastbourne last season. They last faced at the WTA Finals just a few months ago, where the Dane conceded just two games in a dominant victory; will her recent success over Halep help Wozniacki, or will it encourage the Romanian to really take it to the Dane?
Match points saved by both on their way to final showdown
Halep and Wozniacki have both shown some very impressive tennis on their way to setting up this final meeting, but it also has not been easy for either at times, with both saving match points throughout the tournament; this means that the victor will follow the likes of Serena Williams, Li Na, and Angelique Kerber in winning the title here despite facing match point.
What Halep has done to make the final has been truly remarkable, with the Romanian saving match points to secure victories in what have arguably been the two best matches of the tournament. The Romanian first saved match points in the third round, where she saved three before prevailing 15-13 in the final set against Lauren Davis, before saving two more in her epic semifinal clash against Kerber on Thursday.
Meanwhile, Wozniacki was forced to save match points back in the second round. The Dane found herself 5-1, 40-15 down in the third set of her clash against young Croatian Jana Fett, though fought back to win the final six games and progress through the tournament; there can be no doubt that Halep and Wozniacki have well and truly earned their place in the final.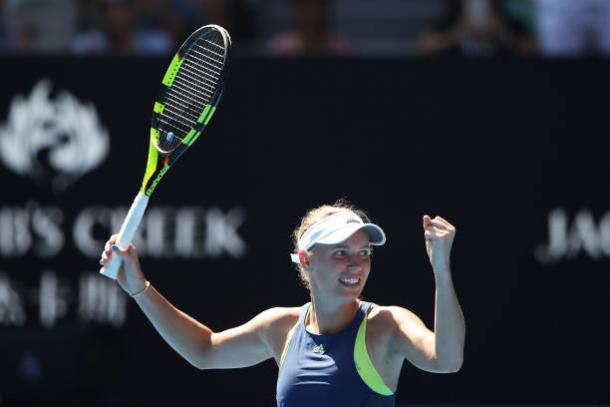 Though she had tough third round and semifinal matches, Halep has impressed aside from them. She survived an injury scare through her first two matches against Destanee Aiava and Eugenie Bouchard, winning both matches in straight sets, and also beat Naomi Osaka and sixth seed Karolina Pliskova in straight sets.
Wozniacki dropped a set in her quarterfinal clash against Carla Suarez Navarro, though has been very impressive outside of that. Comfortable wins over the likes of Mihaela Buzarnescu, 30th seed Kiki Bertens, and 19th seed Magdalena Rybarikova also helped her make the last eight, whilst she survived a late wobble against Elise Mertens to win her semifinal in straight sets.
Analysis
An interesting factor about this matchup is that there is no big difference in the way the two play. Both Halep and Wozniacki are generally more defensive players, who are able to chase down the vast majority of balls to eventually force their opponent into making errors, or work themselves into the rally so they can turn defense into attack and start to dictate the point.
We are likely going to see a lot of lengthy, drawn-out rallies in this match, but it will be interesting to see which of the two is able to become the aggressor quicker. Both women play at their best when they are willing to be proactive and be aggressive, though of the two it has been Halep who has been more aggressive in Melbourne; she hit a staggering 50 winners in her semifinal clash.
If the Romanian is striking the ball well, she is more than capable of breaking down the Dane, though she must be careful to not make too many errors and hand Wozniacki an abundance of cheap points; this is exactly what the world number two usually thrives off.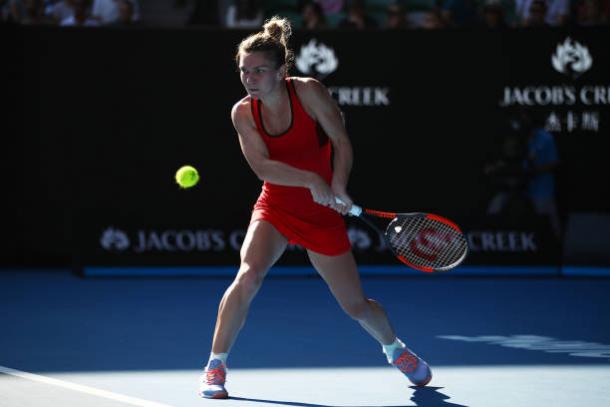 Another important factor for this match could be the amount of time each woman has spent on court. Though things have not always been simple for Wozniacki in Melbourne, she has had, in general, shorter matches than Halep. This may be an advantage in terms of how the two play, with the Dane's legs, perhaps being more fresher and able to chase down more balls as the match wears on.
However, on the flip side of that, Halep is well and truly battle-hardened after two incredibly tough and high-quality wins; this will undoubtedly help her confidence, and may make her mentally stronger than she has been previously against big matches and high-quality opponents, though both women will certainly be up for a scrap here- if that is how the match pans out.
Furthermore, the pressure on both women to win a slam may also be a factor, as well as other issues surrounding it. Wozniacki did win the WTA Finals last year, but has not reached a Grand Slam final in over three years; in contrast, Halep reached one just last year, though lost despite winning the first set and holding break leads in the second and third sets. Could the grandness of the occasion play an impact on either woman, especially if they are in a winning position?
Assessment
This is arguably one of the most significant Grand Slam finals in years, and it is also the first time since the 2015 Australian Open that a women's Grand Slam final will be contested by the top two seeds. Both women have worked incredibly hard to reach the final and have played some extremely impressive tennis, meaning it is very hard to call who will prevail.
Halep is certainly in with a big shout, and has certainly grown mentally over the past twelve months, though it seems to me that Wozniacki will be the fresher of the two, and, having won their past three meetings, could take this if she is aggressive to win a long-overdue slam title.
Prediction: Caroline Wozniacki in three sets
Further Predictions from VAVEL USA writers
Noel Alberto: Halep in three sets
Craig Vickers: Wozniacki in straight sets
Pathik Gamana: Wozniacki in three sets
Don Han: Wozniacki in straight sets
Max Gao: Wozniacki in straight sets
Haley Hunt: Wozniacki in three sets
Liliana Martinez: Wozniacki in three sets