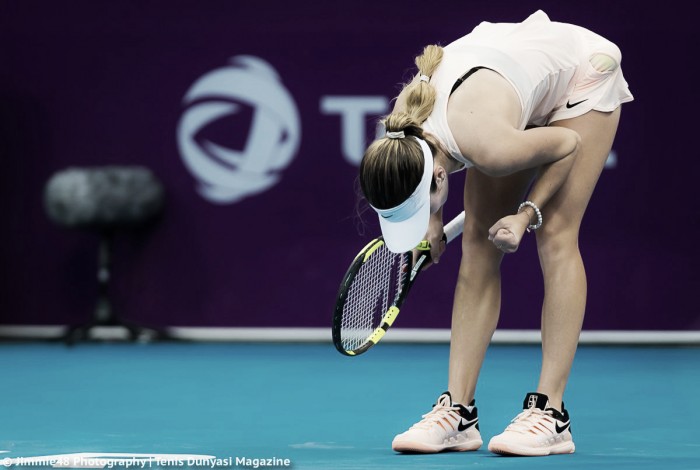 Youngster Catherine Bellis sealed the biggest victory of her career at the 2018 Qatar Total Open as her amazing and impressive week continued with another big-name being her casualty. Bellis upset a poor-performing Karolina Pliskova, the world number four who was affected by an illness, though the American was still fairly solid to seal her place in the quarterfinals.
Just back in January, Bellis was thrashed 1-6, 1-6 by a firing Pliskova in Brisbane and she managed to totally reverse the result here in Doha, having beaten the higher-ranked Daria Kasatkina and Madison Keys earlier in the week. The youngster will now face world number two Simona Halep, looking to cause yet another huge upset.
Bellis steals the tight first set
The American could not have wished for a better start to the match after Pliskova gifted her a service break with several unusual unforced errors. Many would ponder whether the Czech is the defending champion here, as the levels of the tournaments in Doha and Dubai are alternating every year. Hence, Pliskova is technically defending her title points next week in Dubai. Furthermore, she came into the tournament with stomach flu and was visibly unwell during several changeovers, thus affecting her play.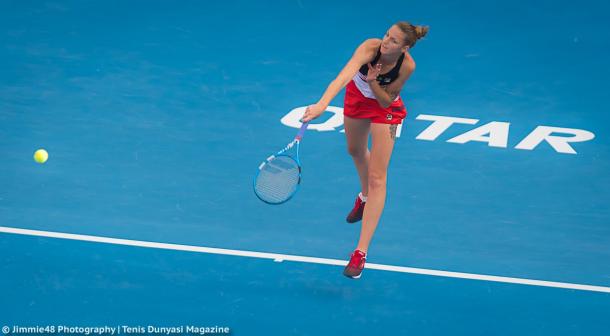 Nonetheless, it was still impressive from Bellis, who remained solid during the crucial moments. Weirdly, three consecutive breaks started the match before the underdog finally had the first hold, but not without being in trouble. Fending off multiple break points with some spirited play, Bellis held on for a commanding 3-1 lead before Pliskova bounced back to rattle off three straight games with her clinical aggression.
Inconsistent serving from both players meant that four consecutive breaks followed once more, and the set was soon brought into a tiebreak to decide its winner. Critical errors in the closing stages ultimately saw Pliskova crumbling at the sight of pressure, allowing Bellis to shockingly take the first set 7-6 after an hour of play.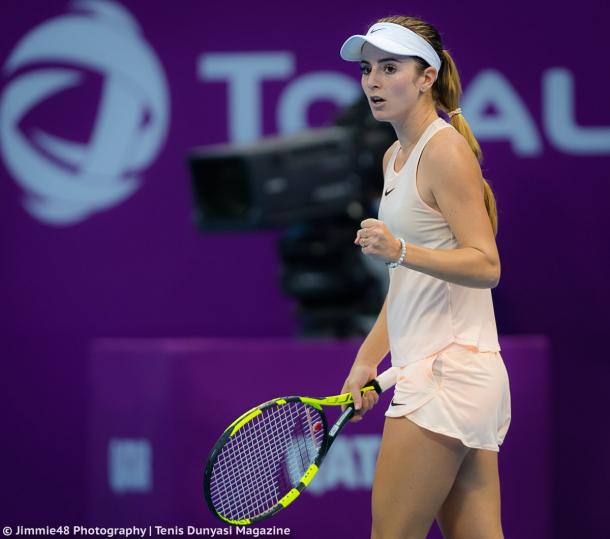 Bellis seals the deal
Things were less complicated in the second set with the intensity visibly dropping from both players. Five consecutive holds saw no chances surfacing, but the sixth game was an epic one. A game which consisted of 16 points saw Pliskova barely hanging on, saving four break points before crumbling on the fifth as she allowed Bellis to take the initiative, firing a forehand winner to grab the break after multiple tries.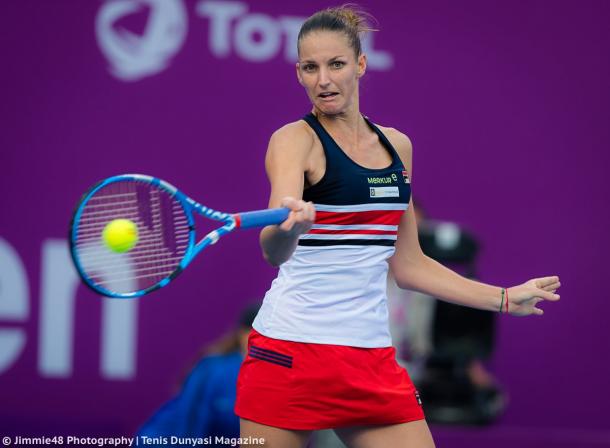 Consolidating the break for a formidable 5-2 lead, the win looked highly-plausible for the young American with Pliskova starting to struggle with her game. Despite showing some tough fight, it still was not enough to fend off a spirited Bellis as the world number 48 sealed her first-ever win over a top-five player in her career after an hour and 36 minutes of play.
Match Statistics: The Pliskova machine goes misfiring
Astonishingly, Pliskova hit an incredible 53 unforced errors throughout the 96-minute encounter, averaging one every two minutes. Blasting just 30 winners, the Czech also had eight double-faults and her aggressive game was undermining today. Nonetheless, putting up such a tough fight despite being ill was a good sign for Pliskova, who is yet to reach a final in 2018.
Whereas, Bellis played a relatively good match despite throwing in 26 errors. 17 winners proved pivotal at crucial moments, but she was still counterpunching well and forced errors from Pliskova, who grew increasingly frustrated as the match progressed.
(Special thanks to Jimmie48 Tennis Photography for all his photos inside this article. For more photos of his, please head over to http://www.j48tennis.net/)​