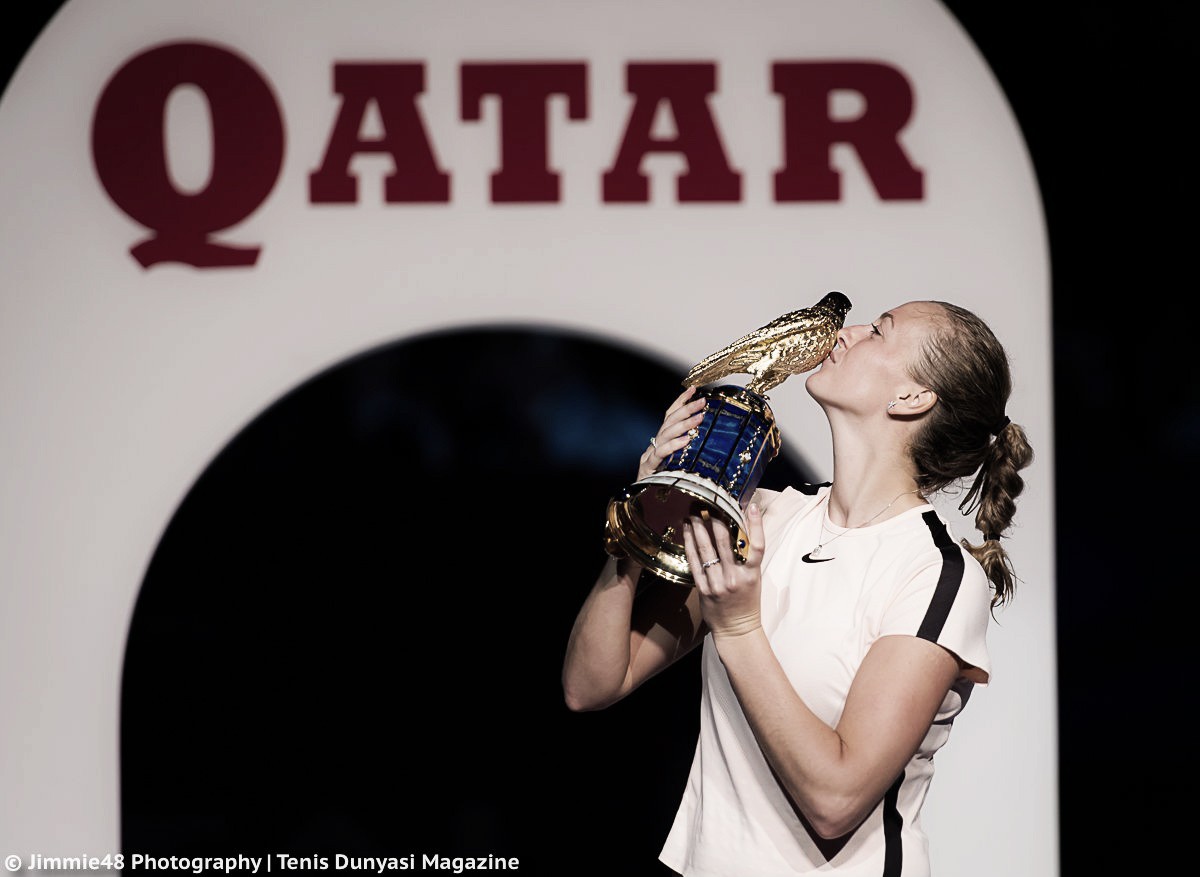 Petra Kvitova sealed an emotional return to the top-10 after an impressive week at the 2018 Qatar Total Open, extending her unbelievable winning streak to 13 straight matches while claiming three extraordinary wins over top-five players within just five days. It was a high-quality final in Doha with world number four Garbiñe Muguruza putting in a tough fight and never seemed to let loose throughout the encounter, making it memorable for all the fans who witnessed it live.
It was a confidence-boosting tournament for the Spaniard who gathered just five wins all-year, but this run will push her into the leading positions on the Porsche Race to Singapore leaderboard rankings. Both players are still slated to participate in the Dubai Duty Free Tennis Championships, though their withdrawals would not come as a surprise as Muguruza seemed to have injured her knee while Kvitova has been playing for three consecutive weeks.
Muguruza rolls through one-sided first set
It was a pretty solid start to the match from Muguruza, who was finding her range and remained solid during the early stages, not letting the nerves bother her. However, Kvitova's play was completely disastrous with countless unforced errors leaking off her game. Four consecutive mistakes from the Czech saw her handing the first break to the Spaniard, who powered to a commanding 3-0 lead within a blink of an eye.
Things were all going wrong for Kvitova, who seemed to have nothing left in the tank after surviving a marathon against world number one Caroline Wozniacki in the previous night. Whereas, Muguruza had a day off after her scheduled opponent, Simona Halep, had to withdraw due to a foot injury which lingered since January.
An improbable bagel victory for Muguruza seemed all possible after her solid game earned her a formidable 5-0 lead with nothing to lose. However, a gush of adrenaline saw Kvitova finally gaining the rhythm in her game, rattling off three consecutive games to get onto the scoreboard. However, it was just too late to produce the comeback as Muguruza regrouped well, serving out the set to love on the second occasion.
Kvitova roars back into contention
After comfortable service holds for both players to start the match, it was once again Kvitova who found herself in deep trouble. Fantastic variety from the Czech saved her from the brink, and Muguruza would rue her missed chances as the momentum started to shift grounds. Breezing through her own service games, Muguruza earned yet another break point, but was wasteful on her opportunities.
That backfired immediately as the break for Kvitova, which felt incoming, finally came with a flawless backhand winner which was perfectly hit into the corner. One word which could represent Kvitova is: resilience. Coming back from the career-threatening injury and making her grand return to the top-10 14 months later, Kvitova has never given up during the worst times and her fight was also reflected during the match.
Saving her fourth break point of the set, she narrowly held onto her lead while Muguruza continued to dig for chances with some aggressive play, though she was unable to overhit her opponent.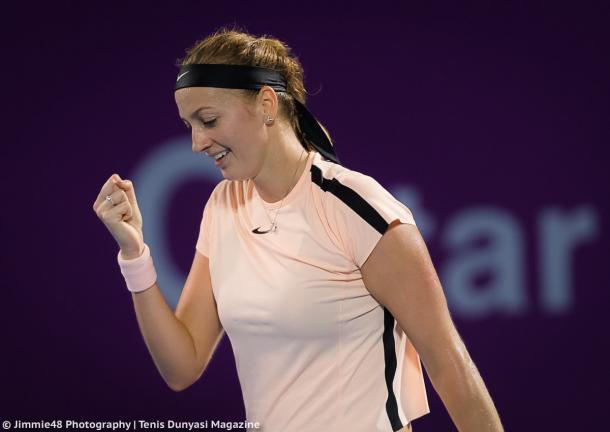 A load roar came after the Spaniard sent a forehand wide, and Kvitova ultimately sealed the second set with the same scoreline as the first, displaying a much-better performance as compared to the earlier stages, hitting 16 winners and 16 unforced errors.
Kvitova narrowly edges through
Nerves were certainly getting to Muguruza, especially after dropping the second set. Errors were flying everywhere but merciless backhands were enough to help her escape from trouble, grabbing the tough yet important hold in the first game of the deciding set. Another tricky game followed for Kvitova, and this time she fired bullet-line winners to fend off another two break points, which proved pivotal in deciding the match outcome.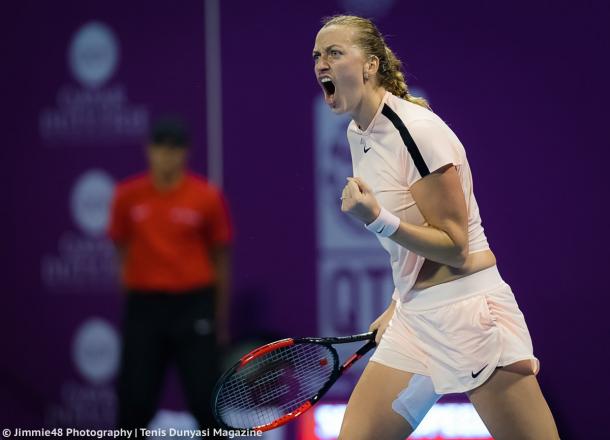 The service hold propelled Kvitova to grabbing the first break of the decider immediately, though Muguruza had to unfortunately call for a medical time-out after injuring her knee during a rally. Nonetheless, this still did not affect the Czech's spirit, saving her seventh consecutive break point with a forehand winner en route to consolidating the break.
Even though hampered by her problematic knee, Muguruza's fight did not fade away, and instead grew stronger as she prevented Kvitova from running away with the title, putting in some fight to remain in contention. However, Kvitova was simply flawless on serve, eventually sealing the huge victory after Muguruza sent a drive volley straight into the net, winning the 22nd title of her glorified career.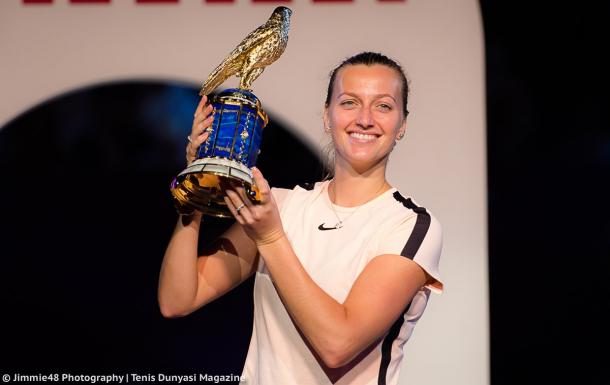 Match Statistics: Kvitova rebounds from disappointing first set
The first set was horrendous from Kvitova, who hit just four winners alongside a scary amount of 15 unforced errors together with an additional four double-faults. Muguruza grew increasingly erratic towards the end of the match, finishing with a high amount of 31 errors accompanied by just 21 minutes. The aggressor in this match-up was relatively clear, with Kvitova blasting 33 winners and six more errors.
Perhaps, the most important statistic in this high-quality affair was the break point conversion rate. Kvitova converted on three of her opportunities while Muguruza missed all seven break points in the last sets. Despite the loss, the Spaniard will now rise to the third spot while Kvitova returns to number 10. Interestingly, Kvitova is unseeded at next week's tournament in Dubai.
(Special thanks to Jimmie48 Tennis Photography for all his photos inside this article. For more photos of his, please head over to http://www.j48tennis.net/)