 After winning the US Open, American Sloane Stephens hit a brick wall. She just experienced the highest point of her career just after an injury, following up her semifinal runs in Canada and Cincinnati with her first major title. Garbiñe Muguruza experienced that same wall after winning the 2016 French Open title, struggling to find results.
Angelique Kerber was a two-time Grand Slam champion winner in 2016 but didn't hit her wall until the following year. Jelena Ostapenko is eight months removed from winning her maiden Grand Slam title at the French Open and just like Kerber, is struggling in her first full season after winning that first title.
Powering Her Way To A Title
Heading into last year's French Open, Ostapenko was certainly a name that people knew but was not the Latvian, people had in mind when it came to a dark horse for the Roland Garros title. Anastasija Sevastova was the Latvian many people were tipping to potentially go deep in the tournament.
Sevastova made the semifinals at the Mutua Madrid Open and had a fairly nice draw with American Madison Keys as her third round opponent before a potential clash with pre-tournament favorite Elina Svitolina. Keys was downed by qualifier Petra Martic who then knocked out Sevastova as well.
Ostapenko was a former junior Wimbledon champion so many were favoring her to do well on the grass, however, she was slowly going about her business, coming from behind to defeat Louisa Chirico and Samantha Stosur to get to the final eight of the tournament.
Heading into the quarterfinal against Caroline Wozniacki, Ostapenko was slightly favored to win this match especially against the Dane who has never fared well on the red Parisian clay before. Being a set down was nothing new to Ostapenko, powering her way to the semifinals where she went a set up before going the distance once again with Timea Bacsinszky.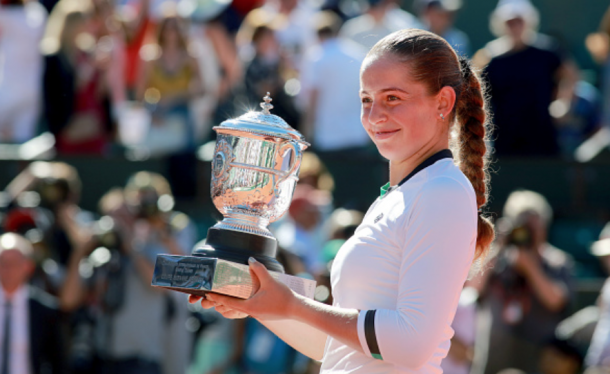 Down a set and 0-3 in the final to Simona Halep, the Latvian crawled her way back, saving break points from what could have been an insurmountable set and double break deficit. She forced a deciding set but once again found herself on the trailing end of the scoreline down 1-3 before a fortuitous net cord gave her the break back.
Swinging freely as ever, Ostapenko pounded away winners like it was nobody's business, painting the lines and corners with her tennis shots in Paris like many other French artists have done before, except with a brush. Playing from behind was no problem, it seemed like that she felt more at ease when the scoreboard wasn't in her favor until the end of the match where she captured the title.
Building On Her Success
After the French Open title, many people had on their minds, "What's next?" for the 20-year-old. The likes of Garbiñe Muguruza and Petra Kvitova struggled to capture the magic in their first runs after winning a Grand Slam title, while Kerber continued to play at high levels for the most of her maiden Slam season.
She went on to make her second career Grand Slam quarterfinal at Wimbledon, losing to eventual finalist Venus Williams and later in the summer, cracked the top-ten for the first time in her career. After a slight dip in her form during the North American hard court swing, she picked it right back up in Asia.
She won her second career title in Seoul at the Korea Open and made two solid runs to the semifinals in Wuhan and Beijing. She picked up one win in Singapore at the WTA Finals but was not enough to see her out of the round-robin format.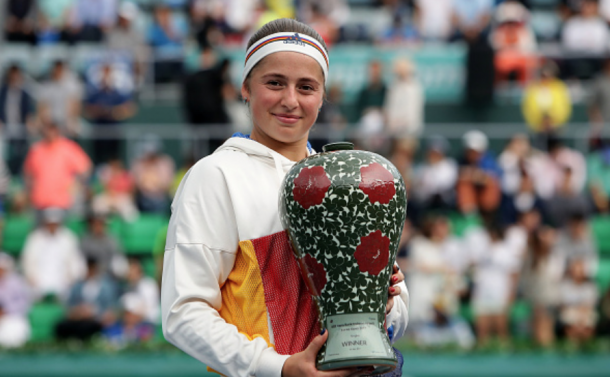 2018 Struggles
Like it was mentioned earlier, Angelique Kerber played all of 2016 at such high levels, with her lowest level final she reached being a Premier event. Bar the French Open, she reached the final of the five biggest events of the year (Australian Open, Wimbledon, Olympics, US Open, and the WTA Finals).
After reaching the mountain top though, 2017 was like an avalanche for Kerber. The German could not handle the pressure and just looked mentally lost out on court a lot of the times. She fell out of the top-20 for the first time in five years but so far has had a resurgent 2018.
The long, arduous season is not even fully two months in, but things aren't looking right so far for Ostapenko. Even when it looks likes she's hitting her opponent off the court, it wasn't the case as her opponent would just find ways to get balls back into play.
We look at her all-Baltic showdown at the Australian Open against Annett Kontaveit. The Estonian would turn points around with either her own powerful groundstrokes or some erratic errors from the Latvian. Yes, Ostapenko is prone to hitting a lot of errors considering how she plays but many of these came at inopportune times. Kontaveit ousted her Baltic counterpart out of Melbourne, and the signs of a "sophomore slump" were truly coming to fruition.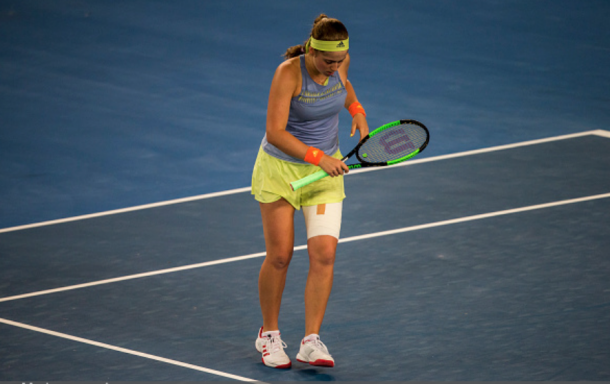 It is some going that so far in two months, the Australian Open is Ostapenko's best result by reaching the third round. First round losses in Shenzhen and Sydney preceded her third round showing in Melbourne. After Melbourne, she lost to eventual St. Petersburg champion Petra Kvitova in the second round but her "Desert Swing" results are quite worrisome, losing to Mihaela Buznarescu and Elena Vesnina in her first match.
At age 29, Buznarescu is playing the best tennis of her life over the past six months and fully took advantage of a floundering Ostapenko, and Vesnina did the same. Since winning Indian Wells, the Russian has not done anything of note, in the singles game at least, failing to get many notable results along the way. The Russian's ability to get balls back into play proved a nuisance for the Latvian in the match as Ostapenko too-oft forced the issue which led to her downfall.
Next for the French Open champion is Indian Wells and Miami before heading to Europe for the clay court season. Her biggest point haul to defend before the French Open is a Premier final in Charleston at the Volvo Car Open. It may not seem like much but earning points before the French will be imperative for the defending Roland Garros champion, or it could be a long, fall down after Paris. ​