 Rafael Nadal has officially withdrawn from the Abierto Mexicano Telcel in Acapulco. The world number two was set to open his tournament against countryman Feliciano Lopez.
It has been over a month since we have seen Nadal play. During his quarterfinal match against Marin Cilic at the Australian Open, Nadal injured his iliopsoas (right inner hip muscle). The injury forced the Spaniard to retire in that match against the eventual finalist in the fifth set.
Nadal Speaks
Nadal called an urgent press conference at the tournament to let everyone know of his status.
"I had done all the right steps to get well prepared for the tournament, which was my goal and my hope. Unfortunately, yesterday in the last training session before I made my debut, I noticed a puncture in the same area where I had the problem in Australia."
Due to his withdrawal, Nadal will be unable to defend 300 points after making the final last year, further strengthening Roger Federer's lead as world number one. Nadal lost the final to Sam Querrey last year.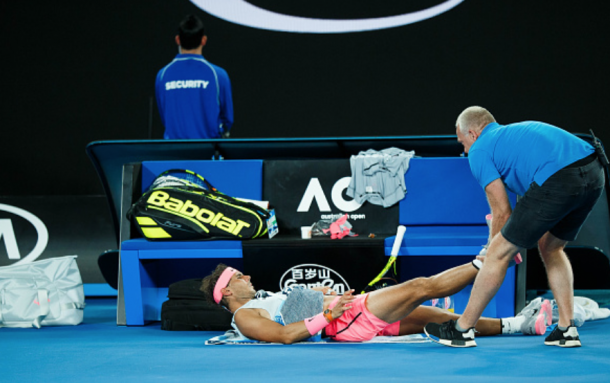 Sunshine Double In Doubt
Next up for Nadal is the Sunshine Double with the BNP Paribas Open in Indian Wells and the Miami Open in Miami. The world number two will remain in Acapulco to see the extent of his injury. The BNP Paribas Open begins next week where Nadal is defending fourth round points, losing to eventual champion Roger Federer.
Nadal made the final in Miami, also losing out to Federer. Should Nadal still be hurt heading into Indian Wells, he will likely pull a plug on the Sunshine Double all together with the clay season coming up where Nadal would like to play a full schedule with Monte Carlo, Barcelona, Madrid, Rome, and then the French Open.