 A new name could be seen inside the Top 20 of the rankings on Monday — Daria Kasatkina will crack the elite batch for the first time in her career after her excellent showing at the 2018 Dubai Duty Free Tennis Championships. This achievement is surely an affirmation of all her hard work put into the game and will look to continue her rise in the rankings throughout the years to come in her relatively young career.
Terrific week reflects improvement in the mental game
Earlier in Kasatkina's career, she was renowned for losing all the close matches, especially against the top-ranked players. All these tough losses were attributed to her frail mentality, considering she was just a teenager then. Reaching the third-round on her first attempt at all Grand Slams, which was considered a huge feat considering the tight competition, Kasatkina was tipped to spearhead the next generation.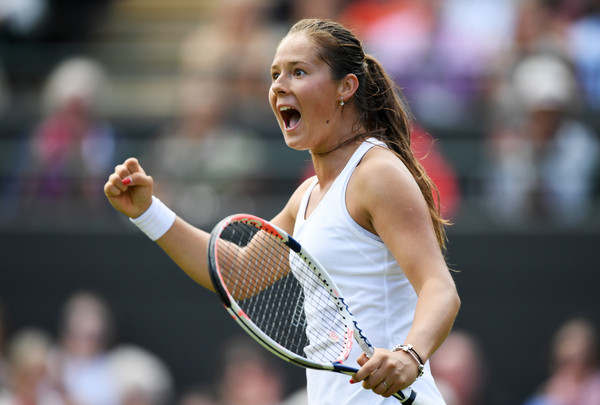 However, heartbreaking losses often prevented Kasatkina from making a bigger breakthrough in her career. She wasted three match points against world number 10 Roberta Vinci in the second round of the 2016 Qatar Total Open before wasting another opportunity to close out a huge victory over the in-form and ultimate champion Sloane Stephens at the Volvo Car Open.
Nerves played a pivotal role in Kasatkina's failure to step up to the occasion, despite having the talent to do so. Facing the pressure, the Russian often crumbled during the crucial moments especially after falling 8-10 in the final set of third-round matches against both Kiki Bertens and Venus Williams at two consecutive Grand Slams.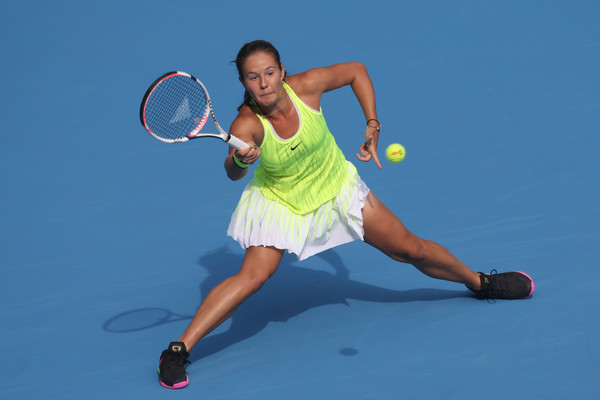 Kasatkina saw the finishing line against Karolina Pliskova at the 2016 China Open, and against Garbine Muguruza at the 2017 Brisbane International, but another unfortunate sight saw her heavy arms, bounded by the tight pressure, produce uncharacteristic errors on match points. "It was about my decisions in the important moments. After the match, I was going to Vlado, to my coach, I say, I know everything. You don't tell me nothing. I know all my mistakes. We don't talk about this match."
The changing point of her career finally came at the 2017 Apia International Sydney, where she rebounded perfectly from her disappointing loss to Muguruza the week before. Amazingly, Kasatkina easily ousted reigning world number one Angelique Kerber in straight sets for the biggest win of her career, and she was certainly delighted with the victory. "I was three matches from match point against Top 10 players, and today I beat No.1 in the world," the pressure was finally gone for the Russian.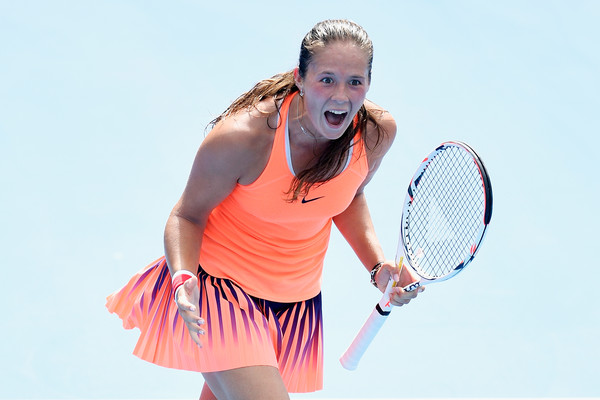 "For me, it was important. This match was very important for me." Definitely, with the benefit of hindsight, this win was extremely crucial in Kasatkina's journey to the top. But not without suffering from more heartbreaks, though. A four-match losing streak soon ensued but a maiden WTA title at the Volvo Car Open followed.
A scary-looking ankle injury kept her out of the game for a lengthy period of time, and she missed the golden opportunity to break the duck against Simona Halep in the third round of Roland Garros, losing the second set from 5-3 up and wasting two set points.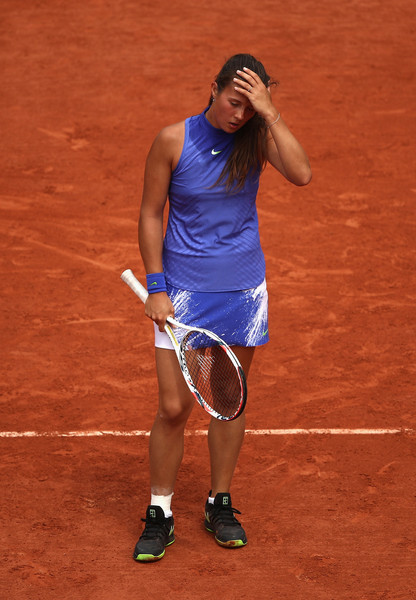 Nonetheless, the belief to succeed finally came back with a terrific win over Jelena Ostapenko at the US Open, which finally sent her into the second week of a Major for the first time, and a 6-2, 6-1 thrashing of Simona Halep at the Wuhan Open.
Although being inconsistent at times, Kasatkina's career reached new heights when she defeated reigning number one player in the world and Australian Open champion Caroline Wozniacki in front of her home crowd at the recent St. Petersburg Ladies' Trophy. That was just the beginning of a bright 2018 for Kasatkina, though.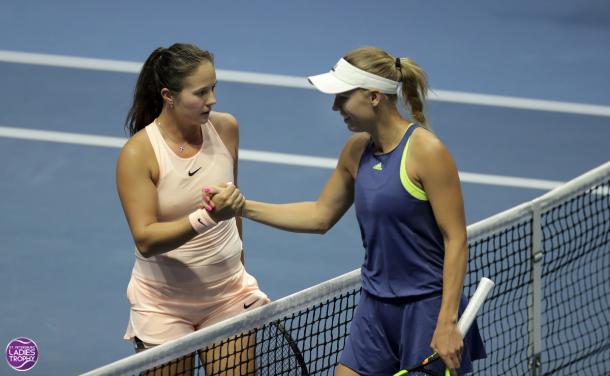 Dubai dazzles for Daria
Known as the city of gold, Kasatkina brought about some nice memories in Dubai. Receiving the toughest draw possible, the youngster first got past the talented Agnieszka Radwanska in her opening match before she stunned Johanna Konta (whom she had never beaten) in three thrilling sets, saving two match points. It was just the second time in history that Kasatkina came back from being one point away from defeat to triumph in WTA events.
The improved mentality proved the difference here. "It's tough to explain because when you are playing, you don't really feel that you have so much pressure on your shoulders. Like, you don't follow the score that much. It's a match point, but you feel like it's just a regular point. That's why I was pretty calm. I knew that my chance will come." From making poor decisions at the critical moments, Kasatkina's mentality has transformed into a new self, not letting the score affect her and instead focused on her game.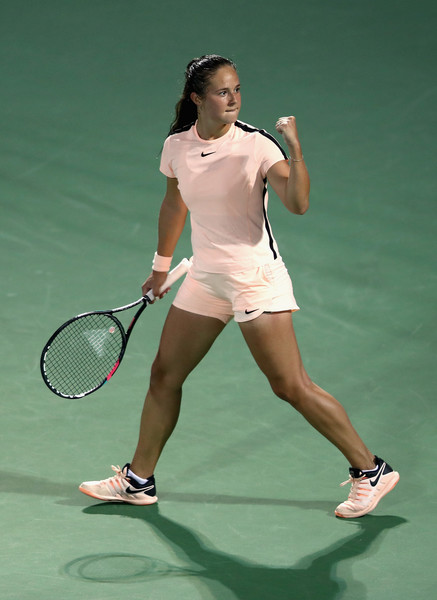 "It was such a big battle, such a big fight. So I'm just happy that I survive." It wasn't just the only marathon she survived though. Revenge is a dish best served cold, as they said, and Kasatkina certainly understands what it means. Brisbane 2017 was surely disappointing for the Russian youngster, who missed a match point and fell to a terrific Garbine Muguruza in a final-set tiebreak which ended 9-7.
Dubai 2018 was much better for Kasatkina, who had nothing to lose and fended off another triple match points against the Spaniard to prevail from the brink of defeat. A marathon tiebreak saw Kasatkina convert on her second set point while saving countless match points, "My first set points on the tiebreak, I was serving, and the picture from Brisbane last year I had in front of my face. Just I was smiling inside. I look at my brother because I think he also knew I going to remind this thing. Yeah, it was special match, for sure." It seemed like it was Brisbane all over again, but this time she remained composed and stuck to her tactics.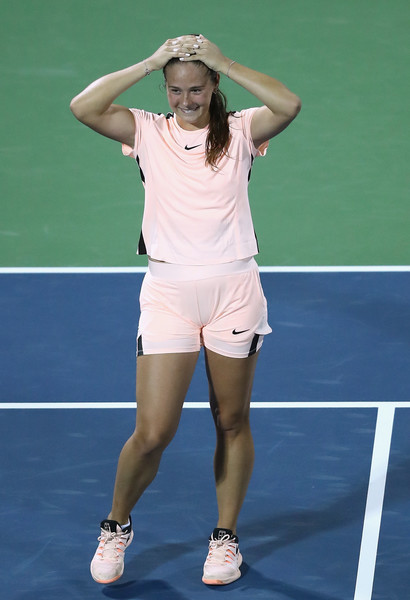 Her amazing run ended in the hands of Elina Svitolina, but it also marked her debut in the top-20 of the rankings. As one would say, this is just the beginning of a new chapter in her career.