 laying her first match since the disappointing defeat suffered against Catherine Bellis at the Qatar Total Open which saw her get bageled in the deciding set, Madison Keys' struggles continued as she lost her third match in four attempts, this time to world number 119 and wildcard Danielle Collins in the second round of the 2018 BNP Paribas Open.
Collins' impressive run continues after a stellar build-up to Indian Wells which saw her claim the biggest title of her career at the WTA 125k event in Newport Beach, allowing her to receive a wildcard into this event. Starting the year ranked 177th, the American now finds herself edging closer than ever to a Top 100 debut. Collins will meet fellow wildcard and world number 135 Sofya Zhuk in the third round, and a win would ensure a top-100 debut alongside a fourth-round appearance.
Collins strolls to take the first set
Keys opted to start the match serving and it was a decision which backfired as the world number 14 had a slow start, and a series of unforced errors caused the American to go down a break early on. Collins was maintaining her high level of play, though Keys finally found her groove, winning eight of the next 10 points from 0-2 down.​
Handling the pace of Keys well, Collins was redirecting it extremely well, gaining back the advantage to take the lead once more. Errors were overwhelming Keys as the US Open finalist faced break points in all but one of her service games in the first set. Ultimately, Keys' first double-fault of the match came in an untimely manner, with Collins putting in a strong performance to take the first set 6-3 after just 38 minutes.
Collins edges tight second set
Keys finally received a reward for her continuous attempts to go for a breakthrough, taking the lead for the first time after her merciless returns were on fire. She kept the lead throughout the set and looked clinical on serve, while Collins also stayed mentally composed to remain in contention. She missed the perfect opportunity to return level, but some great play from Keys allowed her to get three games on the trot, opening a 3-1 lead.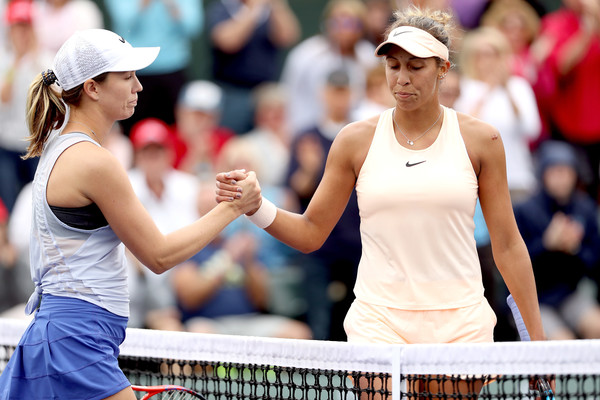 However, just when Keys was serving for the set at 5-4 up, nerves kicked in and she produced a slew of unforced errors, allowing Collins to break back just when it mattered. The set was eventually brought into a tiebreak, though it was rather one-sided as Keys continued to misfire, losing it 1-7 within a blink of an eye as Collins finally sealed the biggest victory of her career against the world number 14, who threw in an incredible amount of 36 unforced errors in an hour and 44-minutes of play.