 Simply by reaching the quarterfinals of the BNP Paribas Open in Indian Wells, Canadian Milos Raonic had had his best result in months, winning consecutive matches and reaching a quarterfinal for the first time since August 2017.
The 2016 Indian Wells runner-up was not satisfied with simply reaching the last eight, as Raonic battled past fellow big server Sam Querrey in a three-set quarterfinal battle to reach the semifinals of the BNP Paribas Open for the third time in his career.
All eyes were on the 18th-seeded Querrey, who had a ton on the line in this battle. With a win, Querrey would move into the top ten in the rankings for the first time in his career and would reach his first Masters 1000 semifinal. But in the big moments, he could not solve the former world number three's serve, as Raonic's comeback after an injury-depleted 2017 season continued with a 7-5, 2-6, 6-3 win to reach his first semifinal since May 2017.
Raonic pulls late comeback
Having not played this deep in a tournament in almost nine months, Raonic needed a bit of time to get his head into the game. A sloppy opening game from the Canadian saw him struggle to string together consecutive good points. He fell behind 15-40 and, though he saved both break points and another at 40-AD, inability to avoid errors on back-to-back points sunk Raonic as a missed volley gave Querrey a fourth break point and a missed forehand gave away the break. Querrey consolidated with a hold to love for an immediate 2-0 lead.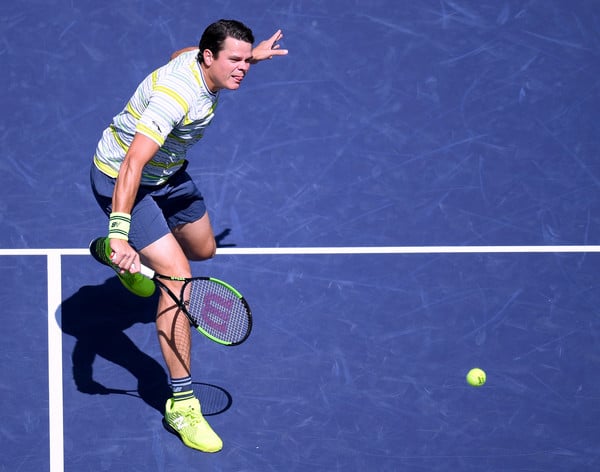 Unlike his opponent, Querrey was bringing the heat right from the start. Unable to cope with the American's big groundstrokes, Raonic took to the net, moving forward at every possibility. That led to the Canadian holding his service games with ease, although he still had no answer to his opponent's power from the baseline. Querrey continued to control the match, holding easily on his way to a 5-3 lead. With Raonic serving to stay in the set, the American got to within two points of claiming the set at 0-30 and again at deuce but could not get over the finish line.
That would prove costly. Holding for 5-4 suddenly flipped the momentum to Raonic, while taking the air out of Querrey's tires. After dominating his serve all set, Querrey imploded, committing four errors in his next game to give Raonic the break back and level the set at 5-5. After the Canadian held to give himself his first lead of the set at 6-5, Querrey continued to fall apart, committing three errors to give Raonic a 0-40 triple set point opening. After the American saved the first two, the 2016 runner-up crushed a clean backhand return winner up the line to complete the comeback and wrap up the opening set 7-5.
Querrey doesn't let up
After the disastrous end to the opening set, Querrey was looking to hit the reset button early in the second. He seemed to get his wish as the second set started in a similar fashion to the first. Raonic would struggle in his opening service game but survived a deuce to hold. However, another sloppy service game followed with a double fault giving the American break point. Raonic would send a backhand long to once again give Querrey an early break lead.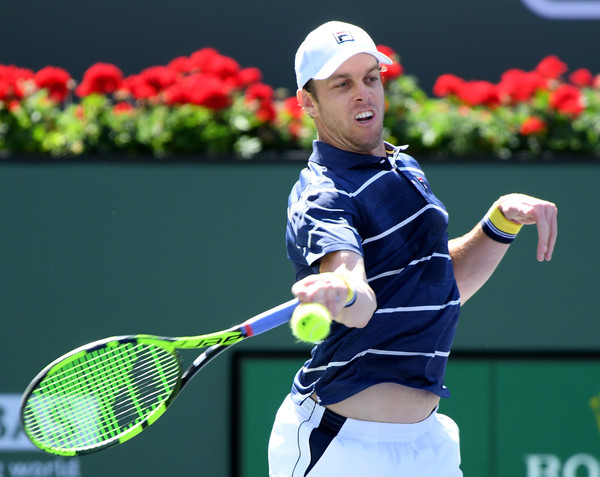 Like the opening set, Querrey would clip along on his own serve. This time, however, he was gifted a bit of insurance late. With the American up 4-2, Raonic's short game abandoned him, setting up a break point to put Querrey within a game of taking the set. The Canadian would gift the 18th seed the double break with a double fault. The American took full advantage, holding to love in the following game to send the match to a deciding set.
Raonic hangs on to reach semis
There were no slow starts to the decider, as both men dominated on serve early. Through the first five games of the set, only three points were won by the returner. With both men serving at an extremely high level, it would be Querrey wilting under the pressure first. In the sixth game, he blew a 40-0 lead before holding at deuce.
In his next service game, the American continued to struggle and netted a forehand in the midcourt to give Raonic a breakpoint. The Canadian took full advantage, teeing off on a Querrey second serve with a massive inside-out forehand winner to grab the break and a 5-3 lead.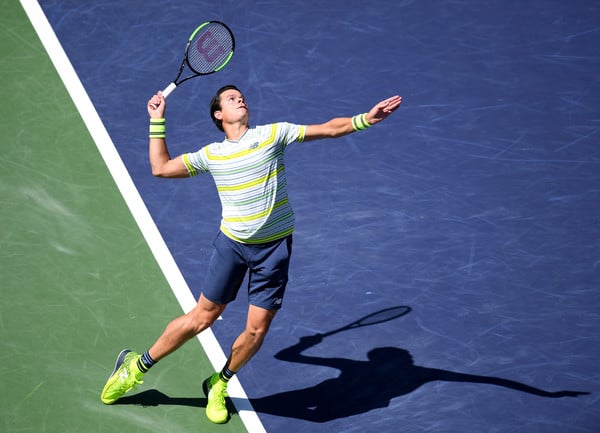 Serving out the match proved troublesome for the former Indian Wells runner-up, as Querrey mounted one last furious stand. Three times in the game, the American held break points. He failed to put a return in play on any of them. Raonic's serve came to the rescue, drawing a return long on the first break point at 30-40 before saving two more at 40-AD with aces. After getting passed at the net on his first match point, a 143 MPH serve set up a second and Raonic curled a forehand winner up the line to book his place in the final four.
By the numbers
Raonic's all-out assault was made evident by his 43 winners and 17 aces, as well as his 25 unforced errors. The Canadian attacked the net regularly, moving in 34 times, winning 21 of those points. In comparison, Querrey only attacked the net 13 times, although he won ten of those points. Raonic's serve was shaky at times, as he committed six double faults, only won 47 percent of his second serve points and had to face nine break points, saving six.
Querrey was strong on serve but made several costly mistakes. The two key statistics that sunk him were his 50 percent of his first serves put in play and only saving two of the five break points he faced. He struck fewer winners (29) and aces (9) than Raonic, although he also made fewer unforced errors (17) and double faults (1). In the end, Querrey actually won one more point than Raonic, 84 to 83.
Raonic is through to his first semifinal since Lyon last May and first Masters 1000 semifinal since the Paris Masters in November 2016. He withdrew prior to that match, meaning he will be contesting his first Masters 1000 semifinal since August 2016 in Cincinnati. It is Raonic's third consecutive semifinal in Indian Wells when he has appeared (he missed last year's event after reaching the semifinal in 2015 and final in 2016).
He will meet sixth seed Juan Martin del Potro for a spot in the final. Raonic leads their head-to-head 2-1.