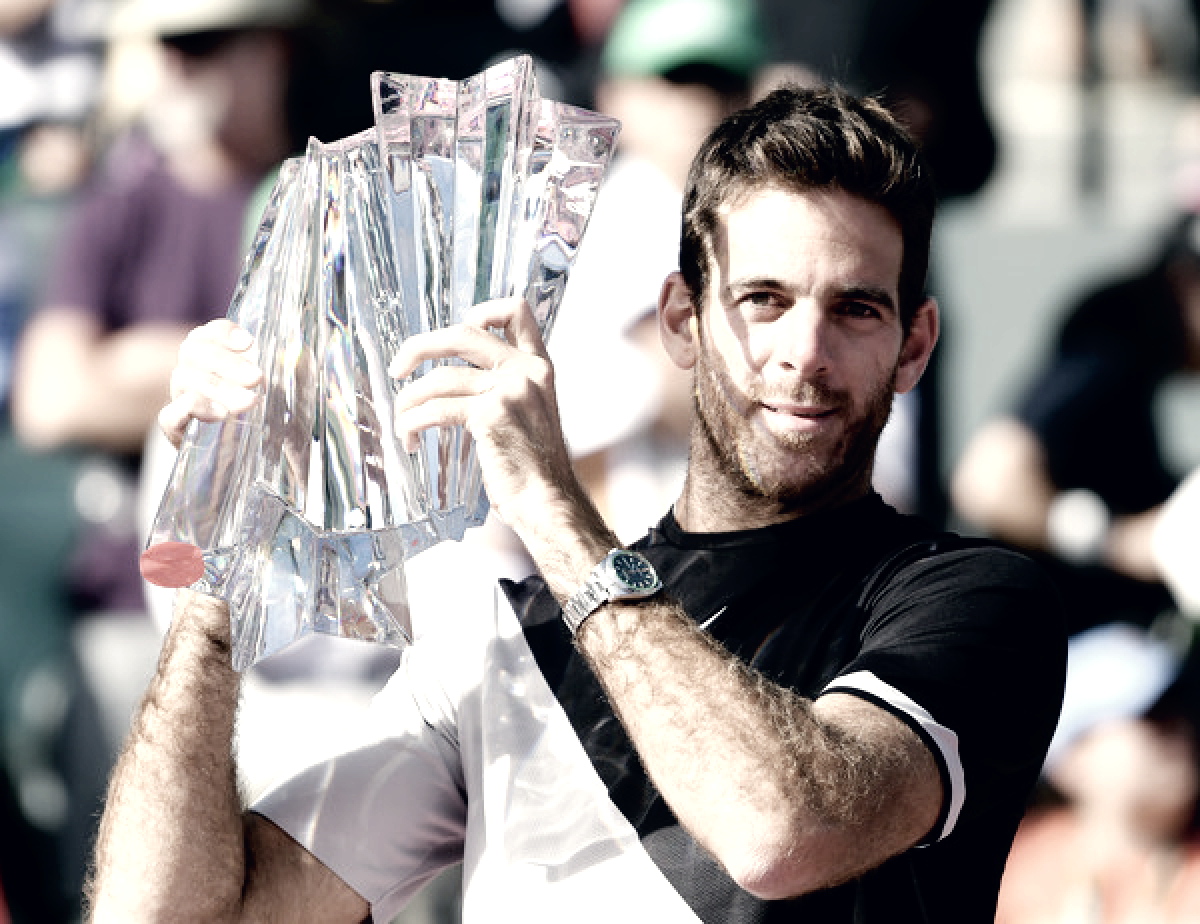 Saving three championship points after failing to convert your own championship point to defeat the world number one/five-time and defending champion to win your first Masters 1000 event in a final set tiebreak would make for a pretty memorable day. And that is what Juan Martin del Potro experienced on Sunday.
A decade after his breakthrough on the ATP World Tour and nine years after winning the US Open, Juan Martin del Potro finally claimed a Masters 1000 title by beating Roger Federer to win the BNP Paribas Open in an epic final. The Argentine missed a match point to put away the win in straight sets and then had to save three match points in the third set before finally edging the five-time Indian Wells champion Federer 6-4, 6-7(8), 7-6(2) in one of the most dramatic finals in years.
Consistency Carries del Potro
Considering that this match featured two of the tour's best servers, both looked a little shaky in their first few games, with the first three going to 30-all, although serve held through four games. Federer was struggling to find consistency in his groundstrokes under the constant pressure from del Potro and found himself in trouble in the fifth game. Down love-30, he sent a backhand wide to go down triple break point. The defending champion would net a routine forehand to hand the love break to the Argentine.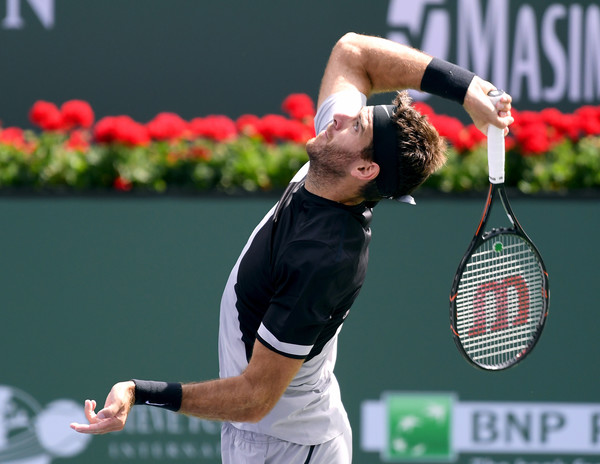 After surviving a deuce when trying to consolidate the break, del Potro settled into a rhythm. The 6'5 Argentine was cruising on serve and with his groundstrokes, pummeling Federer off the court. He gave the Swiss no chances to get back into the set. Del Potro would not manage to reach break point again but did not need to as he won his last ten service points, riding his serve through the opening set 6-4, wrapping it up with back-to-back love holds.
Federer perseveres to extend match
Del Potro had a chance to take a stranglehold on the match when he went ahead love-30 in Federer's opening service game and set up a double break point opportunity with a big forehand. But the defending champion was not going away quietly. He saved the first break point with a big serve before del Potro netted a backhand on the second, allowing Federer to hold.
The level of tennis hit a dizzyingly high level in the second set, with the two stars exchanging massive blows throughout. The peak came in the second game when del Potro chased down a drop shot, was lobbed, chased it down and pulled off a tweener, only for Federer to draw him back to the net with a drop volley before punching a volley winner. The rally would set the tone for some remarkable tennis all set.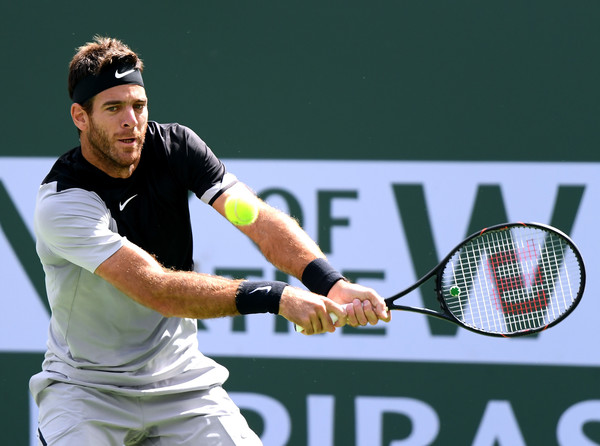 Despite continuing inconsistency on his forehand, Federer was finding ways to hold and stay in the match. After failing to put much pressure on his opponent's serve all match, the Swiss finally had an opening as del Potro served to stay in the set at 4-5. The Argentine drove a rare forehand long at 15-30 fall behind break point for the first time in the match, which were also set points. But Federer could not take advantage of the rare opportunity, as del Potro saved the first set point with a big serve before the Swiss sent a forehand wide on the second.
A tiebreak for the ages would decide the set. Federer appeared well on his way to sending the match to a decider when he scored a minibreak and took a 6-3 lead. After del Potro saved both set points on his own serve with big serves, Federer appeared to claim the set with a service winner.
However, del Potro challenged and hawkeye showed the serve to have been out. An agitated Federer, who objected to del Potro walking to his chair before the review took place, double faulted to level the breaker at 6-6. The normally composed Swiss gave the chair umpire, Fergus Murphy, an earful during the changeover about his lack of control over the match.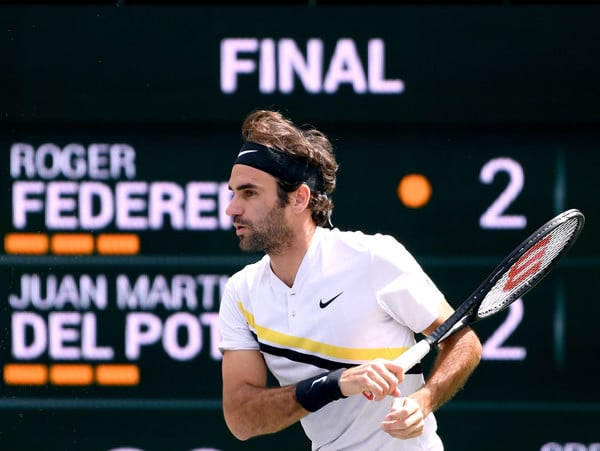 Federer set up another set point with an ace but sent his return into the net. Del Potro then brought up a match point, but with his first Masters 1000 title on the line, he sent his normally reliable forehand into the net. Another missed forehand gave Federer a fifth set point in the tiebreak, seventh overall, and this time, the Swiss drew del Potro into the net who struck a volley long to send the match to a deciding set.
Del Potro saves match points, claims title in tiebreak
After failing to convert his championship point in the previous set, del Potro seemed shaken at the start of the third set, tossing his racquet and smacking the ball in frustration. Despite losing his cool, the Argentine kept finding ways to hold despite pressure from Federer, including digging out of a love-30 deficit in the fifth game.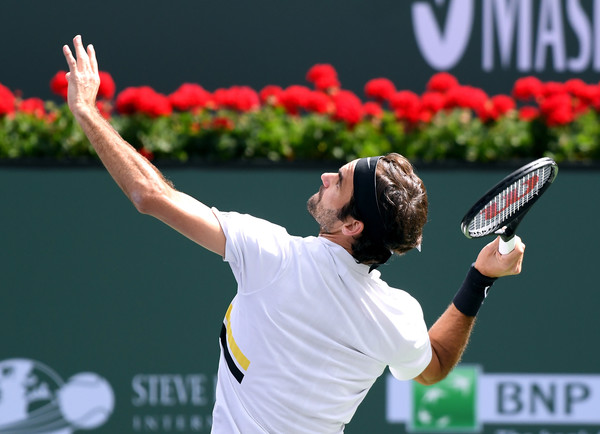 Federer, on the other hand, seemed to have finally settled into a rhythm, holding serve fairly easily while starting to put pressure on del Potro. At 4-all, the Swiss struck. He set up a break point with a leaping backhand overhead winner, but del Potro struck a forehand winner down the line to save it. The Argentine then sent a backhand approach shot long to give Federer a second chance and the five-time champion took full advantage, rifling a perfect crosscourt backhand return that drew an error to break for a 5-4 lead.
The Swiss seemed to have the title wrapped up when he took a 40-15 lead in the next game for double championship point. However, he failed to convert either one, missing an overambitious drop shot on the second. Federer then saved a break point before setting up a third match point. Once again, del Potro stopped him, picking up a drop shot and ripping a forehand up the line to get back to deuce. Federer then shanked a forehand to give his opponent another break point and del Potro took full advantage, ripping a massive forehand crosscourt winner to level the set at 5-5.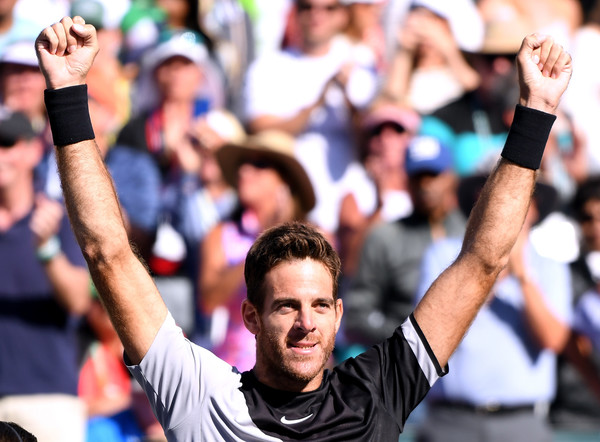 A tiebreak was needed to decide the match and del Potro was not about to let the opportunity slip away. Federer's serve deserted him in the deciding set tiebreak, as he double faulted the minibreak away before del Potro teed off on a second serve return for a winner, eventually running his lead to 5-0 before the Swiss got on the board. Del Potro reached match point again at 6-2 and while he missed a backhand on the first, Federer fired a forehand long on the second match point of the breaker, third overall, to hand del Potro his first Masters 1000 title.
By the numbers
Federer was his own undoing in this match, counterbalancing his 51 winners with 45 unforced errors, including 25 off his normally dominant forehand side, as well as five double faults to go with his ten aces. Del Potro was far more consistent, hitting 42 errors to only 24 unforced errors and eight aces. Their service points were nearly identical, with similar first serve points won (75 percent for del Potro, 74 percent for Federer) and both saving three break points, although del Potro still snagged two breaks to Federer's one.
The title is the first Masters 1000 title for del Potro, having lost his three previous finals to the other three members of the big four. It is the 22nd title overall of del Potro's career. He improves to 4-2 in finals against Federer. The Swiss falls to 27-20 in Masters 1000 finals and 97-29 in overall finals. Federer had a chance to break a tie with Novak Djokovic for most men's singles titles at the Indian Wells Masters but will remain tied with five titles each.
The tour heads east for the second Masters 1000 event of the season in Miami, where Federer is once again the defending champion.