 Ten-time champion Rafael Nadal kept up his blistering pace at the 2018 Monte-Carlo Rolex Masters on Saturday in the semifinals, grinding down fourth seed Grigor Dimitrov to reach a 12th Monte Carlo final. Dimitrov stood up to Nadal's onslaught in the opening set, but once the floodgates opened, there was no stopping the world number one.
Nadal, who was considered to have had a difficult draw at this year's event, has been relatively unchallenged this week, blowing out his second consecutive top-ten opponent with a 6-4, 6-1 semifinal victory to move to within striking distance of a record 11th title in Monaco.
Nadal refuses to surrender opener
All week, the ten-time champion had gotten off to fast starts and the trend continued in the semifinals. Despite needing to battle through a deuce in his opening game, Nadal set up a break point in his first return game of the set and converted by striking a trademark forehand winner up the line for an immediate break. The Spaniard has broken serve in his first return game of every match so far this week.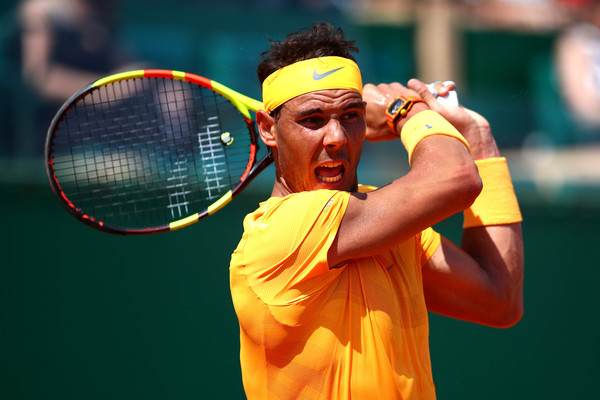 After falling behind 3-0 to start the match, Dimitrov started to work his way back. The Bulgarian was given a gift in the fifth game as an uncharacteristically error-filled game from Nadal gave Dimitrov triple break point. The world number one sent a backhand long on the second to give the early break back.
Just because he was back on serve did not mean Dimitrov was back on even terms. Errors at 30-all on his own serve in next two service games forced the Bulgarian to save break points just to stay even with Nadal. After saving those break points for 3-3 and 4-4, the Bulgarian finally cracked when serving to stay in the set at 4-5. From 15-love up, Dimitrov double-faulted twice before sending a forehand long to give Nadal double break/set point. After missing the first, the 10-time Monte Carlo champion ripped a forehand that narrowly caught the line to wrap up the hour-and-five-minute opening set.
Dimitrov fades, Rafa rolls
The second started out as a clone of the opener, with Nadal starting slowly in his first service game before racing to a 3-0 lead. After blowing a big lead in his first service game and needing to survive a deuce, the world number one was gifted the immediate break as another error-filled game culminated in Dimitrov sending a forehand into the net to give away a love break to start the second set.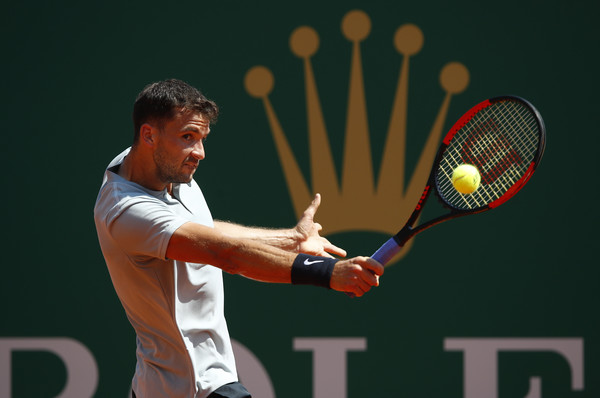 This time, once he took that 3-0 lead, Nadal did not let his opponent back into the set. Dimitrov seemed to be running out of gas and continued to wilt under the pressure of Nadal. In his next service game, the Bulgarian once again fell behind 0-40 and netted a routine forehand to give away his second consecutive love break.
Nadal continued to pound away and moved to within a game of a second consecutive bagel over a top-ten opponent at 5-0. At love-5, love-15, Dimitrov finally got on the board in the second set on serve after losing his first nine service points, eventually holding to deny Nadal of a bagel. However, the ten-time champion was not to be denied, as he held to love to book his place in his 12th final in Monte Carlo.
By the numbers
A seemingly worn-out Dimitrov was his own worst enemy in this match. Up against a classic Nadal barrage, the Bulgarian committed 39 unforced errors, including five double faults, and only won 26 percent of his second serve points.
Despite hitting only six winners (all on his forehand side) to Dimitrov's nine, Nadal only committed 21 unforced errors and won 72 percent of his second serve points. The Spaniard only faced two break points in the match, both in the fifth game of the first set. He broke serve four times on eight opportunities, including going two-for-two in the second set.
The top seed has only lost 16 games on his way to the final. Nadal will go for an 11th Monte Carlo title on Sunday where he will meet Kei Nishikori, whose comeback run continued with an upset of Alexander Zverev.