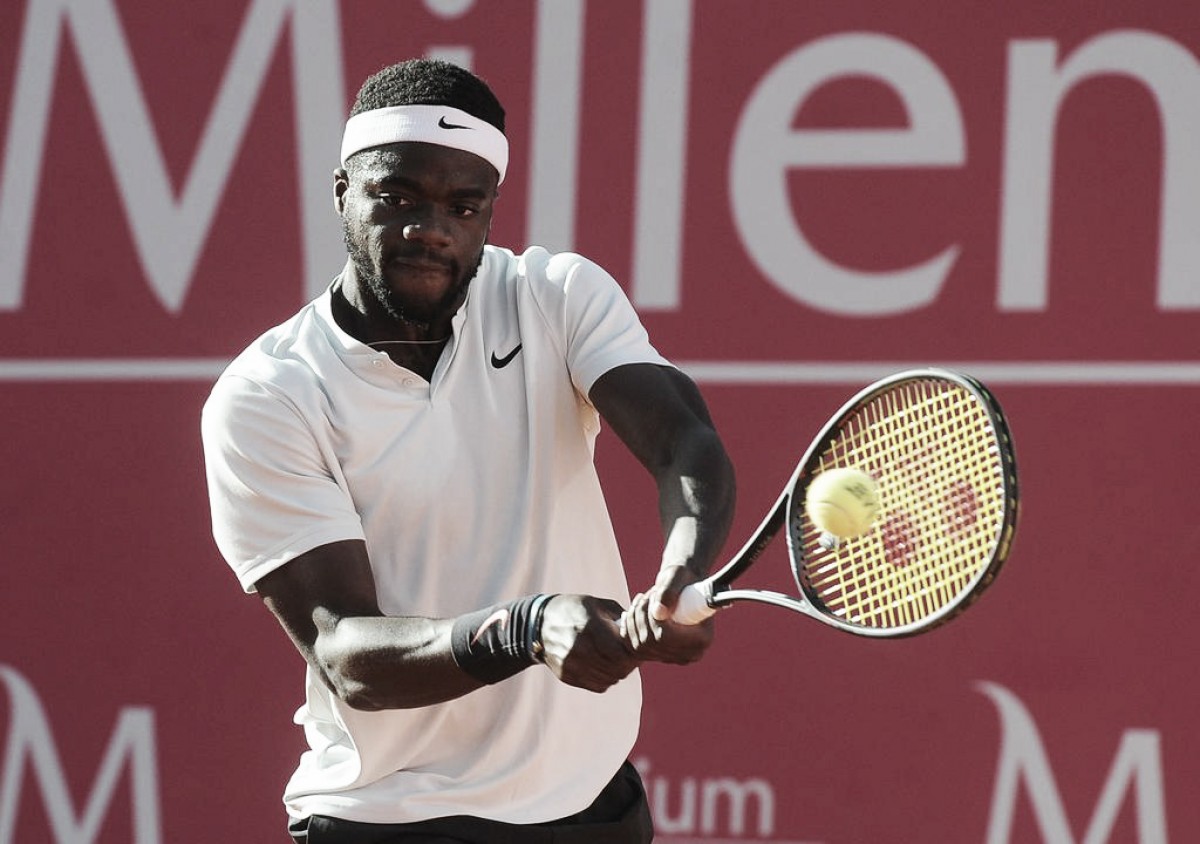 "The players talked to the press about their matches and their worries for the tournament.
João Domingues
About his match, João Domingues, who defeated Corentin Moutet 6-4 2-6 6-3, talked to the press after his match and he said: "The goal I set was to pass through the qualifying, it's the second qualifying of an ATP 250 I get through this year. Obviously, I'm satisfied. My focus is to prepare the next round. I didn't have to start the match four times like in the previous match. It was calmer at that point but the match was very tough, I know Corentin very well. I've trained sometimes with him, we get along very well and I knew from the start it would be very difficult. I was able to stay solid and play a good tennis to win." , when asked about being in the main draw and being playing well.
Alex De Minaur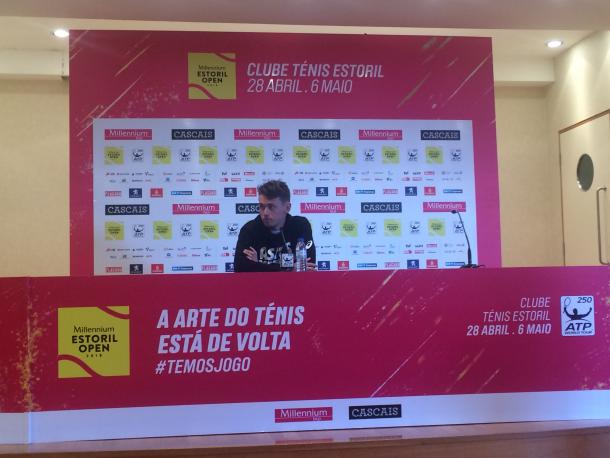 Alex De Minaur defeated Gastão Elias 6-3 6-1 and talked to the press after that. "I played a very high-level match, against a high-level opponent, especially on clay. It was tricky conditions out there.I was able to win a lot of those long points and I stayed solid through that first set and ended up playing some better tennis in the last set. I'm very happy with my level. ", said the Australian NextGen ATP star.
The young player will play doubles side by side with his idol, Lleyton Hewitt and when asked how happy he is, the player has no fear to say this will be very special: " Tomorrow is going to be incredible, it's something that I never thought it would ever happen, especially growing up, having him as an idol. I'm going to be able to share the court with him so that's going to be something very special. We haven't really talked about anything to do with the match, because I just got off court, had a shower and came straight here, but I'm sure after I'll do my recover and we get back to the hotel, at dinner or whatever, we'll have a chat about tomorrow and it's going to be great."
Frances Tiafoe
Frances Tiafoe won the all-American match against Tennys Sandgren and couldn't have been happier. The North-American doesn't care much if leads their head to head 5-0 because it was "five times like this": "Five times in a row, but five times like this. I almost feel like it's tied, I feel he has beaten me so many times because all the matches can go another way, I've been lucky to win them. I don't want to try to think about that so much, because any giving day he can beat me and I'm sure he will beat me many times in the next 10 years. I don't think about it.".
"Well, ups and downs, a lot. Momentum shifting a lot. He was up a break in the third, he had match points and later in the third, I played some good points to save it. It isn't easy, he played unbelievable this year, I've been playing well this year, I know it was going to be a tough battle. I knew it was going to be tough. I'm just happy to get through.", said the 20 years old player about the match.
Frances was asked about Gilles Muller, his next opponent if he knows him. When referred to Muller as the last year finalist, his answer was: "Well, this year second round loser (laughs). His coach is a good friend of mine, he's one of the nicest guys on tour, he's been playing some of the best tennis of his life, past 30. We see how he does it, serves well, comes forward after serves well and stay solid, but I like the match happen, it should be another good one. ".
Tennys Sandgren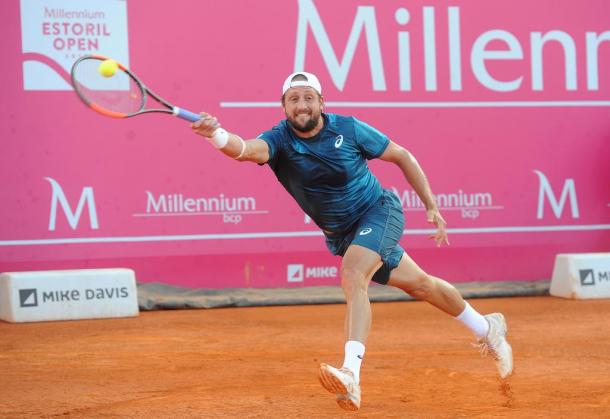 Tennys Sandgren may have lost but he recognizes Tiafoe is a "great player": "I'll credit to him, he fought hard, he came up with some fantastic shots in some big moments in both the sets and he saved those three match points. I thought I did some good things on those points and he played too good. I competed really hard and I was down a break in that third set 4-3 and I just wanted to keep pushing as far as I could. I did want the match to end because I was kind of like all discouraged that I was down a break so I'm happy that I kept fighting. He's a great player, he's a friend of mine and I'm happy for him, that he is moving on and obviously it was a great match. I think the fans were entertained with what we were doing and it was a good time."
"It was tough, tough conditions, it was a little cold and the wind was up and down. It wasn't too bad but it's kind of tough to figure out what to do, as far as how aggressive to play because the ball didn't move as much because it was a little cold. Sometimes being aggressive was good and sometimes he passed through the wall so it's tough to know what I should do and if I didn't play aggressive enough he would kind of 'kick my ass' (laughs). I competed hard and I thought I made good decisions and stayed in the moments the way I wanted to and just didn't go my way.", adds the world number 51.
Kevin Anderson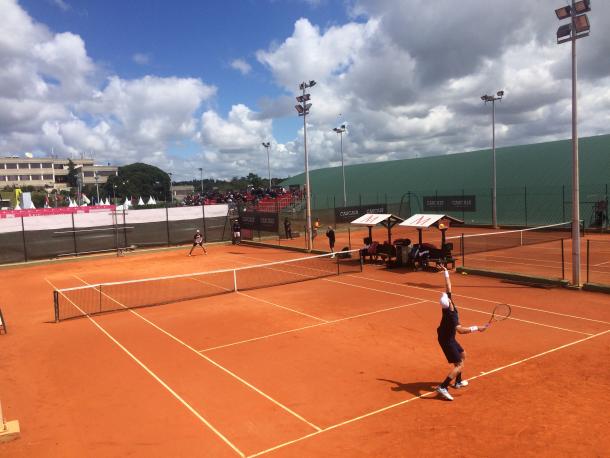 Kevin Anderson is playing the tournament for the second straight year after he reached the semifinal last year. He was ranked 66th on ATP, last year when he got here, and now he is ranked 8th. The South-African talked about this in his pre-tournament press conference: "Obviously last year I was coming off a few injuries at the beginning of the year and this week was almost like a bit of a turn around week for me. It was the first time I made a semifinal in quite some time and it feels great a year later, you've come quite a long way since then. I improved my ranking a lot so for being unseeded to the first seed is always a good improvement. I'm looking forward to this week. It's my first week on the clay, I've had some weeks to prepare. I had some pain I had to deal with but fortunately my body is feeling healthy right now and I got high expectations for this week. I 'd love to get the title here, I haven't won a title on clay before so that would definitely be a top goal for me."
Until he got here in Portugal he had only played on hard courts this year, the journalists wanted to know what to expect from him, how is his adaptation to clay court going. "I had to take a few weeks off after Miami, so it's been a little bit of time since my last match, almost a month. It was a bit of time where I needed to recover and start preparations for the clay. As I was saying, my body now feels healthy, which I'm very happy about. There's always some adjustments, definitely, the movement is always the biggest thing. I've always enjoyed playing on the clay so I'm excited to start my season on the clay this year. I feel like in the past I've had some decent results. I've been able to improve on some of my results as the years have gone by, but I definitely have high expectations and high goals for this year's clay season and hopefully, I'll be able to get off to a good start here.", answered the tall player.