 Ever since breaking on to the tour in 2011, Milos Raonic has been the king of Canadian tennis. But that may be about to change. 19-year-old Denis Shapovalov sent the message on Thursday that he is coming for Raonic's crown, ousting his compatriot and Davis Cup teammate in a straight-set drubbing at the Mutua Madrid Open.
Despite an ocean of experience separating the pair, it was Shapovalov who looked at ease in only the third ATP World Tour clay-court tournament of his young career. The kid from Richmond Hill, Ontario took advantage of his few openings against one of the tour's best servers, scoring breaks at 3-all in both sets before sitting back on his solid groundstrokes to pummel Raonic, from neighbouring Thornhill, Ontario, off the court.
It was the first meeting between two of Canada's brightest stars, and Raonic's second against one of Canada's upcoming youngsters this year after having beaten Félix Auger-Aliassime in Indian Wells. This time, it was the new kid on the block claiming the 6-4, 6-4 victory and signalling a potential changing of the guard in the Great White North.
Shapovalov finds holes in Raonic serve
One of the big questions going into the match was how the 6'0 teenager would handle Raonic's monstrous serve. In the opening game, he looked a bit overmatched as his 6'5 countryman opened with an ace and held to 15 with all four points coming by the way of unreturned serves. However, Shapovalov was able to return the favour with an easy hold in his first service game courtesy of three unreturned serves.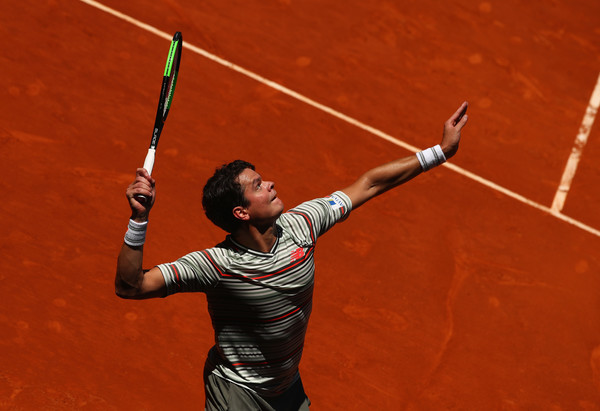 It did not take long for the 19-year-old to get a handle on the Raonic serves. At 2-2, Shapovalov sent a huge message when he teed off on a Raonic first serve, striking a clean backhand return winner down the line to set up double break point. However, when the veteran's serve is on, there is little anyone can do about it. From 15-40 down, Raonic hit four consecutive serves that did not come back, including two aces, to eliminate the threat and hold serve.
Shapovalov was not getting a ton of returns in play, but when he did, he was dominating the ensuing rallies. At 30-all in Raonic's next service game, the young gun got a return back and set up a rally which culminated in him ripping a backhand passing shot up the line to set up another break point. This time, Raonic missed his first serve and Shapovalov's second serve return took an unusual bounce, giving Raonic no chance of getting the ball back over the net. Despite struggling to put returns in play, Shapovalov had the break.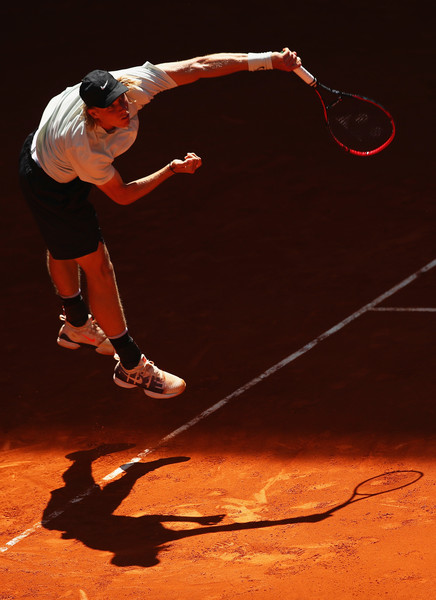 The younger Canadian would struggle for the first time on serve at 4-3 as he looked to consolidate the break, needing to battle through a deuce for the first time before holding. But after getting through that game, Shapovalov cruised over the finish line, serving out the set 6-4 in his next service game, closing it out with an unreturnable serve of his own. Shapovalov only returned 16 of Raonic's 31 serves in the opening set but won 12 of those points.
Unbreakable El Shapo grinds to victory
Shapovalov had executed his game plan to near-perfection in the opening set, taking advantage of his few returns to engage his opponent in rallies, which the youngster tended to dominate. The second set quickly began to look like a carbon copy of the opener when at 2-2, Shapovalov ripped a backhand passing shot past Raonic for double break point, only for the veteran Canadian to save both with unreturnable serves on his way to holding.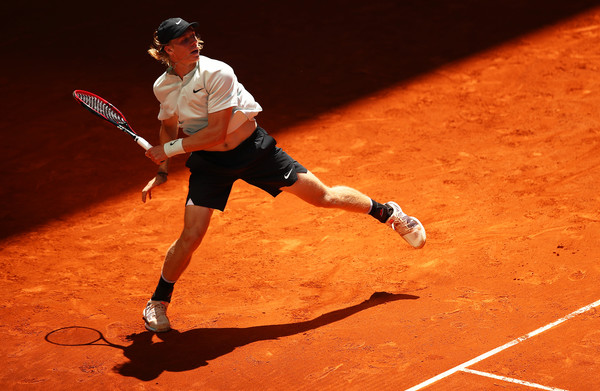 In the next game, Shapovalov began to look a bit mortal as he sent a forehand wide at 30-all to fall behind break point for the first time in the match. But the young gun took a page out of his countryman's book, saving the break point with an unreturnable serve before going on to hold.
Knowing the longer rallies favoured the kid, Raonic started to play a bit desperate which led to some crucial mistakes. At 3-3, 30-all, the same place he was broken in the opening set, the veteran dumped a backhand volley into the net to give his opponent a third break point. Like in the opener, his first serve failed to bail him out and Raonic got caught trading baseline blows with Shapovalov, eventually sending a routine backhand long to give the break to his young countryman.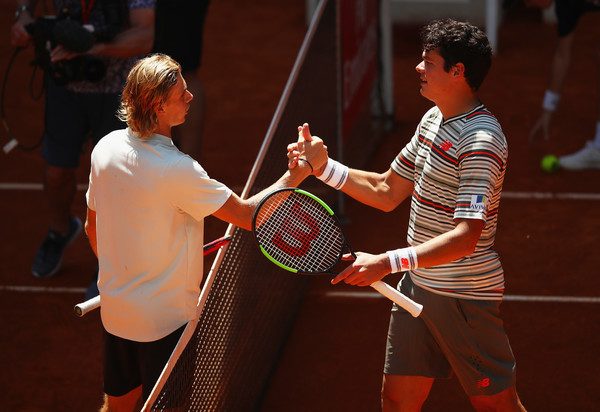 With the match on the line a 5-4, Shapovalov showed some nerves, netting a routine forehand before double faulting to fall behind 0-30. But the kid responded with some serious heart, winning three points in a row, including a titanic rally to level at 30-all, to set up match point. The 19-year-old wrapped up his dominant performance with a bang, smacking a textbook serve-and-one, wrapping up the win with a forehand winner down the line.
By the numbers
Shapovalov did everything right in this match, doubling Raonic in winners (28 to 14) while committing fewer unforced errors (only 10 to his countryman's 14). Despite only returning 60 percent of his opponent's serve, he also took advantage of his openings, winning 57 percent of the veteran's second serve points. The rallies were dominated by Shapovalov and the longer, the better. The 19-year-old won five of six points that lasted more than nine shots.
Shapovalov is through to the second Masters 1000 quarterfinal of his career and his first main-tour quarterfinal on a clay court at any level. He will look to reach his second Masters 1000 semifinal tomorrow when he renews his budding rivalry with fellow young gun Kyle Edmund. The pair have met four times since the beginning of 2017, splitting the meetings 2-2. Edmund won their most recent meeting back in Brisbane in three sets. The pair have never met on clay.