 If anyone thought that Denis Shapovalov's miracle run to the semifinals of the Rogers Cup last fall was a fluke, they have just been proven wrong. The 19-year-old Canadian, already the youngest person ever to make a Masters 1000 semifinal, booked a place in his second final four at a Masters 1000 event by beating fellow young gun Kyle Edmund at the Mutua Madrid Open in the quarterfinals on Friday.
Despite playing on his weakest surface, the Canadian was aggressive and calm under pressure, bouncing back after a nightmare start and coming up big when it mattered most. Despite missing a match point in the second set, the teenager kept his nerve and rode his serve over the finish line for a 7-5, 6-7(6), 6-4 victory.
Shapovalov overcomes slow start
After not being broken in his dominant third-round win over Milos Raonic, Shapovalov suffered an early let down in the opening game of the quarterfinal, falling behind break point in his opening service game. A huge passing shot winner from Edmund set up the break point where the Canadian netted his forehand to fall behind an early break.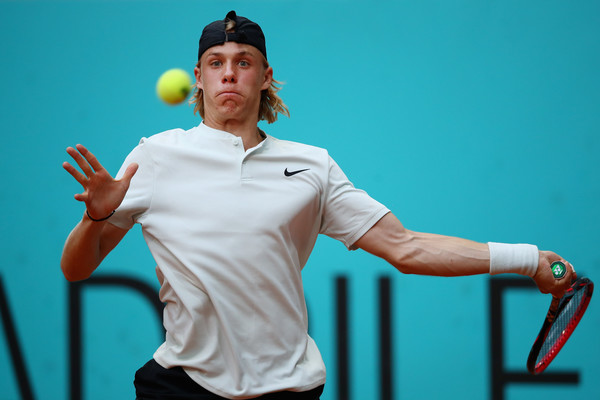 That served as a wake-up call for the teen, who responded with an offensive onslaught. His aggression drew an error at 30-all to set up a break back point, but he sent his return long. Undeterred, Shapovalov put himself back in the same position in his next return game, drawing an error with a huge return to set up another break point. This time, Edmund got caught looking as he waited for a soft Shapovalov return to drift out. It didn't, and the Brit misfired his forehand to level the set at 2-2.
As the set progressed, the Canadian seemed to settle in while his opponent started to tense. Edmund narrowly avoided dropping the set on his serve at 4-5, but a nervy game at 5-6 put him in serious trouble. Three unforced errors from the Brit gave Shapovalov a set point at 5-6, 30-40. Edmund's consistency woes burned him as a fourth unforced error in the game, a forehand long, handed the set to the 19-year-old.
Edmund overcomes adversity to level
After the disastrous end to the second set, Edmund re-found his rhythm and was able to match Shapovalov shot for shot early in the second set. Neither man faced any challenge on serve in the second until 4-4, when the Canadian missed a midcourt forehand to give Edmund a double break point. But the teenager was unphased, saving the break points with some gutsy groundstrokes before cracking a pair of unreturnable serves, reeling off four straight points to hold.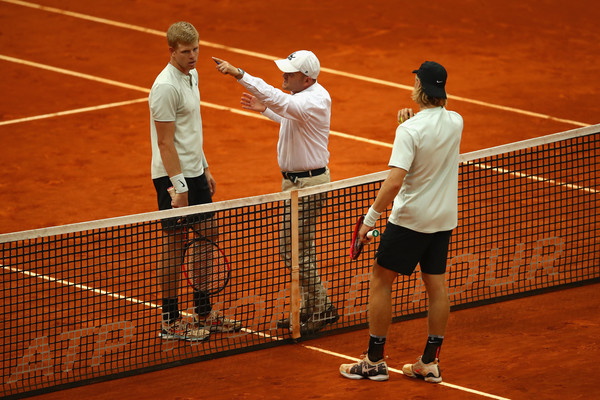 At 5-5, 30-all on Shapovalov's serve, there was controversy. As the Canadian tossed the ball up to serve, a fan yelled out. Shapovalov continued his serve, but Edmund stopped expecting a let to be called. The ball flew past him and the chair umpire called it an ace. Edmund argued for several minutes that play should have been stopped and a let should be played, but to no avail. A poor error from the Brit gave Shapovalov the game on the next point.
Edmund seemed shaken by the incident as he fell behind love-30 in the next game, two points from defeat. The Brit rallied to take a 40-30 lead, only to be pushed back to deuce. He then failed to handle a huge return from Shapovalov to set up a break and match point, but Edmund managed to step up and crack a big serve that the Canadian returned wide. The Brit held to force a tiebreak.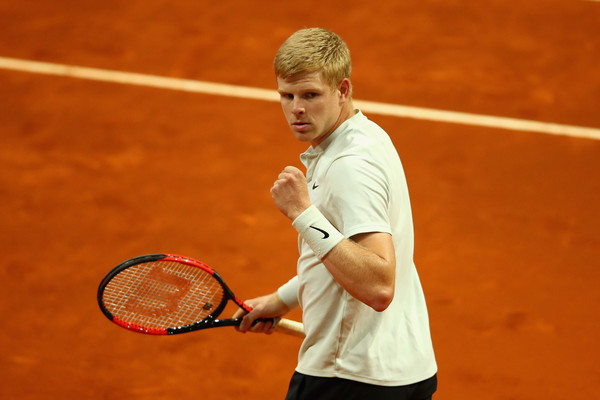 In the breaker, twice Edmund took a minibreak lead, at 2-0 and 5-3, but could not keep the Canadian down. Edmund set up a set point with an ace at 6-5 but could not put his return in play. At 6-6, Shapovalov drew a soft return to the midcourt, only to overhit his forehand to give his opponent a second set point, this time on his own serve. Edmund took full advantage, smacking another strong serve which the Canadian sent long to level the match at a set apiece.
Unflappable Shapovalov hangs on
After having been one point away from victory in the second set, Shapovalov managed to avoid the letdown that often follows. In fact, it was Edmund whose momentum deserted him early in the decider. On his serve at 1-1, the Brit mishit a forehand at 30-all to give the Canadian a break point. He then sent a backhand long to give Shapovalov an early break.
Despite being only 19-years-old, Shapovalov looked like a seasoned veteran as he approached the finish line. The Canadian consolidated the break with a love hold, moving ahead 3-1. The teenager showed no signs of nerves as he clipped along on serve in the decider, giving Edmund no openings. The Brit nearly gave the match away when errors put him down 0-30 at 3-5, but he won four straight points to force Shapovalov to serve the match out.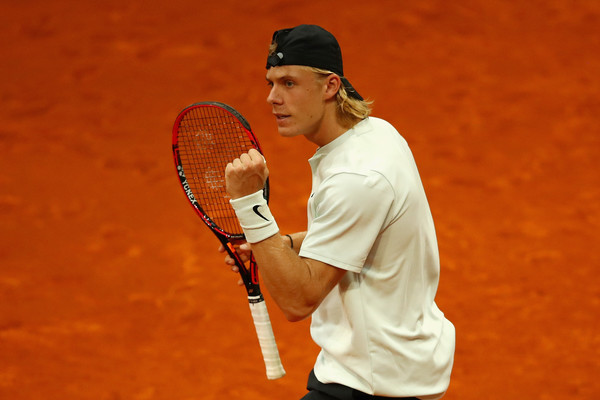 If there was supposed to be pressure for a teenager serving for a place in a Masters 1000 quarterfinal, no one told Shapovalov. The Canadian was hugely aggressive as he served for the match. He was untroubled, holding to love and booking his spot in his second Masters 1000 semifinal at only 19-years-old with an ace.
By the Numbers
Both men like to go big and overpower their opponent, Shapovalov just did it better. The Canadian had 29 winners to his opponent's 19, while also benefitting from 36 unforced errors off the racquet of Edmund. Shapovalov only had 31 errors of his own. Serves were key in the match and the Canadian was better where it counted, winning 80 percent of his first serve points, saving two of the three break points he faced and not allowing a break point in the final set.
While Edmund had some big serves in key moments, it also let him down. The Brit only put 51 percent of his first serves in play which was costly as Shapovalov attacked his second serve. Edmund only won 56 percent of his points after missing his first serve. He also had seven double faults and only saved one break point in the match.
Last summer, Shapovalov became the youngest person ever to reach the semifinals of a Masters 1000 event when he made his shocking run at the Rogers Cup. He lost on that day to Alexander Zverev. The Canadian will look for revenge as he meets the ATP NextGen's leader once again in the semifinals of Madrid.