 Two matches into the BNL Internazionale d'Italia and top seed Rafael Nadal is putting to rest any doubts about his form following his surprising loss last week in Madrid. The Spaniard advanced to the quarterfinals of the Italian Open on Thursday by avenging his shocking loss last summer to Denis Shapovalov in dominant fashion.
Despite the Canadian's improvements since their meeting last August, Nadal was in control of the match start to finish, mounting a furious assault on the teen's serve while easily defending his own. A day after winning his opener with the loss of just one game, the King of Clay only dropped five as he put the Canadian away 6-4, 6-1.
Nadal's resilience breaks Denis down
Despite having won their previous encounter, Shapovalov seemed nervous at the start of the match. Three errors, including a double fault, put the Canadian in a 15-40 hole in the opening game. Luckily for Shapovalov, the King of Clay did not have his return of serve as dialled in as usual in the opening game, missing his returns on both break points. The teen would save another break point at 40-AD with a big serve and backhand combination before Nadal missed back-to-back returns, allowing Shapovalov to hold.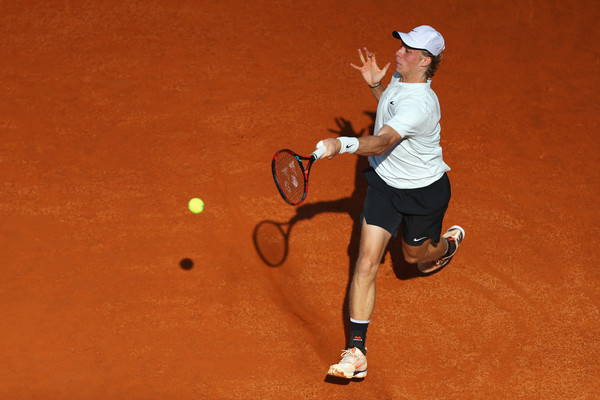 After Nadal held to love, he made another push for an early break. Some spectacular defence from the Spaniard gave him another 15-40 opening but again failed to put a return in play. Three times in the game, Shapovalov missed forehands at deuce to give his opponent break points, but the teen saved them all, one with a winner, one with an ace, and one when Nadal missed another return. Despite having what seemed to be a game-winning forehand overturned by an umpire review, Shapovalov managed to rally and hold with a huge backhand passing shot at AD-40 after more than 11 minutes.
Things were looking better for the Canadian when he finally held easily in the fifth game, but it was only a brief lull before the Spaniard continued his assault. At 3-3, 30-all Shapovalov double-faulted to go down break point. This time, he finally cracked under the Nadal onslaught as he netted a backhand to give away the break.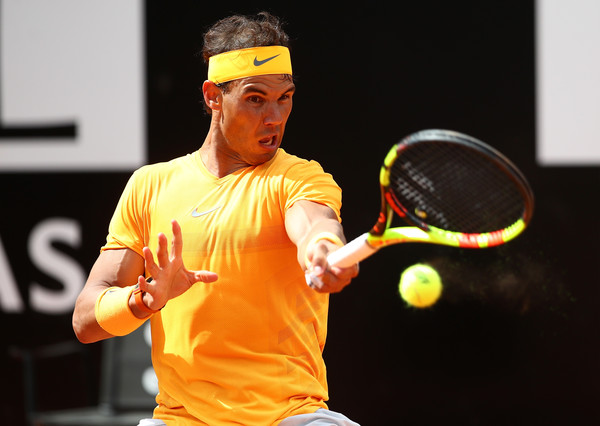 With Nadal ahead, the set seemed all but over. While Shapovalov had needed to battle in pretty much every service game, the King of Clay had cruised. In fact, Nadal won his first three service games to love and took a 40-love lead in the fourth, winning his first 15 points in a row on serve before the Spaniard finally netted a backhand to give the Canadian a point. Still, it was nowhere near enough. Shapovalov only won two points on his opponent's serve in the opener, which Nadal took 6-4.
Relentless Rafa powers to victory
After Shapovalov resisted Nadal for so long in the opening set and still fell short, it seemed as though the floodgates had opened as the Spaniard powered to a love-40 lead in the opening game of the second set. The Canadian failed to match his epic resistance from the opening set, double-faulting the break away.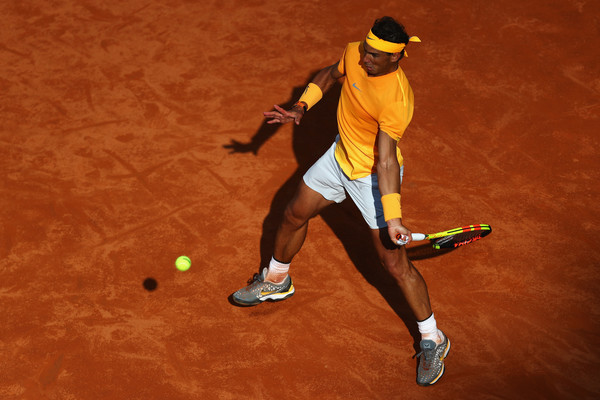 Nadal wasn't satisfied with just the single break. At 3-1, he battled a Shapovalov game back to deuce before using his big groundstrokes to draw an error, setting up a break point. The Canadian would shank a forehand to fall behind another break. The King of Clay would continue rolling, reaching match point on the teen's serve at 5-1 when Shapovalov double-faulted. The Canadian saved the first match point, but after a strange Nadal return dropped in for a winner, he netted a forehand to send the seven-time champion into the quarterfinals.
By the numbers
Nadal may not be known as a great server, but he put on a clinic in this match. The Spaniard gave Shapovalov little chance to get ahead in the match by putting an astounding 84 percent of his first serves into play, winning 90 percent of those points. He did not face a break point in the match and only lost five points on serve overall.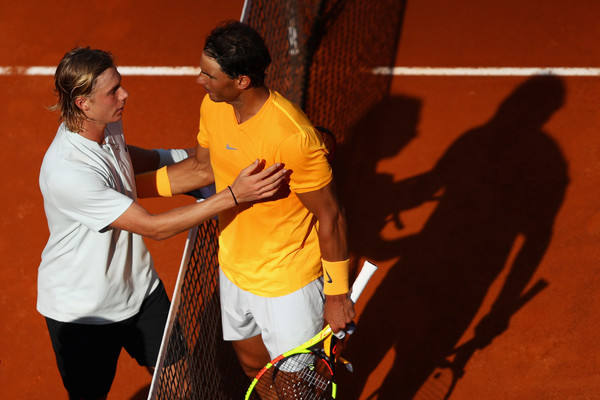 Nadal generally dominated the baseline exchanges, pummeling 16 winners, 14 off his forehand wing, to his opponent's 14 overall. Shapovalov did himself few favours by double-faulting six times and committing 29 unforced errors. The Canadian did acquit himself well by saving nine of 13 break points, but only managed to win 42 percent of his second serve points.
Despite the loss, by making the third round, Shapovalov will move past Milos Raonic in the ATP Rankings, making the 19-year-old the new Canadian number one.
Nadal moves on to meet home favourite Fabio Fognini in the quarterfinals. The Spaniard leads their head-to-head 10-3, including having won their last five matches in a row. Nadal has won four of their six meetings on clay. All three of Fognini's wins came in 2015, including two on clay.