 Thank you for following this exciting and thrilling first-round encounter between Maria Sharapova and Richel Hogenkamp! This is Don Han signing off, hope to see you again!
What a huge escape from Maria Sharapova, who had to dig herself out of a 0-3 hole despite everything going against her then. The Russian will now face Donna Vekic in a tougher second-round match and look to make her sixth consecutive second-week appearance in Paris.
Final Match Statistics:

Sharapova: 6 aces, 6 double-faults, 67% first serve won, 43% second serve won, 35 winners, 29 unforced errors

Hogenkamp: 1 ace, 5 double-faults, 54% first serve won, 40 % second serve won, 16 winners, 21 unforced errors

Hogenkamp won six straight games from 1-6, 3-4 down to lead 1-6, 6-4, 3-0.

Sharapova followed it up with five straight games to claim the 6-1, 4-6, 6-3 win.
Sharapova 6-1, 4-6, 6-3 Hogenkamp: What a win for Sharapova! A slew of unforced errors from Hogenkamp towards the closing stages proved costly for the underdog as Sharapova relies on her nerves of steel and experience to triumph by claiming six consecutive games!
Sharapova 6-1, 4-6, 5-3* Hogenkamp: Now the momentum has totally shifted towards the Russian! Sharapova is starting to find her winners once more, and she has absolute confidence in her game!
Sharapova 6-1, 4-6, *4-3 Hogenkamp: What a comeback by Sharapova now! Hogenkamp was clearly affected by the loss of three consecutive games and she produces several errors but her game reaches its peak just when the Russian earns break points. Sharapova brings up her fourth with a stunning return winner, and this time she converts to take the lead for the first time in the decider!
Around the grounds: Alison Van Uytvanck has beaten Australian wildcard Isabelle Wallace 6-1, 6-0 in just 51 minutes of play. Irina-Camelia Begu has also retrieved from a 3-5 deficit in the final set against Anna-Karolina Schmiedlova and levelled it up.
Sharapova 6-1, 4-6, 3-3* Hogenkamp: Sharapova survives a tight and nervy game! She could not find her first serves but her second serves are just as good, saving two break points and holding for 3-3 in the final set! Hogenkamp will rue her missed opportunities here.
Sharapova 6-1, 4-6 *2-3 Hogenkamp: All of a sudden, Sharapova is back in contention! Hogenkamp makes her first unforced error of the final set and Sharapova capitalizes to earn a break point. The Russian sends a nervous return straight into a net but Hogenkamp gifts her another one, now with a double-fault. Another error came from the Dutch's racquet, and Sharapova is back on serve!
Sharapova 6-1, 4-6 1-3* Hogenkamp: The qualifier is having all the confidence and momentum in her game right now but Sharapova slams down an unreturnable serve to secure her first hold since the start of the second set, getting on board in the final set.
Sharapova 6-1, 4-6, *0-3 Hogenkamp: The two-time former champion is in some serious trouble now! After leading 6-1, 3-1, it has been all Hogenkamp's business and the confidence has certainly dipped for Sharapova, who is unwilling to charge towards the net and her drive volleys have not been working well today. Hogenkamp consolidates the break and leads 3-0 in the decider.
Sharapova 6-1, 4-6, 0-2* Hogenkamp: Are we set for the huge upset? Hogenkamp is simply pealing with her play and Sharapova looks exhausted with all those running and she is frustrated with her countless unforced errors now. Hogenkamp grabs the break with an impressive point!
Sharapova 6-1, 4-6, *0-1 Hogenkamp: The demise of Sharapova continues as her game goes AWOL despite taking a lengthy bathroom break. Hogenkamp rides on her momentum and continues to roll through her service games.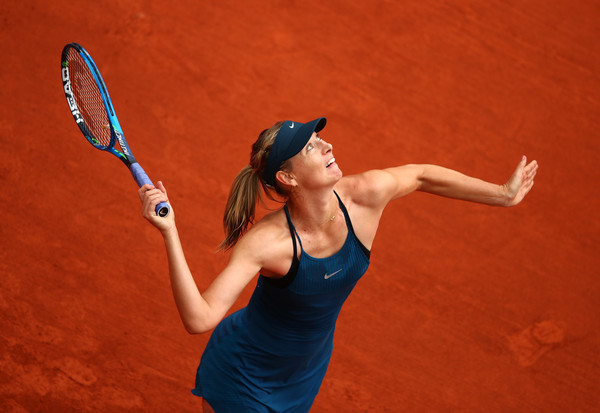 Second set statistics:

Sharapova: 3 aces, 3 double-faults, 50% first serve won, 41% second serve won, 11 winners, 12 unforced errors

Sharapova's first serve percentage dropped from 72 to 57 in the second set and her serves are becoming more predictable currently

Hogenkamp: 0 ace, 2 double-faults, 66% first serve won, 46% second serve won, 7 winners, 7 unforced errors
Incredible comeback from Hogenkamp if she manages to pull it off. Sharapova was having everything her way when she was leading 6-1, 3-1 and looked on course for a routine victory but the Dutch will look to pull off the major upset here.
Sharapova 6-1, 4-6 Hogenkamp: What a turnaround from Richel Hogenkamp! A lucky net cord winner went in her favour at 15-15 and Sharapova made her 12th unforced error of the set, allowing the underdog to level things up here on Court Suzanne Lenglen! Who would have expected this to happen?
Sharapova 6-1, *4-5 Hogenkamp: What a comeback from Hogenkamp! Sharapova is in some deep trouble here as the Russian is completely losing the plot, being outplayed and erratic at the baseline. Hogenkamp is one game away from grabbing the second set out of nowhere.
Sharapova 6-1, 4-4* Hogenkamp: Sharapova is starting to lose the rhythm on her shots as Hogenkamp gains confidence from each error the Russian is committing. Sharapova throws away the break on a double-fault and Hogenkamp is back in contention once again!
Sharapova 6-1, *4-3 Hogenkamp: Excellent response from Sharapova! With the help of several powerful and well-placed returns, the Russian regains her lead and edges closer than ever to the win!
Sharapova 6-1, 3-3* Hogenkamp: Who could have expected this? Hogenkamp breaks back with some consistent tennis and Sharapova is starting to produce more errors than usual. Hogenkamp is using her slices well and overpowering the Russian at the baseline. We are back on serve in the second set!
Sharapova 6-1, *3-2 Hogenkamp: Stunning play from both players! Hogenkamp is trying to give Sharapova a taste of her own medicine by throwing in drop shots, but on both occasions, the Russian replies with a volley winners instead! The game also featured Sharapova's first poor drop shot of the match, and Hogenkamp hangs on for 2-3.
Sharapova 6-1, 3-1* Hogenkamp: Perfect service game from Sharapova as she keeps her lead! Hogenkamp is attempting to utilize her backhand slice more often, but once Sharapova gets on the offence, she is unstoppable.
Sharapova 6-1, *2-1 Hogenkamp: Confidence-boosting hold for Hogenkamp as the Dutch comes up with several good serves which left Sharapova clueless! She holds serve and gets on board in the second set.
Sharapova 6-1, 2-0* Hogenkamp: Sharapova consolidates the break after a nervy start! She commits multiple errors but finds her way back from 0-30 down, while Hogenkamp continues to change her tactics and find the right plan, but a failed drop shot attempt on game point caused her efforts to be in vain.
Sharapova 6-1, *1-0 Hogenkamp: What a start to the second set for Sharapova! The Russian continues to ride on her momentum and fires three winners to grab the early break. Hogenkamp attempts a serve-and-volley on break point but makes an unfortunate error to trail by a set and a break.
First set statistics:

Sharapova: 3 aces, 2 double-faults, 81% first serve won, 50% second serve won, 12 winners, 7 unforced errors

Hogenkamp: 0 ace, 1 double-fault, 36% first serve won, 25% second serve won, 2 winners, 6 unforced errors
Sharapova 6-1 Hogenkamp: The incredible start from Sharapova continues as she finds the perfect backhand passing shot! Hogenkamp comes up with a better reply, producing a return winner off the first serve! Nonetheless, the five-time Major champion hits a crucial ace at 30-30, earning a set point which she dutifully converts. She takes the first set 6-1 after just 24 minutes!
Sharapova *5-1 Hogenkamp: Great shot selection from Sharapova and the 28th seed is off to a perfect start to her Paris campaign! She comes up with her second drop shot winner of the day and the power of her deadly returns are keeping Hogenkamp at bay, giving herself time to get on the offence. Double-break lead and the Russian will now serve for the opening set.
Sharapova 4-1* Hogenkamp: Much-improved level from Hogenkamp as she starts to challenge the authority of Sharapova at the baseline! The rallies are getting longer and the Dutch produces a beautiful forehand winner and has a look at a break when leading 15-30! Nonetheless, Sharapova's aggression takes charge once more, serving consecutive unreturnable serves to hold onto her lead.
Sharapova *3-1 Hogenkamp: The Russian starts the game poorly after hitting consecutive errors but she rebounds and comes up with a deep return for 30-30, with another chance to break. However, the first sight of inconsistencies seemed to have overwhelmed Sharapova, who sent a backhand second-serve return straight into the net on game point which allows Hogenkamp to get on board.
That's a great start from Sharapova, who has hit 8 winners alongside an ace to start the match with. Hogenkamp has done nothing wrong but is being overpowered throughout all the rallies with the match being on Sharapova's racquet.
Sharapova 3-0* Hogenkamp: First hiccup from Sharapova today as she throws in a double-fault while being 30-0 up. Drop shot winner to earn the opening point before a stunning backhand down-the-line winner which left Hogenkamp helpless. The Dutch is not able to find the momentum on her shots and Sharapova consolidates the break for a 3-0 lead with an ace after just seven minutes.
Sharapova *2-0 Hogenkamp: Quick break for Sharapova as she starts the match by winning 8 of the first 9 points. Hogenkamp sent a big forehand long and the nerves seem to be affecting her early on. Otherwise, it has been quite a flawless start from the former world number one.
Sharapova 1-0* Hogenkamp: Solid serving from the Russian as she starts the match on a high note. Hogenkamp doesn't look too settled into the occasion while Sharapova starts with two forehand winners.
Sharapova will start the match serving. Ready? Play!
The players have made their way onto the court, and are currently warming up now!
UPDATE: Shapovalov has beaten Millman 7-5, 6-4, 6-2 and it is time for Sharapova and Hogenkamp to begin!
UPDATE: However, it looks like this match will be delayed once more! Rain is currently having its way in Paris and all matches across the tournament are being suspended.
Welcome to Paris on Day Three of action! This is Don Han, bringing to your live game-by-game updates on the first-round match between Maria Sharapova and Richel Hogenkamp! This encounter was initially scheduled for yesterday, but as the night falls and the rain slowly building up, it was postponed for today's schedule instead.
What a disappointing way to end the thrilling Day Two in Paris! See you tomorrow at approximately 7 am ET (1 pm local Paris time) and this is Don Han signing off!
UPDATE: Maria Sharapova and Richel Hogenkamp will start their match tomorrow scheduled second on Court Suzanne Lenglen, starting immediately after the conclusion of the encounter between Shapovalov and Millman.
UPDATE: It has just been announced that the match between Maria Sharapova and Richel Hogenkamp on Court Suzanne Lenglen has been cancelled for today. More updates about the schedule and the arrangement will follow.
Around the grounds: Belinda Bencic has just beaten Deborah Chiesa in a thrilling three-set encounter after saving five match points in the second set! Sixth seed Karolina Pliskova, the potential third-round opponent of the winner of this match, is trailing 1-4 in the second set against qualifier Barbora Krejcikova after winning the first in a tiebreak. The unseeded Elena Vesnina also finds herself in deep trouble, trailing by a set and a break against Bernarda Pera.
UPDATE: One good news and one bad news! The good news is, Gasquet has successfully beaten Seppi 6-0, 6-2, 6-2 after just 87 minutes of play and Sharapova - Hogenkamp can begin play before the day concludes! The bad news? Rain is falling down soon.
UPDATE: After many speculations whether Sharapova and Hogenkamp will compete today, it seems like they would! Gasquet has a commanding 6-0, 6-2, 3-0 lead over Seppi and we could be just three games away from the last match of the day!
UPDATE: Wawrinka was stunned by Garcia Lopez in a thrilling five-setter in Court Suzanne Lenglen's first match of the day before Parmentier claimed the win against Paquet in a match which was carried over from yesterday. Petkovic followed it up with yet another upset over home favourite Kristina Mladenovic. As things stand, the possibility of Sharapova and Hogenkamp playing today is meagre.

Nonetheless, Gasquet is looking to do Sharapova a favour, as he is looking to close out his win over Seppi in emphatic fashion. The Frenchman currently leads 6-0, 2-0 after just 30 minutes of play.
Schedule Update: The uncompleted all-French wildcard affair between Chloe Paquet and Pauline Parmentier has been scheduled second on Court Suzanne Lenglen to finish, hence the start time of this match is expected to be delayed.
The winner of this encounter will either face Kateryna Bondarenko or Donna Vekic in the second round. Sixth seed Karolina Pliskova is a potential opponent in the third round as well. If Hogenkamp manages to cause the huge upset, the Dutch will only manage to defend her points from last year. Whereas, Sharapova needs a deep run here in Paris if she wants a significant increase in her ranking.
The pair has only met once in the past — with Sharapova triumphing in their second-round encounter at the Wimbledon Championships, losing just four games in the process. The Russian is tipped to make the third round here in Paris, and Hogenkamp is not expected to provide the five-time Grand Slam champion much of a trouble.
Hogenkamp has had a poor start to 2018, having lost her opening six matches of the year. The underdog won only four main draw matches (including ITFs), but two of them came in the ITF 25k event back in March. Nonetheless, getting through the qualifying rounds will be a huge confidence-booster for the former top-100 player.
Opposing Sharapova on the other side of the court will be qualifier Richel Hogenkamp. The world number 134 came through the qualifying rounds and clinched impressive wins over Ons Jabeur and Bianca Andreescu in an attempt to defend her second-round points from 2017. The Dutch had to survive a marathon 7-6, 5-7, 7-5 win over the Turkish, and match practice from the qualifying rounds might do some good here.
Then, the former world number one went on to reach the semifinals at the Internazionali BNL D'Italia, ousting Ashleigh Barty, Dominika Cibulkova, Daria Gavrilova, before earning her first top-10 win of the year against reigning Roland Garros champion Jelena Ostapenko in a three-hour classic. However, her dream run was stopped by the top-ranked Simona Halep in three sets.
Sharapova had a bleak 2018 before the clay-court season, reaching the semifinals in Shenzhen before going on a devastating four-match losing streak which spanned over three months. Nonetheless, dubbed as the "Queen of clay", Sharapova stormed back during the clay-court season, fighting back to defeat the likes of Mihaela Buzarnescu and Kristina Mladenovic for a quarterfinal appearance in Madrid. The run pushed her back into the top-50 after a first-round exit in Stuttgart against Caroline Garcia.
Two-time champion Maria Sharapova will make her first appearance in Paris since 2015 after her suspension for a violation of the anti-doping rules. After being rejected a wildcard request last year, Sharapova will be back in the draw as the 28th seed after earning some impressive results recently. This match will be played last on Court Suzanne Lenglen, following encounters between Wawrinka-Garcia Lopez, Petkovic-Mladenovic, and Seppi-Gasquet.
Welcome to the live coverage of the 2018 French Open first-round! My name is Don Han and I am happy to be bringing you game-by-game coverage of this first-round encounter at Roland Garros between 28th seed Maria Sharapova and qualifier Richel Hogenkamp here on VAVEL. From now on until the match begins approximately at 12 pm ET (6 pm local time), news and notes will be above to get you up to speed. Be sure to return once the match begins for game-by-game updates!