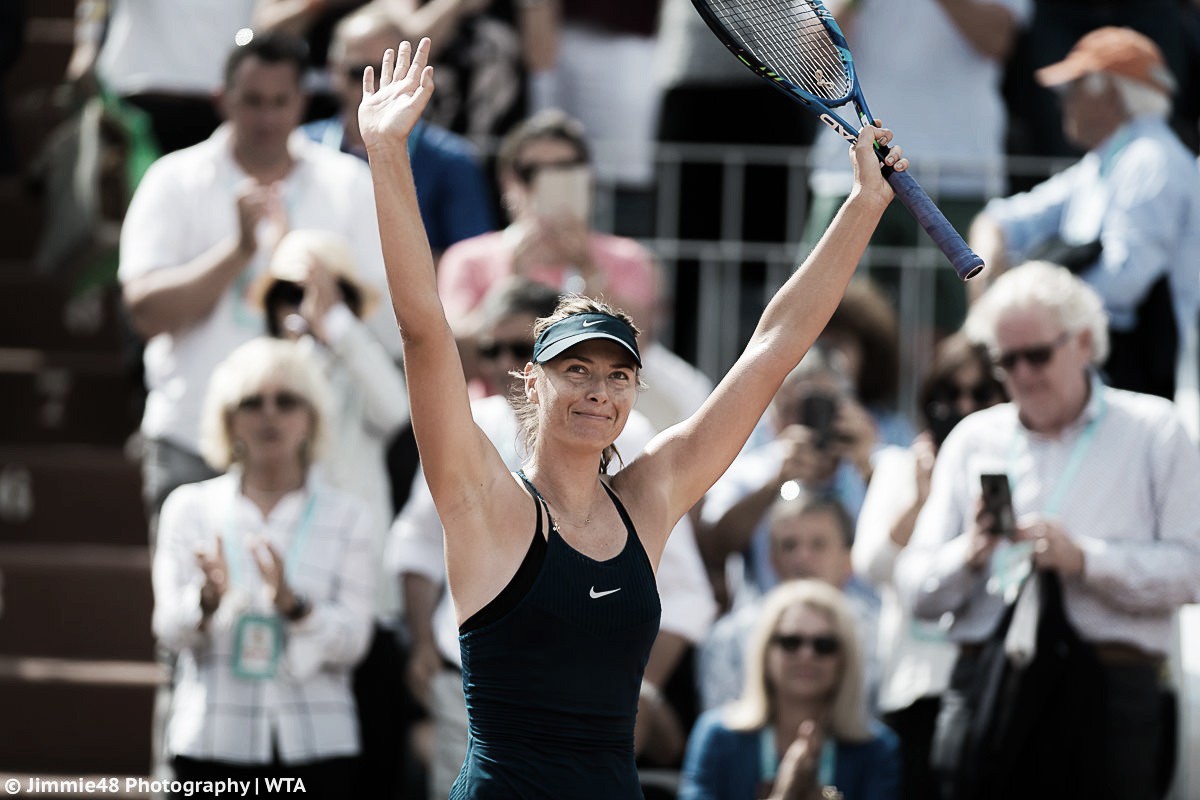 Maria Sharapova clinched another impressive victory, this time round defeating the dangerous and hard-hitting Donna Vekic in the second round of the 2018 French Open, triumphing 7-5, 6-4 after failing to serve out both sets. The Russian needed a tough one-hour and 57-minutes to clinch the hard-fought win, sealing her place in the third round where she will face sixth seed Karolina Pliskova in a blockbuster clash and maintaining her perfect record in the second-round here in Paris.
It was an excellent match as both players were displaying some thrilling tennis while Vekic, the underdog in this encounter, never seemed to fade away and continued to give it her all and frustrate Sharapova. Nonetheless, the former world number one was able to claim the terrific win over a quality opponent in straight sets, hitting 29 winners in the process.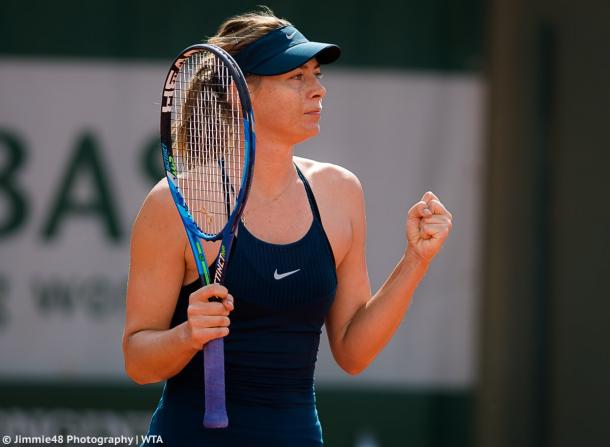 Sharapova overcomes slight wobble to take the first set
Starting the match serving could not have been a worse decision made by Sharapova as her slow start proved costly, producing a slew of unforced errors and unable to handle the pace of Vekic's groundstrokes initially. This saw the five-time Major champion being broken in the opening game, gifting the Croatian a perfect start. However, it was a short-lived celebration for Vekic as Sharapova broke straight back with the help of several powerful returns.
The Russian continued to face troubles on serve but a mishit return by Vekic paved the way for Sharapova to hold serve for the first time. The world number 50 soon followed suit and a series of comfortable service holds soon followed. Sharapova found herself in yet another disadvantageous situation — but two unreturned serves saved her from the brink as she fended off double break points to remain on serve.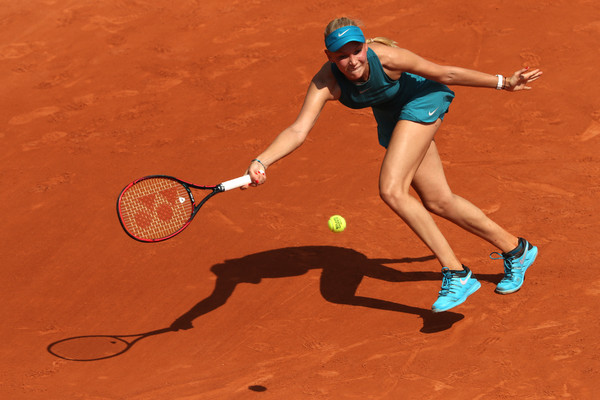 Vekic will rue her missed chances as she let those near misses get into her mind, and the result certainly wasn't the best. Sharapova exploited the Croatian's vulnerable second serves and ultimately broke serve for a 5-3 lead alongside a chance to serve out the set. However, Vekic held her nerves and impressively, saving a set point and triumphing in the nervy game to level the scores out of nowhere.
Sharapova restored parity with an affirming love service hold and forced Vekic to serve to stay in the set once more. This time, nerves could have overwhelmed her as she was unable to find her first serves, and a low first serve percentage of 46 ultimately cost her the set as Sharapova took it 7-5 after a little more than an hour of play.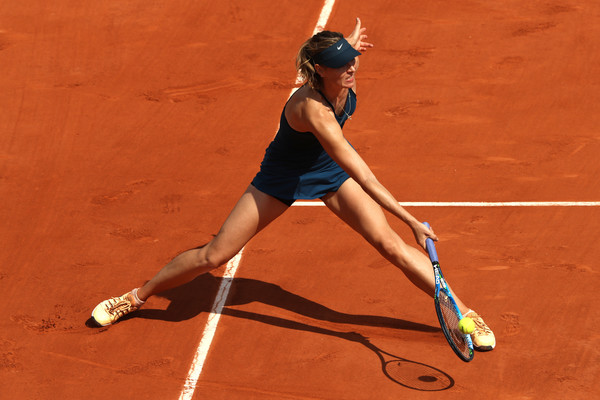 Sharapova triumphs despite a late hiccup
Riding on her momentum, Sharapova seemed unstoppable as she surged towards a commanding 2-0 lead in the early stages of the second set. Vekic was more erratic than usual and many expected her to gradually falter. However, she started to put up an inspired performance and her never-say-die attitude reflected in her game after she started to find her groove once more, breaking straight back to get on board.
However, second serves were still Vekic's main weaknesses as Sharapova went for her vicious returns and immediately earned back the advantage, causing the Croatian's efforts to be futile. This time, the 28th seed was able to hold onto her advantage until she put herself just one game away from the win at 5-2 up.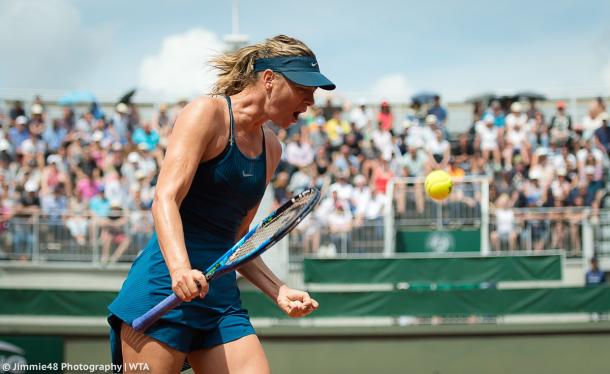 The match seemed to be over, but Vekic had other ideas as she seemed determined to produce the miraculous comeback. The improbable turnaround seemed on the cards after the underdog retrieved from being two points away from defeat at deuce in the eighth game, to returning on serve with a flawless return game by applying the pressure on Sharapova at the baseline.
Serving to stay in the match, Vekic felt the pressure once again. She failed to find her first serves consistently and Sharapova was able to earn multiple match point opportunities, though her own nerves kicked in as she failed to convert five of them.
The marathon game soon became the highlight of the entire match as Vekic fearlessly went for the aggressive shots on those match points, and her risks were well-taken as she almost kept herself in contention. However, a slow-paced second serve was brutally punished as Sharapova came up with a return winner and was sixth-time lucky to seal the excellent win after 117 minutes of play.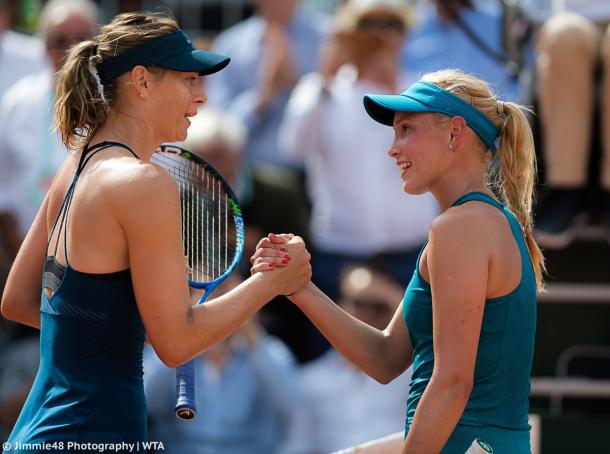 Special thanks to Jimmie48 Tennis Photography for the pictures