 After an impressive opening round victory, Richard Gasquet found himself fighting against Malek Jaziri as he came through 6-2, 3-6, 6-3, 6-0 to book his spot in the third round at Roland Garros. He will now face Rafael Nadal who leads the head-to-head 15-0 and has not lost a set to the Frenchman in ten years and ten meetings.
Gasquet makes the perfect start
The Frenchman made a strong, fast start to the match. He recovered from 30-15 down, forcing error's from Jaziri as he earned an early break point chance at 30-40. In a five-minute game, Gasquet broke to take the lead. He would back this up by holding for 2-0. The Tunisian's poor start continued as he couldn't live with the 29-year-old's fast start as two more break points arrived following yet more errors.
Gasquet made it two from two on break points with Jaziri netting a forehand. Another hold of serve saw the Frenchman in cruise control at 4-0 in the set. Despite a double-fault, that could spell another disastrous game, the 34-year-old got his act together, winning four straight points to get on the board at 4-1.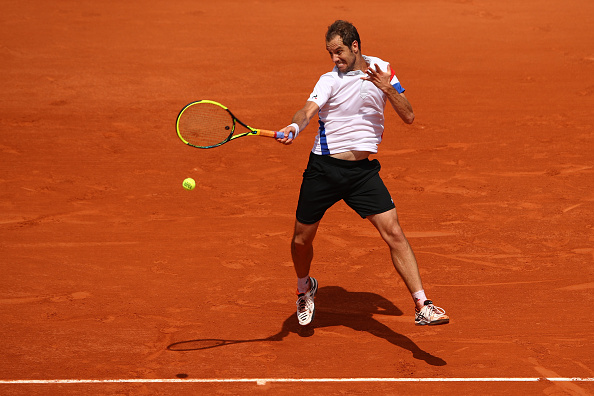 The 27th seed maintained his excellent start and forced more errors to come from Jaziri as he held to love for 5-1. Serving to stay in the match after just 26 minutes, the world number 63, following a mini-rally would end up smashing a forehand long to gift two set points to Gasquet at 15-40.
But he composed himself well, saving both set points before winning his second game. The Frenchman would then earn two more set points on his serve at 15-40. He missed his first chance but sealed the set on his second set point with an unreturnable serve for 6-2.
Jaziri fights back to steal set two
Hoping to keep his momentum going, Gasquet would take the opening game to deuce before earning an early break point. Jaziri would deny the Frenchman with a forehand winner. However, the Tunisian would be forced to save two more break points as he held on 0-1. This seemed to have given him some much-needed confidence as he went on to grab two break points.
He missed his first chance at breaking but with his second break point, forced Gasquet to hit a slice into the net as he took a 0-2 lead. The 34-year-old made sure of his lead by consolidating and turning the match around in his favor to now lead 0-3. The fourth game saw Gasquet hold serve for the very first time in the set for 1-3.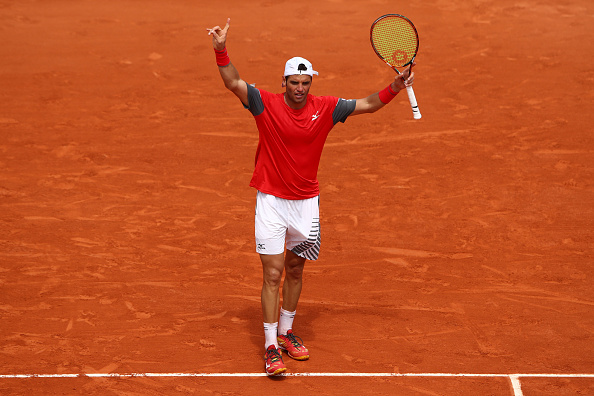 But Jaziri found himself playing much more confidently in the set, hitting more winners and forcing more errors from Gasquet who saw himself getting frustrated, going 1-4 down. Both players held their next service game with no problems and the 34-year-old left the Frenchman serving to stay in the set down 2-5.
Still struggling in the set, Jaziri took advantage of Gasquet's poor play to earn himself a set point at 30-40. The 29-year-old saved the set point in style, hitting a forehand down the line. He then held serve for 3-5. Jaziri, serving for the set had two of his three set points saved by Gasquet who was determined to make a comeback. But, Jaziri forced the error to level 3-6 after one hour 20 minutes.
Gasquet regains his lead
Putting a poor set behind him, Gasquet came out for the third and held serve. Jaziri did likewise, leveling for 1-1. Despite being taken to deuce, the Frenchman held on to stay ahead in the set at 2-1. The Tunisian's errors landed him in trouble as he gifted two break points to Gasquet, which delighted the partisan crowd.
They would soon be on their feet once more as their home player broke with the world number 63 slightly over-hitting a forehand shot. A comfortable hold of love from Gasquet made it 4-1 as he soon found himself in control of the match once again.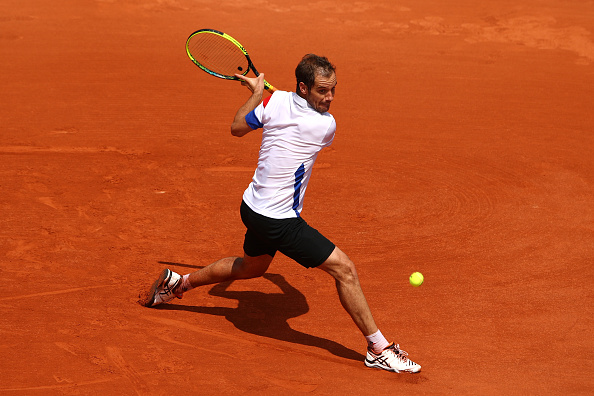 Though the errors continued to flow for Jaziri, he wasn't making as many winners while Gasquet seemed to have upped the ante in the set, cutting down on his errors which helped him regain the composure he had back in set one and the lead.
With three games gone, the Frenchman had the chance to serve for the set and to regain the lead. Gasquet gained a 15-30 lead and an unreturnable serve out wide gave him his first set point. Only one was needed as his backhand shots led to a Jaziri unforced error for two sets to one lead.
Gasquet runs away with the fourth set, books Rafa Nadal meeting
Hoping to make this the final set, Gasquet came out attacking and looking ready as this rewarded him with a breakpoint at 30-40 thanks to his backhand forcing an umpteenth Jaziri error. A Gasquet backhand down the line leading to a Jaziri forehand error would do the job as he broke. He would hold serve to consolidate, making it 2-0.
The 34-year-old lost his way in the set and the Frenchman seemed to be taking advantage, picking up another three breakpoints in this fourth set. Engaging well in the rally, Gasquet seemed to always be on top and this allowed him to open up the court and put away a backhand winner to go even further ahead in the set at 3-0.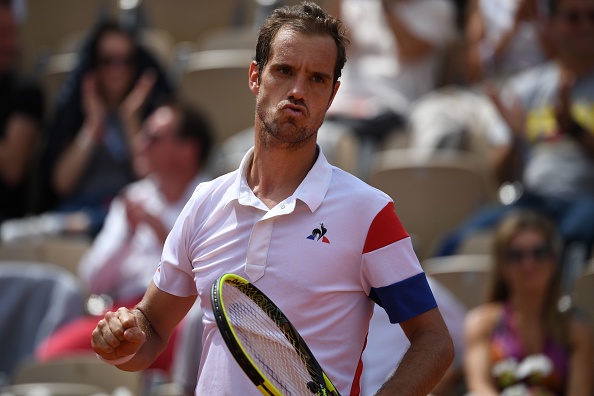 Jaziri took a medical timeout following this but Gasquet consolidated to love, making it 4-0 making it just the one point lost in the past three games and just four points lost in the entire set thus far.
Though improving on his first serves, Jaziri wasn't gaining many points behind it and Gasquet had the answers, breaking the Tunisian on his second break point to serve for the match at 5-0. A first serve set up his backhand winner as he put away his one and only match point to advance to the third round.