 It was yet another commanding performance from the talented youngster Daria Kasatkina as this time she ousted good friend Maria Sakkari in the third round of the 2018 French Open, earning herself a place in her first-ever second-week appearance in Paris. After falling at this hurdle twice in the past, it was a breakthrough victory for the Russian, who will now face either French wildcard Pauline Parmentier or second seed Caroline Wozniacki fighting for a spot in the quarterfinals.
It was not a pretty match on the statistical board but the encounter was filled with thrilling rallies which featured the clash of Sakkari's merciless aggression and Kasatkina's fantastic counter-punching skills. Overcoming a mid-match wobble, the 14th seed triumphed after an hour and 37-minutes with a 6-1, 1-6, 6-3 scoreline.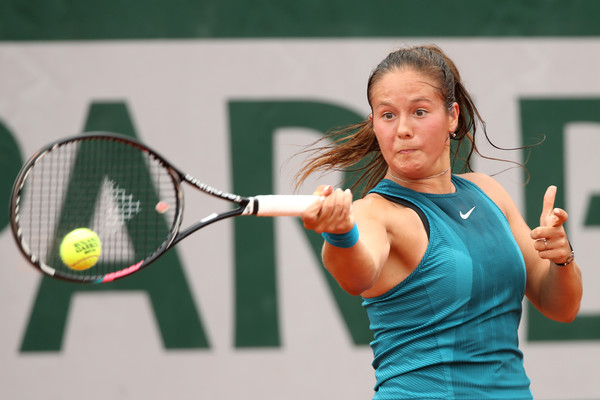 Kasatkina takes the one-sided opening set
It was a stunning and confidence-boosting start for Kasatkina as the in-form Sakkari began the match with a slew of unforced errors coming off her racquet. The Russian was firing on all cylinders with her excellent counterpunching tennis, frustrating the Greek as she was often forced to hit one more shot which ended up as an error on multiple occasions. Within a blink of an eye, Kasatkina jumped out to a commanding 3-0 lead and was having everything her way.
After the changeover, Sakkari calmed her nerves as she regained the rhythm and found her range — now moving Kasatkina all around the court before successfully breaking down her stubborn defense to retrieve one of the breaks back with a fantastic volley winner. However, she was not able to sustain her level on her serve as Kasatkina once again regained a double-break advantage and her pinpoint groundstrokes were doing the job for her.
It was a relatively clean first set played by Kasatkina, who grabbed three games on the trot to claim the first set 6-1 after just 25 minutes of play. The match seemed to be on Sakkari's racquet after she threw in 12 unforced errors while the Russian hit just six winners alongside five unforced errors. Sakkari struggled on her serve, winning just 29 percent of her service points while Kasatkina lost just one point behind her second serves.
Sakkari produces perfect reply in stunning fashion
Sakkari was determined to produce a comeback and she started on her comeback trail in the best possible way — breaking serve in the opening game of the second set. However, the problem of her service games arose once more, and expectedly, Kasatkina was able to break straight back.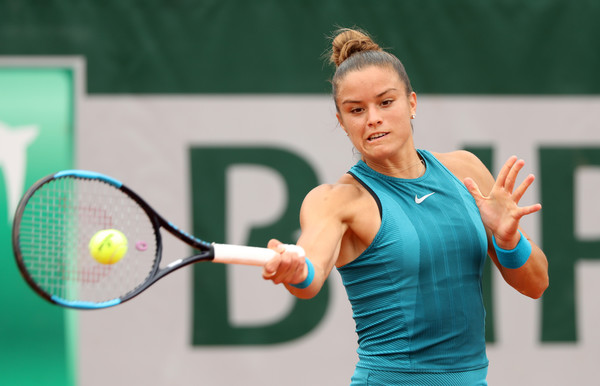 Nonetheless, what made the difference in this set was Sakkari's ability to rebound from her errors and she replied Kasatkina with an invincible run of 10 consecutive points. She stormed out towards a 3-1 lead before the higher-ranked player looked to stop the rout with a service hold in the fifth game. However, Kasatkina's errors became common in this set and she threw away her chances as Sakkari converted her first break point to open up a 4-1 lead. The Greek rode on her momentum and strolled to take the second set 6-1 to send the match into a deciding set.
Kasatkina edges the thrilling encounter
For the third time in the match, a break kickstarted a set, this time with Kasatkina finding her groove and earning the advantage in the early stages. She was able to consolidate the break with little effort, leaving Sakkari behind with much to catch up on. The Russian initially had the golden opportunity to extend her lead in the third game but was wasteful on her chances as Sakkari came up with some inspired play to get on board.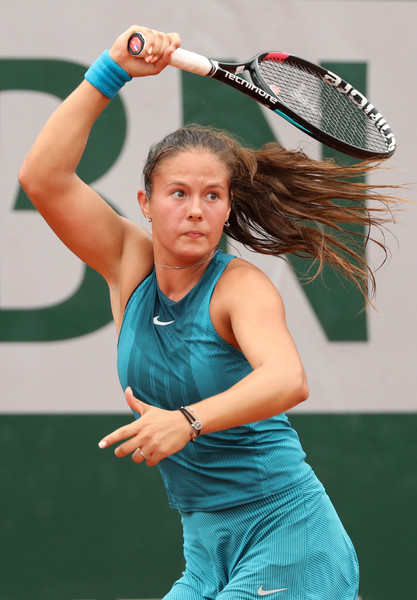 Kasatkina will rue her missed opportunities as she was immediately broken back in the following game, though it proved to be just a quick exchange of breaks as Sakkari failed to maintain her high level of play throughout the encounter. Inconsistencies continued to pop up in the Greek's game, and she soon found herself trailing by a double-break with Kasatkina earning the chance to serve out the match.
Her first attempt at serving out the match ended up in the worst possible manner, as Kasatkina grew increasingly passive as she edged closer towards the finishing line, allowing Sakkari to hang on by a thread. However, the world number 38's struggles on her serve proved costly, and after losing her serve for the ninth time in the match, Kasatkina earned the impressive win in just 97 minutes of play.