 Grass-court prodigy Magdalena Rybarikova returned to the grass-court season — to where her resurgence and second career started last year. It was her outstanding successes on this tricky surface back in 52 weeks ago, where she managed to surge up the rankings from the 192nd spot to her career-high ranking of 17 this year. However, this year she comes in with a different mentality after having to defend 1070 points within just one month. She had a relatively poor start to her defence, having fallen in the second round of the previous week's Nature Valley Open to Mona Barthel.
Nonetheless, she seemed to have found her best form yet again, with the help of a stunning and commanding 6-2, 6-3 win over world number seven Karolina Pliskova in the opening round of the Nature Valley Classic in Birmingham, claiming her first top-10 win of the year. She did not lose her serve all match, fending off both break points she faced. Playing some clean tennis, Rybarikova blasted 17 winners to just 10 unforced errors while Pliskova seemed out-of-sorts out there today, gifting her opponent 19 free points with her errors and hitting just 13 winners.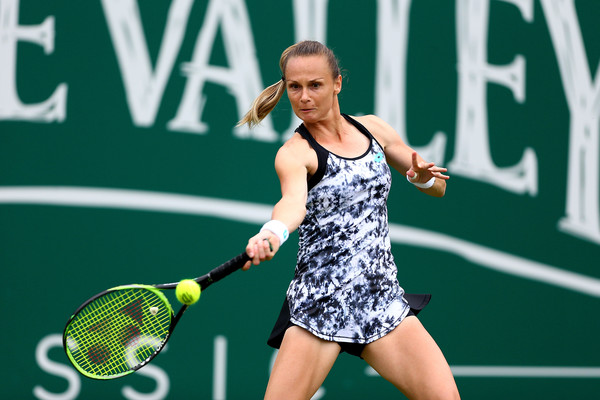 Rybarikova strolls to take the terrific opening set
Pliskova had a relatively slow start as she seemed overwhelmed by Rybarikova's crafty playing style yet again — reliving memories from her Wimbledon second-round shocker last year. The Slovakian opened the match in the best possible manner, redirecting the pace for a forehand winner to grab the first break swiftly.
The slices which Rybarikova were inputting into her game were extraordinary and definitely caused Pliskova lots of troubles, as she was struggling to find her feet and her game failed to meet her own personal standards. Another quick break followed before the world number 19 consolidated the break with consecutive aces for a stunning 4-0 lead.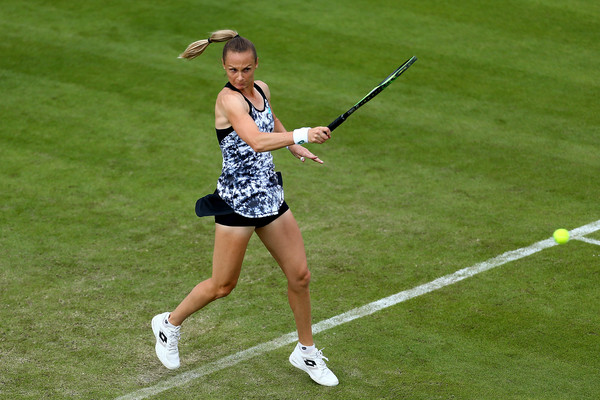 A series of powerful serves finally allowed Pliskova to heave a sigh of relief, getting on board late in the opening set with a comfortable service hold. An improbable comeback seemed on the cards, though, as the Czech earned her first (and only) break points of the match while Rybarikova was attempting to serve out the match. Fantastic defence from the unseeded player saw her frustrate Pliskova with her ball-retrieving skills, ultimately claiming four consecutive points to take the first set 6-2.
Rybarikova grabs the huge win
The second set played out in a more competitive fashion, and both players put up an amazing serving display in the early stages. There was a quick succession of four service holds, but it was once again Rybarikova who drew first blood and made the first breakthrough. Pliskova struggled to find consistency in her game, while the Slovakian grew in confidence each game she wins.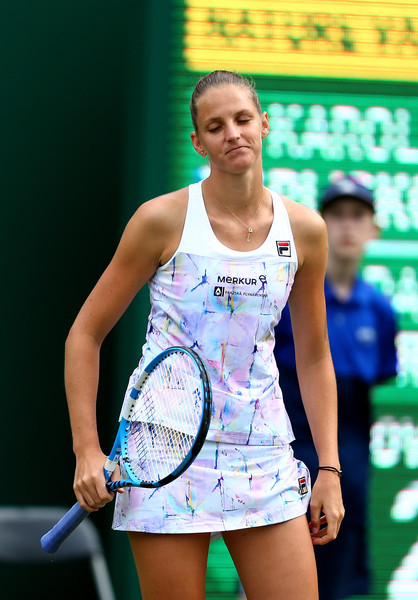 Rybarikova was able to hold onto her advantage until she was one game away from claiming the upset after opening a 5-3 lead. Serving to stay in the match, Pliskova put up some tough resistance but eventually conceded defeat as Rybarikova sent in a perfectly-placed lob on her third match point, forcing an error from Pliskova's side of the court to grab the comfortable 6-2, 6-3 win after just an hour and three minutes of play.