Two accomplished veterans will face off in the first round of the 2018 Wimbledon Championships — the 23rd seed Barbora Strycova will face the unseeded and injury-troubled Svetlana Kuznetsova in a stunning opening-round clash as the Czech will look to hold off the incoming slaughter from the inspired Russian, who will fall out of the top-100 for the first time in a decade if she were to experience an early defeat this week.
The favourite in this match-up definitely has to be the Czech, who is excellent on grass, while another early exit looms for Kuznetsova, who is relatively unlucky with her draws throughout the year. To think that the Russian made the quarterfinals here in Wimbledon last year, it will be extremely difficult to see Kuznetsova returning to the same stage unless she manages to find her form overnight ahead of their clash on Monday.
Strycova — underrated grass-court player?
Strycova's 2018 has been full of ups and downs — a decent start to the season saw her reaching quarterfinals in Auckland and Sydney before making the second week of the Australian Open. However, she followed her runs with a disappointing eight-match losing streak though she finally ended it just in time for Roland Garros, where she made the fourth round. Strycova also experienced a decent grass-court season with a semifinal finish at the Nature Valley Classic before falling to Karolina Pliskova in Eastbourne.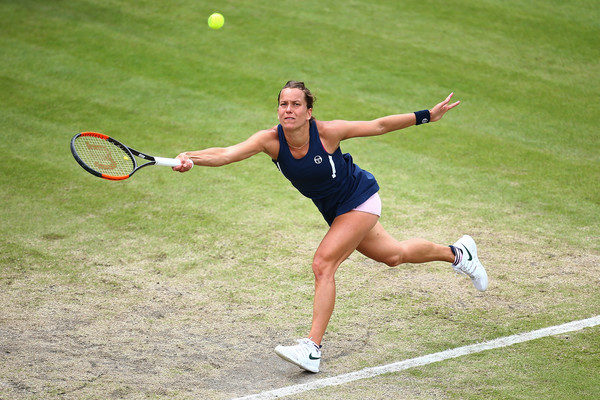 Throughout her career, Strycova was able to reach the final in Birmingham twice though she was not able to replicate her success onto the lawn courts in Wimbledon, surviving the first week only once in 2014, when she made the quarterfinals with impressive wins over Elena Vesnina and Li Na, defeating the Chinese in the last match of her professional career. Nonetheless, her ability to excel on grass has been proven in the past, defeating world number three Garbine Muguruza 6-2, 6-4 in Birmingham this year while also ousting her 6-1, 6-0 in Eastbourne just a week before she claimed the trophy in Wimbledon.
Injury-troubled Kuznetsova looks to regain form
An abrupt left-wrist injury sustained at the US Open last year derailed Kuznetsova's late resurgence, especially when she was on course to qualify for the WTA Finals having been ranked inside the top-10 throughout the majority of the year. Kuznetsova was forced to play with an injury and ultimately ended the year ranked 12th. Her wrist injury was more serious as it seemed initially and was forced to delay her comeback till March this year, at the BNP Paribas Open. Despite starting with a loss, Kuznetsova finally got back to her winning ways but still failed to find her form. She is 1-2 on grass this year, falling early at both Mallorca and Eastbourne.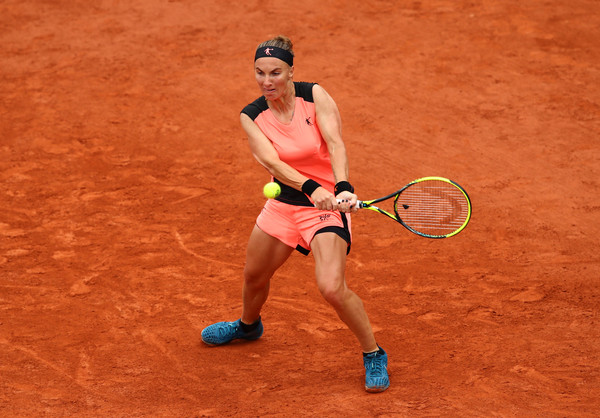 She now faces a huge risk of falling out of the top-100, after reaching the quarterfinals here last year. Kuznetsova reached the last eight on three different occasions and owns a 50-27 win-loss record on this surface. However, her only top-10 win on grass came against Agnieszka Radwanska in the fourth round last year, before she succumbed to eventual champion Garbine Muguruza in straight sets.
Head to Head: History in favour of Kuznetsova
The pair has met twice in the past — and both matches went in the way of Kuznetsova. Their last meeting occurred in 2014 when the Russian triumphed 6-3, 6-3 in Indian Wells but we have to rewind back to 2008 for their first meeting, which coincidentally happened at Wimbledon. That encounter saw the former top-10 player triumphing once more, coming into Monday's clash with a 2-0 lead in their head-to-head record.
Can Kuznetsova find her vintage tennis once more, or will Strycova steamroll her way to victory?
Strycova's game, surprisingly, works extremely well on grass. Her all-court game which includes a variety of shots suits the surface perfectly, especially when the Czech is able to mix up the rhythm of her opponents using her drop shots. Strycova can remain solid at the baseline and Kuznetsova will find herself getting frustrated with the number of balls which are coming back towards her side of the court.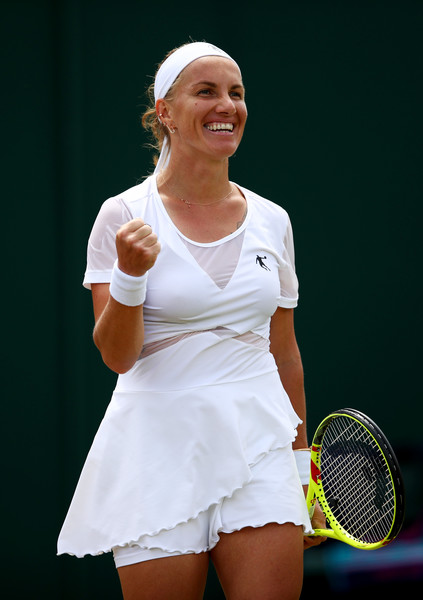 It will take a high level of patience for the Russian to overpower Strycova, but Kuznetsova has recently shaped herself to become a more varied player instead of being overly-aggressive as compared to the past. Defending quarterfinal points here, Kuznetsova's motivation to achieve a decent result here would be huge — elsewise, she will fall out of the top-100.
Kuznetsova's backhand could prove crucial in this encounter, and she has been adding slices onto that wing but it has not returned to its best since her left wrist injury last year. Strycova is the player who is in better form and could settle into the conditions faster and better, while the Russian is also known for her struggles on this surface. Hence, Strycova should grab her first win over the former top-10 player unless Kuznetsova regains her form within a blink of an eye.
Match Prediction: Strycova d. Kuznetsova in three sets