 7th seed Karolina Pliskova got past a tricky first-round opponent at the 2018 Wimbledon Championships as she narrowly escaped past British wildcard Harriet Dart in three tough sets, overpowering the inspired home favourite with a 7-6, 2-6, 6-1 scoreline after two hours and seven minutes of play.
Pliskova put up a decent performance and will now face the resurgent Victoria Azarenka in a blockbuster second-round clash. The Czech owns a 2-3 record in their head-to-head, though the Belarusian comes into the encounter in great form, hence we should be treated to a thriller on Wednesday.
Pliskova steals the tricky opening set
After a tricky start, it was Pliskova who began the match on a more positive note as she raised her level of play to create the first breakthrough in the third game, with a series of strong returns setting the break up for the Czech. Several tight service games followed but the seventh seed had the golden opportunity to extend her lead once more. A powerful serve from Dart helped her to save a break point and ultimately paved the way for her to claim the encouraging service hold.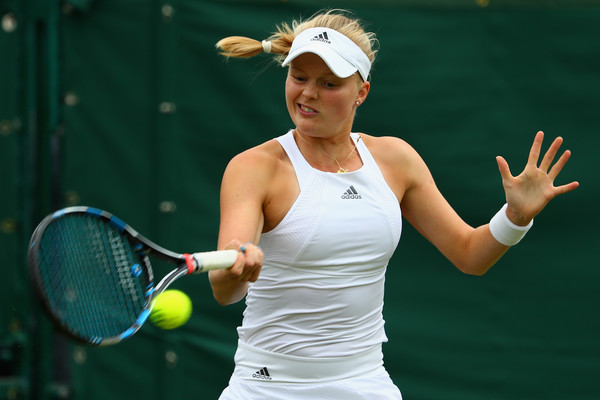 Pliskova was brought to deuce in her service games on two occasions, but the British wildcard was unable to find a break point. Nonetheless, just when Pliskova attempted to serve out the first set at 5-4 up, a slew of unforced errors saw the world number seven throw in consecutive double-faults and being broken for the first time in the match.
Dart was determined to put up a tough fight outside on Court 12 as she fended off another incoming slaughter from Pliskova, this time with a fantastic drop shot winner. Surprisingly, the set was brought into a tiebreak but the Czech eventually rattled off six straight points in a row to take the first set after 55 minutes of play.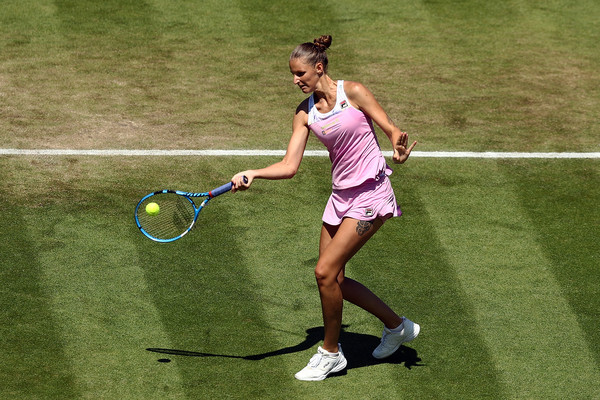 Dart unexpectedly fights back to level the scores
Things were not going as smoothly as expected for Pliskova, who was struggling with the tricky conditions on the opening day of play. After Pliskova grabbed the tight opening set and had all the momentum running in her, Dart was surprisingly stepping up to the occasion. She rattled off 12 of the first 14 points in the second set, jumping out to a commanding 3-0 lead within a blink of an eye.
Though Pliskova managed to make up for the huge deficit by earning a break back, Dart did not lose the rhythm in her game and regained a double-break lead. The Brit's backhand was firing on all cylinders while the Czech failed to gain any rhythm in her explosive game. However, Dart soon experienced a horrifying fall but recovered well after a medical time-out, saving two break points to consolidate the break and open a 5-1 lead. A quick exchange of love service holds then saw Dart taking the second set 6-2 after just 38 minutes.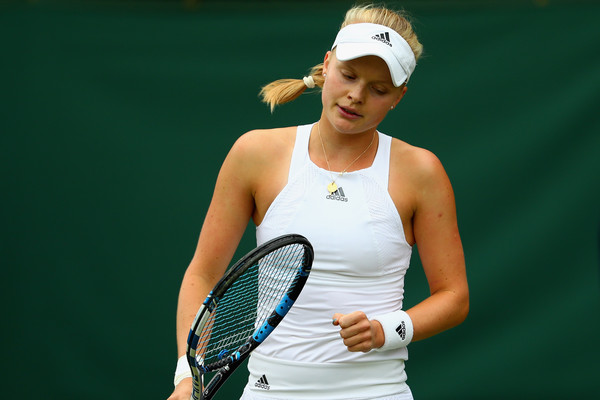 Pliskova escapes after a huge scare
Pliskova, one of the favourites for the title, found herself in deep trouble when she faced three break points in the opening game of the deciding set. She narrowly survived that game but Dart managed to stamp her authority across the court, getting on board with a comfortable hold. However, it was one-way traffic from there on, with Pliskova grabbing five consecutive games to grab the huge and risky win.
This will be an extremely important win for Pliskova, especially for such a top player like her who needs to win matches like this even when you are not playing at a high level. She lost just three points at the net, though a much-improved performance is needed against her second-round opponent Victoria Azarenka.