If there were any questions about Roger Federer's form coming into Wimbledon following his upset loss in Halle last month, the Swiss has firmly put them to rest. The eight-time champion was completely dominant in his second-round clash with Lucas Lacko at Wimbledon on Wednesday, cruising through in straight sets.
At times in the match, it felt as though the Swiss could do no wrong. Federer was untouchable on serve, at one point going almost nine games without dropping a point, and picked apart the Eastbourne runner-up from just a week ago for a 6-4, 6-4, 6-1 victory.
Federer wears Lacko down
The top seed wasted no time in putting his opponent on the backfoot, forcing Lacko to deuce in just the third game of the match. Lacko would survive that test and settled in for a couple of games but got into trouble at 3-3. Federer ripped a forehand winner up the line to take a 15-40 lead on the Slovak's serve and, despite shanking a backhand on his first break point, he somehow converted after keeping a rally alive with a desperation lob that caught the baseline before Lacko missed a forehand.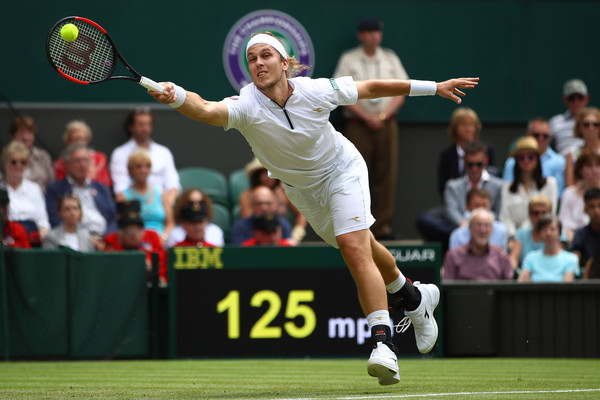 The Swiss was starting to get into his rhythm and set up a double set point opportunity at 5-3, 15-40 on Lacko's serve. Lacko was up to the test on that occasion, saving the first set point with a service winner before Federer netted a forehand to end the threat. However, the top seed had found his GOAT level on his serve and made it look easy as he served out the set. At 5-4, he held to love with only one of his serves coming back into play.
Golden serving set for the Swiss
Federer set the tone early in the second set, opening with a pair of holds to love. While Lacko matched him for those first two service games, he started to struggle as the set progressed. At 2-2, 15-30 on the Slovak's serve, Federer ran his opponent ragged around the court to set up a double break point. Lacko saved the first with a big serve, but the top seed casually struck a forehand winner up the line to grab the early break.
With the way Federer was serving it seemed highly unlikely that Lacko would have an opportunity to level. He did not. Nowhere close. Federer was cruising along, with many serves not coming back over the net. When they did, the Swiss spread his opponent all over the court, drawing a ton of errors and firing winners.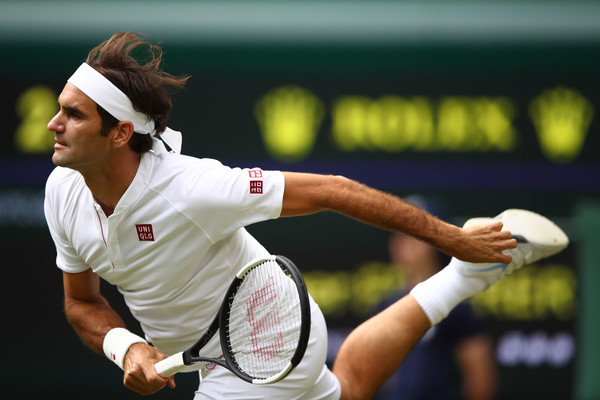 As the Swiss stepped up to serve out the set at 5-4, the only question was whether Lacko would even win a point. He did not even have a chance as, after Federer opened the game with a forehand winner, Lacko would not touch another ball as the 20-time major champion struck three straight aces to wrap up the set. Federer held all five of his service games to love in the set, a perfect 20 for 20 of his service points won, also known as the golden serving set.
Top-notch Federer cruises through
By no means had Lacko played a bad first two sets, only surrendering one break in each one. But failing to even win a point on your opponent's serve can weigh heavily on one's mind and that seemed to be the case for Lacko. In the opening game of the set, he found himself stuck at deuce before Federer struck a clean backhand return winner to set up break point. Lacko would miss a forehand to give the early initiative to Federer.
Up a break with Federer having not lost a point on serve since the opening set, things were looking bleak for Lacko. The Swiss' level did not drop, as he held his first two service games of the set to love, stretching the streak to eight consecutive love holds. Federer then added another break to stretch the lead to 4-1.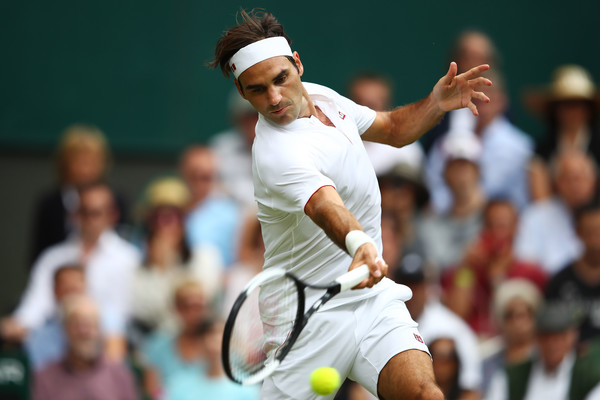 ​Finally, after Federer took a 30-love lead on his serve at 4-1, Lacko managed to punch a backhand passing shot past the Swiss to win his first return point since the opening set, snapping Federer's streak of 35 straight service points won. Still, Federer would hold to move to within a game of victory. At 5-1, 30-all, Federer used a whacky deceptive drop shot to set up a match point, which he converted to close out the victory.
By the numbers
Federer finished the match with 16 aces, 93 percent of his first serve points won, and only losing nine of 61 service points overall. He was also a brilliant 15 of 19 at the net and converted five of his nine break points. Lacko did not reach break point in the match.
The top seed will meet Jan-Lennard Struff in the third round. The German came back from two-sets-to-love down to eventually edge serve-monster Ivo Karlovic 13-11 in the fifth set.