 Ever since winning junior Wimbledon in 2016, Denis Shapovalov has struggled to find his footing on grass. The youngest seeded player at the 2018 Wimbledon Championships was sent packing in his second-round match on Thursday, failing to keep up his momentum after winning the opening set of his clash with Benoit Paire 6-0, losing in four sets.
Shapovalov dominated the opening set, in which his opponent essentially capitulated. But once Paire found his rhythm, the Canadian struggled to keep his shots in the court, as well as his focus. Despite some late openings, Shapovalov had no answer for Paire's clutch serving. The Frenchman advanced with a 0-6, 6-2, 6-4, 7-6(3) win.
Dream start for Denis
Shapovalov was firing on all cylinders right from the very start, opening with a hold to love that saw only one of his serves come back into play.
Paire was playing the match with almost his entire left leg taped, and his early play did little to alleviate concerns. From 30-love up in his opening service game, the Frenchman missed three straight serves followed by back-to-back shots into the net to fall behind 30-40. Shapovalov missed his return on that break point, but a massive return set up a second and this time some big hitting from the teen drew a forehand into the net for an immediate break lead.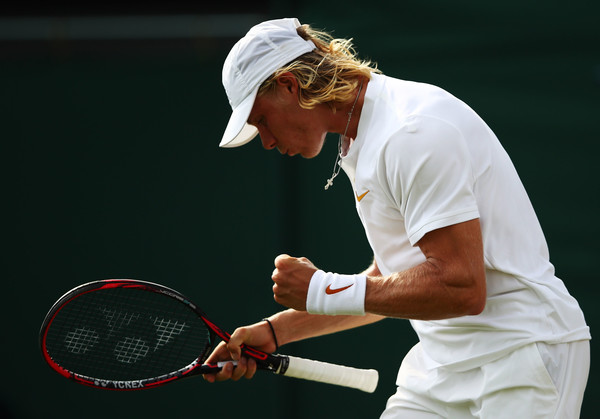 In his second service game, Paire did not fare much better, double-faulting to go down 0-40. He would save all three break points, only for Shapovalov to rip a passing shot winner to set up another. The back and forth continued as the Canadian sent his backhand long to go back to deuce. Paire then double-faulted again but backed it up with a monster serve. After a Shapovalov ball hit the net cord and trickled over to set up a sixth break point of the game, Paire attempted to serve and volley only to put the volley into the net, giving the teen a double break
After Shapovalov held to take a 5-0 lead, Paire packed it in. Serving to stay in the set, the Frenchman lazily committed four consecutive unforced errors to hand the opening set to his opponent 6-0 after a mere 19 minutes.
Paire finds his rhythm
Shapovalov opened the second set in the same vein as he started the first, with a hold to love. Paire managed to finally to get on the board in the second game, holding to 15. With a game under his belt, the Frenchman turned his attention to his opponent's serve. He came out swinging and took a 0-40 lead in the next game and, despite netting shots on his first two break points, broke when the Canadian missed his passing shot from the midcourt.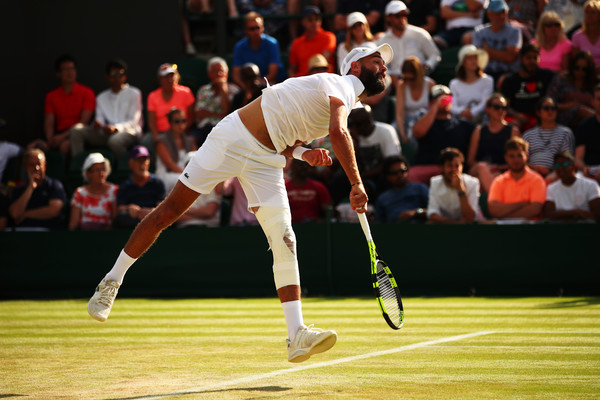 Things weren't entirely peachy for Paire despite having the lead, as the inconsistency was still creeping into his game. Looking to consolidate the break, he blew a 40-15 lead and found himself down break point after a massive return from Shapovalov. However, the Canadian would send a backhand into the net on the break point and Paire was able to hold.
At 4-2, Paire looked to take a double break lead when his opponent sent a forehand into the net for 30-40. Shapovalov would paint the line with his forehand to save the break point. Over the ensuing series of deuces, the Canadian would double fault three times to give Paire break points, but twice struck forehand winners and saved another with an unreturnable serve. In total, the Frenchman had six break points in the game. On the last one, Shapovalov missed a forehand to put his opponent up 5-2. Paire would serve out the set in the following game.
Brief lull costs Shapovalov
After the Canadian dominated the opening set and the Frenchman the second, things were a little more even in the third set. Both men started out strongly on serve, holding their first two games to get to 2-all.
In the fifth game, all appeared to be going according to plan as Shapovalov took a 40-love lead. But seemingly out of nowhere, the Canadian imploded, blowing the lead and finding himself stuck at deuce. There, he missed an easy forehand from the midcourt to fall behind break point and followed it up by netting a forehand to lose his fifth straight point from 40-love up and surrender the break.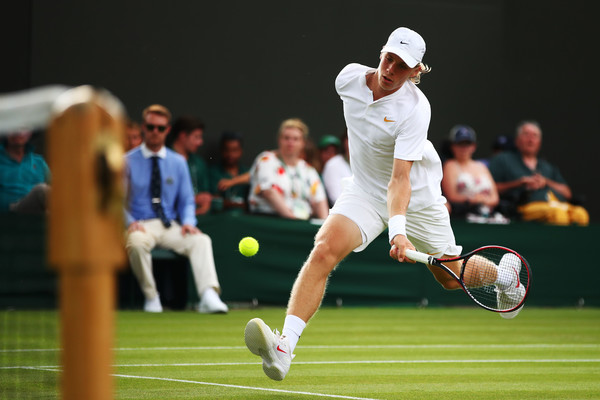 Paire was now cruising on serve and gave Shapovalov very little to work with on return. Many of the Frenchman's serves were not even coming back over the net. While he would not get another look at a break point on the Canadian's serve, Paire did not need it. He would ride his serve through the remainder of the set, wrapping it up 6-4 with a hold that featured three unreturned serves.
Paire survives late scare to advance
Paire had a chance to seize full control of the match in the third game of the fourth set when he set up a break point against the Canadian's serve with a volley winner. Shapovalov came up big, crushing a huge serve and following it up with a massive forehand down the line to draw an error and negate the threat.
Both men cruised along on serve until Paire found himself in trouble when serving to stay in the set at 4-5. At 30-all, the pair found themselves in a short-court exchange where Paire punched a volley long to give Shapovalov a break and set point. The Canadian did almost everything right, moving the Frenchman around and attacking the net forcing Paire into a desperation lob that caught nothing but the baseline to miraculously save the set point. He would hold.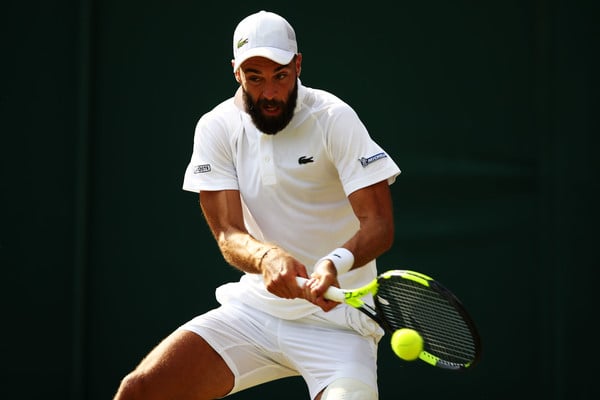 A tiebreak was needed to decide the set. Paire double-faulted to give Shapovalov an early minibreak, but the Canadian gave it right back with back-to-back forehand errors. Paire managed to keep his nose ahead, adding another minibreak when Shapovalov missed a volley to go down 5-3. The Canadian then missed an easy midcourt forehand to go down triple match point. The Frenchman's serve was strong right until the end as he closed out the match with another big serve.
By the numbers
Paire's serve was key in the big moments, as he struck nine aces and won 81 percent of his first serve points. However, when he missed that first serve, the second was a problem as he only won 38 percent of his second serve points and double-faulted ten times. Shapovalov won 74 percent of his first serve points, 57 percent of his second serve points, and also had more double faults than aces seven to six.
Both men enjoyed attacking the net and had nearly identical numbers, with Paire winning 22 of 32 while Shapovalov won 21 of 31. Despite losing the match in four sets, the Canadian actually won one more point than his opponent, 116 to 115.
Shapovalov has now lost in the second round of all three majors so far in 2018. Paire will meet fifth seed Juan Martin del Potro in the third round.