 Defending champion Roger Federer continued his march towards a ninth Wimbledon crown with a straight-sets third-round win over Jan-Lennard Struff on Friday at the All-England Club. The Swiss has been untouchable on serve so far this year at Wimbledon and his third-round clash was no exception.
Despite some big-hitting from the German, Federer cruised along without facing a break point for the third match in a row. Struff hung with the top seed for the better part of two sets but eventually faded as Federer cruised to a 6-3, 7-5, 6-2 victory.
Swiss seizes lone opportunity
In their previous two meetings, the sets had been close although Federer won them all. Despite having played back-to-back five-setters, Struff showed no signs of tiredness or nerves in the early stages of the first set, matching the eight-time champion serve for serve.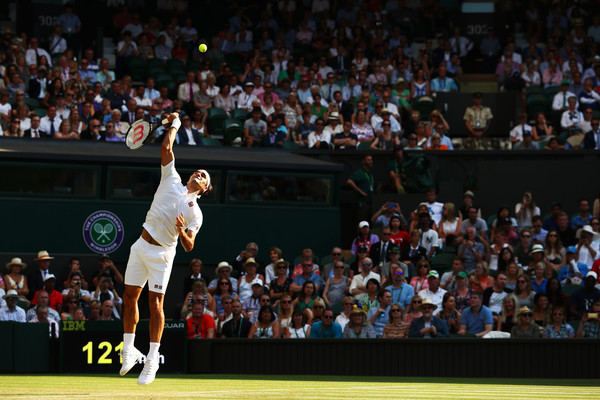 The first five games were all easy holds, but as Struff served to level at 3-all, he ran into some trouble. Federer had struggled on return in his first two return games, but in the third, he started to get some of Struff's bombs back into play. At 30-all, the top seed managed to get a rally going and proceeded to catch the baseline multiple times, finally ripping a forehand winner up the line to set up a break point. Federer did not waste the rare look, catching Struff flat-footed on an approach and ripping a backhand crosscourt past him to secure the break.
That break was crucial as it was the only break point faced by either player in the opening set. Federer cruised through his final two service games, wrapping up the opening set 6-3 with a hold to love.
Late break goes to Federer
With the exception of the game where Federer broke in the opener, the servers had dominated the opening set. That trend continued into the second set, with the first six games going easily to the server.
At almost the same point as he had in the opener, Federer had a look at a break. At 3-all, the Swiss used some nifty backhands to get to deuce. He appeared to reach break point when a huge Struff forehand was called out. However, Hawkeye revealed it to be in, forcing a replay. Federer would still get his break point chance when the German netted a backhand, but Struff saved it with a massive serve. He would hold to take a 4-3 lead.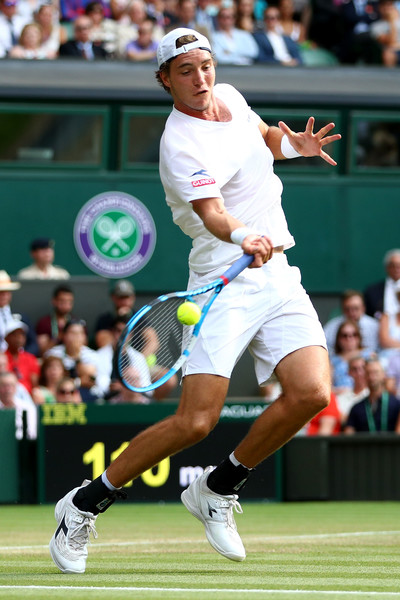 The dominant serving pattern continued until 5-5 when again Federer's strong ground game helped him force a deuce. Struff would then send a backhand long to give his opponent another break point. The German attempted a serve-and-volley at 40-AD, but Federer was ready for it and sliced a backhand return up the line for a winner and a 6-5 lead. Once again, he served out the set to love.
Federer wears Struff down
After level starts to the first two sets, Federer looked to strike early in the third. At one-all, the Swiss took a 0-30 lead on Struff's serve and set up a double break point with a forehand winner. Struff would save both with aces, only to go down 40-AD when he couldn't handle a Federer passing shot. On break point number three, Struff swung and missed the ball completely to gift the Swiss a break.
Federer had a chance to make it a double break in his next return game when, starting at 15-40, held five break points in the game. However, Struff saved all five, including four with big serves, to hold. In the next game, the Swiss faced pressure on his serve for the first time as he fell behind love-30. But Federer was up to the challenge, winning four straight points, the last two with aces, to keep his advantage.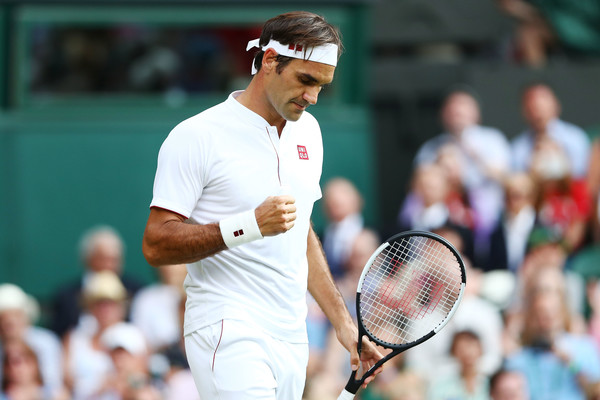 The missed opening seemed to weigh on Struff as he committed three straight backhand unforced errors to start his next game, digging him into an early love-40 hole. He would save the first two break points with big serves, but his serve let him down on the third as he double-faulted to go down 5-2. Just like the first two sets, Federer served out the set to love, booking his spot in the third round with an ace.
By the numbers
Despite having more aces, eleven to ten, Struff had more double faults with six to Federer's two. The Swiss was lights out on serve only losing three of his first serve points in the entire match, although he only put 54 percent of his first serves into play.
Federer was let net aggressive than he sometimes is, only moving in 14 times, although he won 13 of those points. Struff had trouble at the net, only winning 16 of his 31 approaches. The Swiss had 14 break points in the match, converting four of them, while not facing any against his own serve. Federer has yet to face a break point at Wimbledon this year.
Federer will meet 22nd seed Adrian Mannarino in the fourth round.