For the first time this year, the FIFA World Cup final falls on the same weekend as the Wimbledon finals, and a few months ago many people would have expected a large German presence on this weekend- but maybe not at the event where it proved to be.
Angelique Kerber, now a three-time Grand Slam champion following her straight sets win over Serena Williams on Saturday, is undoubtedly one of the highest profile athletes back in her home country, but, like many successful sportspeople all over the world, is largely overshadowed by her nation's football team. The national side stormed to a fourth world title at the last World Cup in 2014 and were widely fancied to take the title again, with international stars such as Thomas Muller, Mesut Ozil, and Manuel Neuer all in their squad.
Yet, whilst the much-fancied football side shockingly fell at the first hurdle, consistency proved key for Kerber. After a rough 2017 season, which saw her fall from first to 22nd in the WTA Rankings, she has rebounded incredibly strongly in 2018, with this effort culminating in her first Wimbledon title, though this title is not the first time she has rebounded from disappointment to succeed on tour.
Kerber struggled immensely during her first few years on tour, winning just seven matches in her first 15 Grand Slam tournaments, and after a first-round loss to Laura Robson (who was then just 17-years-old) at the All England Club in 2011, the German decided to join compatriot Andrea Petkovic at a lengthy training camp to improve her game and her fitness- a decision that would undoubtedly change her life for the better.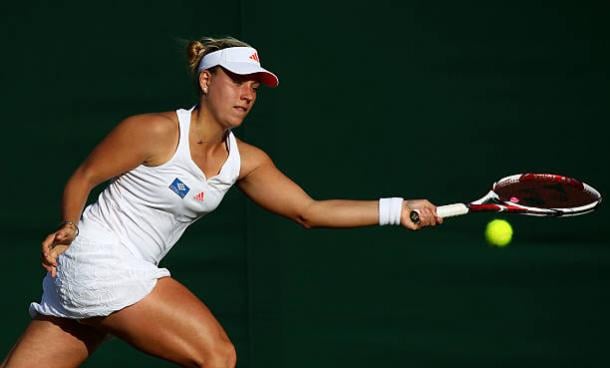 Ranked 92nd, she achieved a huge breakthrough at the US Open later that year, beating the likes of Agnieszka Radwanska and Flavia Pennetta on her way to the last four, where she put up a valiant fight against eventual champion Sam Stosur, losing in three sets, and in 2012 she qualified for the for the year-end championships for the first time; a result achieved by reaching four tour finals, winning two (her first titles on the WTA), as well as reaching the last eight at the French Open and a second slam semifinal at Wimbledon.
Though not quite as successful as 2012, 2013 proved to be another solid season as she once again reached the end-year championships, winning her third title in Linz on the way, though 2014 proved to be more of a struggle. Kerber reached four finals that year, though lost all of them, and, despite a last eight showing at Wimbledon, just missed out on the season-ending showpiece. Her start to 2015 did not appear encouraging either with a first-round loss at the Australian Open and a fall outside the top-15 in the rankings.
Yet, despite failing to make the second week of any slams that year, she regained her consistency to become a force once again. Four WTA titles, all at Premier level and on three different surfaces (including at her home tournament in Stuttgart) saw her once again reach the WTA Finals, eventually ending the season tenth in the rankings despite a poor start; very few people would have predicted what would have happened next.
Kerber started 2016 brightly, reaching the final in Brisbane, though looked set for more slam disappointment as she went down match point against Misaki Doi, though fought back to reach the second round and did not drop another set on her way to her first Grand Slam final, where she upset top seed Serena Williams in three sets to claim the title. A Wimbledon final and US Open title would later follow, with the German in total reaching eight finals as she finished the year as the world number one.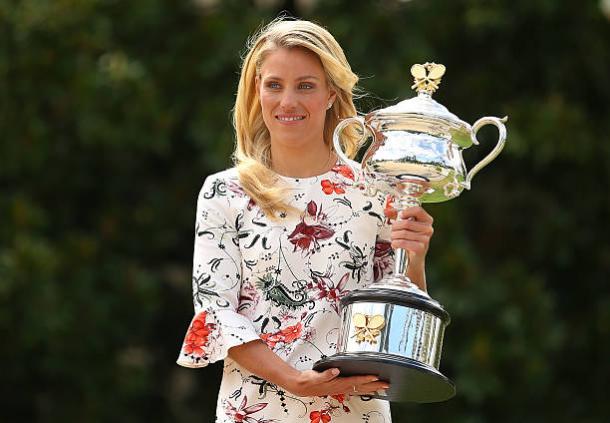 However, like many before her, Kerber struggled with the pressure of being a multiple slam champion and world number one. She reached just one final all year, losing to Anastasia Pavlyuchenkova in Monterrey, and failed to reach the last eight of any Grand Slam tournament, including at the French Open where she fell in the first round for the second consecutive year, and a similarly early loss as the defending champion in Flushing Meadows. She ended the year outside the top 20, looking a shadow of her former self.
In the offseason, she hired Wim Fissette to be her new coach, and there can be no decision that this decision undoubtedly paid off. Once again after disappointment, Kerber looked refreshed and fully confident, winning her first title in well over a year in Sydney, before reaching the last four at the Australian Open and the last eight at the French Open for the second time, with both losses coming to world number one Simona Halep. Heading into Wimbledon, she had made the quarterfinals of ten of her 12 tournaments and was considered by many a title contender.
However, despite being seen by many as a title contender, several still saw her as an underdog, with the most the attention being diverted to two-time champion Petra Kvitova, world number one Halep, defending champion Garbine Muguruza, and, of course, a seven-time champion and new mom Serena Williams pre-tournament. Even with all the big casualties in the opening few days, with none of the top ten seeds reaching the last eight, Kerber went around her business fairly quietly.
It wasn't until her quarterfinal win against Russia's Daria Kasatkina, one of the most entertaining matches of the tournament, that Kerber began to emerge as a notable figure in the tournament for some, despite her previous success. The German comfortably beat Jelena Ostapenko in the last eight to set up a 2016 rematch against Serena Williams, and though the American was the favorite, Kerber proved a step too far in Williams' quest for slam number 24; a superb performance saw the German prevail 6-3, 6-3.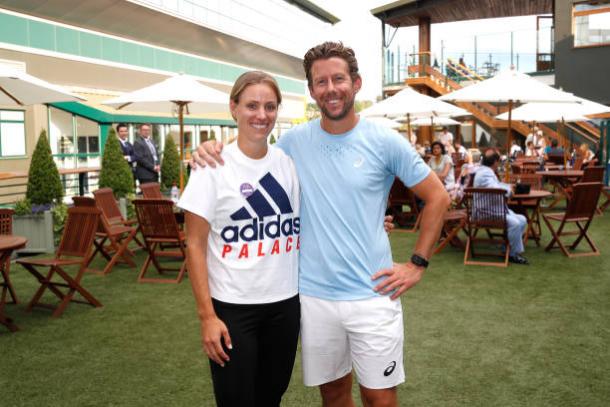 Now back at fourth in the world rankings, it is hard to imagine what Kerbe could possibly do over the next few months. With a very small number of points to defend and now with draws going to be in her favor, the German could easily rise further up the rankings in the remainder of the season- it really wouldn't be much of a surprise to see her regain the world number one ranking at some point. And, with one more slam and several Premier Mandatory and Premier Five tournaments still to come, she could easily seal her place at the WTA Finals with weeks to spare; only Simona Halep is ahead of her in the race to Singapore now. After a poor 2017, she has responded in fine style, surely securing a spot in the International Tennis Hall of Fame and cementing her place as one of the best players in recent years.
Though it would have been hard to imagine a few months ago, Kerber's return to the big-time is likely to be Germany's sporting moment of 2018. Despite so much expectation (having also won the Confederations Cup last summer), the national team finished bottom of their group in Russia, with shocking losses to Mexico and Sweden sending them to their earliest ever exit from the showpiece.
Perhaps they need to take inspiration from Angelique Kerber to rebound at Euro 2020.