 With Wimbledon celebrating 50 years of the Open Era over the past two weeks, it was fitting that the tournament proved to be one of the most memorable in a long time.
With several epic clashes throughout, including two lengthy semifinals and a couple of memorable quarterfinal matches, many were enthralled with the Men's tournament this year, despite some controversy surrounding the length of some of these matches.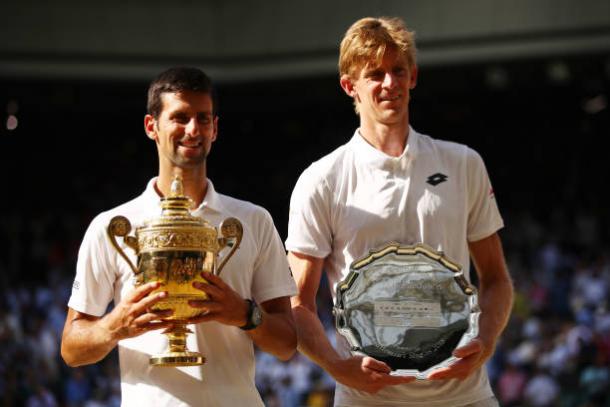 And, in a year celebrating some of the greats of the game, it was fitting that one of the all-time greats once again claimed the title. Novak Djokovic, ranked 21st after injury trouble last season, claimed his fourth title at the tournament and his 13th major title overall.
In this piece, we will look back at the past two weeks of action, looking at some of the most memorable matches, biggest shocks, and breakthroughs.
Best Match
Though the final between Djokovic and Kevin Anderson proved to be a disappointment, in the build up there were several memorable matches beforehand.
Both semifinal clashes will certainly never be forgotten, with them being the two longest last four matches in the tournament's history. The first clash between Kevin Anderson and John Isner was frankly ridiculous, finishing 26-24 in the final set after well over six hours and has to be included in this debate even if it was not always most exciting, whilst Djokovic's semifinal win over Rafael Nadal, which finished 10-8 in the fifth after being delayed overnight, proved to be another classic in the ATP's most-contested rivalry ever.
Another fantastic match occurred in the last eight, with Kevin Anderson coming from two sets down to shock top seed and defending champion Roger Federer, though arguably the best match of the tournament came later that day between Nadal and Juan Martin del Potro on Centre Court.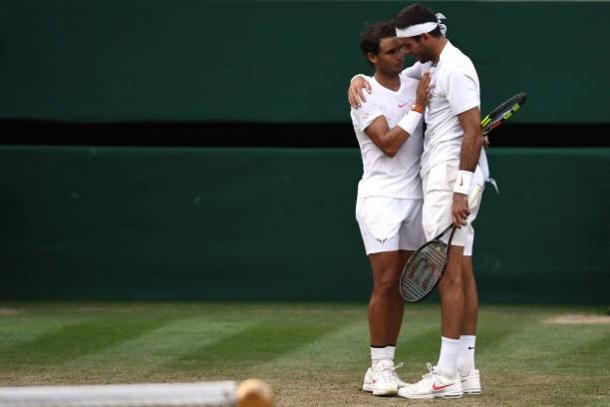 Many had hoped for this last eight clash when the draw was made, and the clash between the fifth seed and the second seed exceeded expectations. It was Nadal who started strongly, taking the opening set, though del Potro rallied to take a two sets to one lead. Though the Argentine played exceptionally well, hitting almost eighty winners, Nadal proved too strong in a 7-5, 6-7, 4-6, 6-4, 6-4 victory which took almost five hours, and created headlines around the world despite clashing with the World Cup semifinal between Croatia and England
Biggest Upset
Though the men's draw did not see many major upsets, unlike in the women's draw which proved to be much more open throughout, there were certainly a few surprising results throughout the tournament.
One of the biggest upsets was Anderson's astonishing win over Federer. The Swiss had looked so good throughout the opening two sets and held a match point in the third, though Anderson thought back to prevail 13-11 in the final set to reach his second Grand Slam semifinal. Ernests Gulbis' win over Alexander Zverev and Stan Wawrinka's win over Grigor Dimitrov also proved to be big surprises in the opening few days.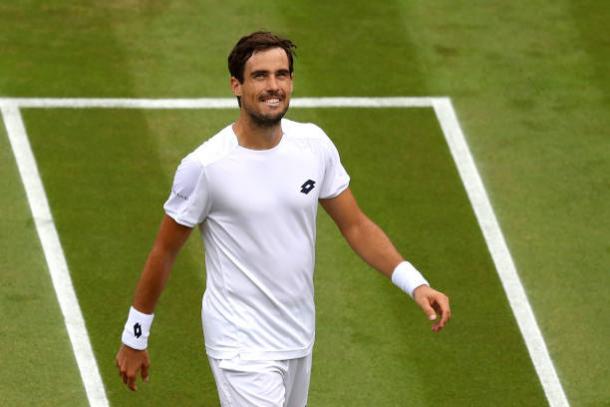 However, perhaps the biggest shock came in the form of Guido Pella, who stunned Marin Cilic in the second round. Cilic, the runner-up last year and one of the big favorites this season, was two sets up when play was halted for the day in their second round clash though the Argentine, not typically a strong grass court player, fought back to stun the former US Open champion in a 3-6, 1-6, 6-4, 7-6, 7-5 victory. Though Pella would lose in the next round, he undoubtedly left his mark on The Championships with a fantastic win.
Biggest Breakthrough
Arguably, there was no one major example of a breakthrough throughout the tournament, though there was a few men who made some big step forwards throughout the past fortnight.
Surprisingly, one of them was not a member of the NextGen group, but came in the form of 33-year-old John Isner. Though one of the biggest servers of all time, the American had never made it to the second week at Wimbledon before, and had only reached one Grand Slam quarterfinal before this. On this occasion, however, the American reached the last four without dropping serve and though he lost to Anderson there, this run and a maiden Masters 1000 title in Miami earlier this season prove there could be some more big results in him left.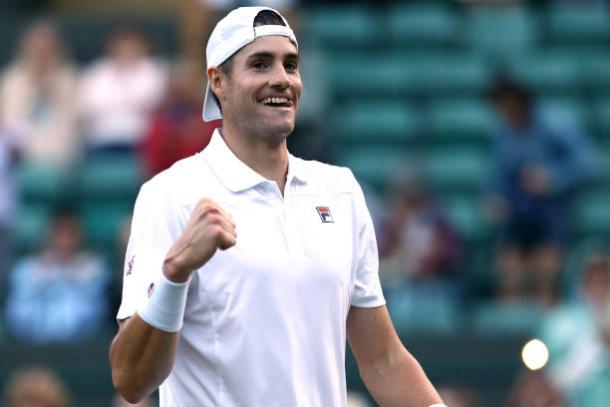 Meanwhile, some younger players made some small breakthroughs earlier on in the tournament. Alex de Minaur has been one of the most talked-about young talents of the season and reached the third round of a slam for the first time, whilst there was a second week appearance for 31st seed Stefanos Tsitsipas, who is also having a major breakthrough in 2018. Furthermore, there was a surprise run for America's Mackenzie McDonald, who reached the fourth round before valiantly losing to Milos Raonic in four sets.
Biggest Disappointment
Though the early losses for the likes of Marin Cilic, David Goffin, and Alexander Zverev, as well as the opening round retirement of Dominic Thiem, were undoubtedly disappointing, one person stands out clearly as having another poor result in a disappointing season.
Grigor Dimitrov has failed to live up to the heights of his 2017 season so far this year, though prior to Wimbledon there was some hope for him with the Bulgarian playing well on grass in the past and with his first round opponent, Stan Wawrinka, struggling greatly since his return from injury.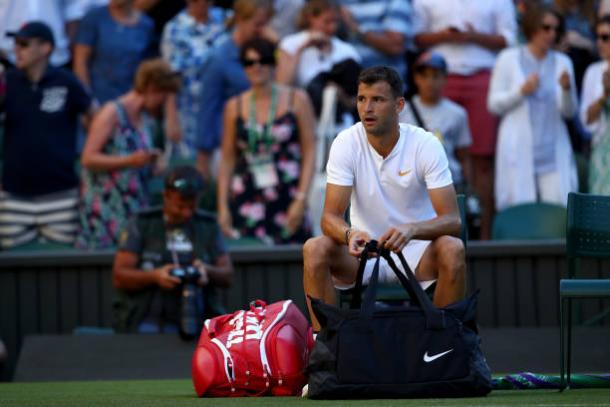 The Bulgaria, seeded sixth, started brightly against the three-time Grand Slam champion, taking the opening set 6-1. However, things got tighter for him, and surprisingly it was the Swiss who pulled through, consigning Dimitrov to a 1-6, 7-6, 7-6, 6-4 loss, and leaving him with work to do if he wants to qualify for the year-end championships; the disappointment of this loss is further highlighted by the fact that Wawrinka proceeded to lose to unheralded Italian qualifier Thomas Fabbiano in straight sets in the next round.
The Champion
Despite an understandably slow start to 2018, following six months out due to an elbow injury, Novak Djokovic has gradually improved throughout the season and it came to the surprise of very few people that he won the title this year, even if he did claim following his French Open loss if he didn't know if he was going to play on grass this season.
Having not won a Grand Slam title since the French Open in 2016, this will be one of his most memorable slam triumphs, even more so considering some minor controversies during the tournament. Throughout the tournament the Serbian played out on Court Two, was often left in precarious positions by the schedulers, and faced a tough British crowd in his third round match against Kyle Edmund, and though many were aggrieved on his behalf, he remained solid despite any issues to add to his 2011, 2014, and 2015 titles here; it would not be a surprise if he was to win the title for many more years to come.