Listening to The Tennis Podcast, hosted by David Law and Catherine Whitaker, I heard a phrase by special guest Mary Carillo that caught my attention. When talking about Novak Djokovic and the return of Serena Williams at the French Open, she said there are "comebacks" and there are "come all the way backs". In reference to Djokovic and Serena, they had just completed "comebacks", but if they were to return to championship-winning form, they would "come all the way back".
The example Carillo used is the one all tennis fans should be familiar with in Roger Federer and Rafael Nadal. At one point, those two were written off as unlikely to win major titles again, especially given the dominance of Djokovic and Murray plus injuries. However, before Wimbledon, the Fedal duo alternated the last six major titles.
1968 was the beginning of the Open Era and since then, there have been special moments with 3s and 8. So while 3s and 7s might be your thing if you're a Queens of the Stone Age fan, at The Championships, it's all about 3s and 8s (specifically years that end in those numbers).
In 1973, Jan Kodeš won his lone Wimbledon title. 1978 was the beginning of Martina Navratilova and her reign. In 1983, Chris Lewis of New Zealand became the first and last singles player from New Zealand to make a Wimbledon as well as the second back-to-back completed by Navratilova.
1988 saw the changing of the guard in the women's game as Steffi Graf began to take over by capturing her first All-England Club victory and also witnessed Stefan Edberg win the first of his two Wimbledon titles. 1993 was the beginning of Pete Sampras' dominance followed by the late Jana Novotna winning her lone major title in 1998.
2003 was famous as Roger Federer captured his first major title with Serena Williams going back-to-back as well. 2008 had the Williams sisters do battle in a Wimbledon final once again, their first in five years, and then some match took place the next day with Federer and Nadal. A changing of the guard once again took place as the Spaniard prevailed 9-7 in the fifth to move to world number one, and finally captured that elusive Wimbledon title.
2013 saw Andy Murray become the first British male to win Wimbledon, ending a 76-year drought, and Marion Bartoli won her first and only major then too. So if we really put some thought into it at the start of The Championships this year, we were truly in for something special at the end of it.
From Dreary Down Under To Wimbledon Champion
Djokovic returned from elbow surgery this January at the Australian Open. After a couple of straightforward rounds, the former world number one lost to Hyeon Chung in the fourth round. This would be the first of three straight losses for the Serb, losing to Taro Daniel and Benoit Paire in Indian Wells and Miami respectively.
Those three straight losses made us question if we would ever the best of Djokovic again. Those glimpses were there for bits and pieces of the clay season, especially in the early stages of tournaments but against higher-level opponents, you could say he was a bit outclassed in the end.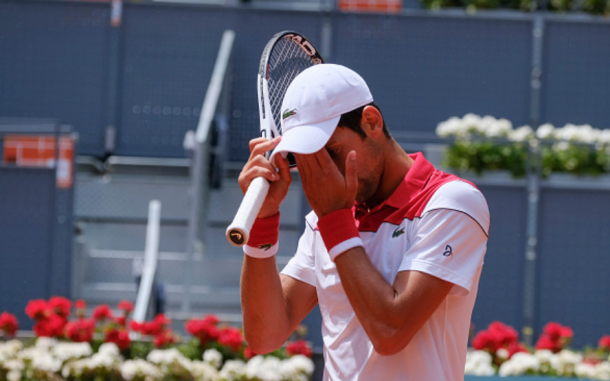 In Rome, the glimpses of the "old" Djokovic were truly there. Against Rafael Nadal in the semifinal, the two went blow for blow in a match worthy of a final. Despite that, it was the Spaniard who held the edge slightly, winning in two tight sets.
After an excellent display in Rome, some were led to believe that Djokovic could mount a major charge to threaten a potential Undécima from Nadal. The 31-year-old looked well in charge to set up an epic semifinal showdown with Dominic Thiem or even a potential finals showdown with Nadal.
However, an Italian named Marco Cecchinato had something to say about that. The 25-year-old had never won a main draw match in a Grand Slam until the French Open this year and had the Serb on the ropes until Djokovic ran away with the third set. Both men had opportunities to take the fourth set, but it was the Italian who held his nerves to take the match.
After that bitter loss, Djokovic questioned whether or not he would play Wimbledon. He later showed up to Queen's, putting on his best performance, eventually losing to Marin Cilic in a brilliant three-set thriller.
Indeed, he did come to Wimbledon and as the rounds continued, the Serb began to ooze with confidence. He overcame a partisan Centre Court crowd as he battled to defeat Kyle Edmund in the third round and eased past Karen Khachanov in the fourth round.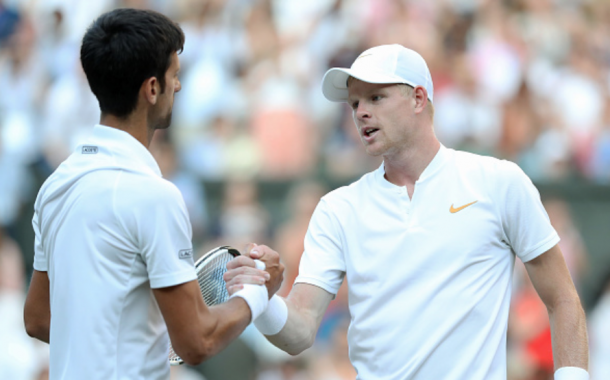 He saw Centre Court once again against Kei Nishikori. Despite the huge edge in head-to-head (13-2 Djokovic at the time of the meeting), the Japanese really pushed hard at a set apiece. At two-all in the third, Nishikori had 0-40, but this was where we began to see Djokovic's mental edge begin to kick in. Whenever he needed clutch points, he won them, taking this match in four sets.
The meeting 52nd meeting with Rafael Nadal was everything we had hoped for and more. The third set, where Nadal had points for a two sets to one lead in the tiebreak, it was the 31-year-old who came out on top in those key points as the two came back Saturday to finish what would be another chapter in their historic rivalry.
Nadal captured the fourth set and both players had openings in each other's service games in the fifth set. Despite that, two 15-40s and five total break points, Djokovic came through with timely serves to overcome the resistance of Nadal to win a five-hour classic, 10-8 in the fifth.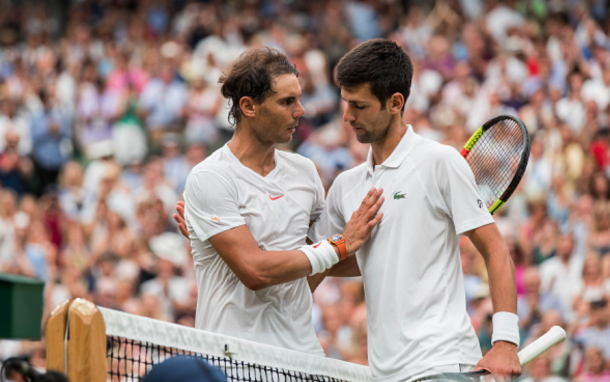 With Kevin Anderson practically running on fumes, it was an absolutely dominant from the Serb to capture his fourth Wimbledon title. He did run into some difficulty in the third set, saving five set points, but once again, it was that mental fortitude from the 31-year-old that proved to be the difference in the end.
SW23 With Some SW19 Magic
We know the story by now, Serena Williams won the 2017 Australian Open while pregnant. She had a baby later that year and talked about the troubles she had post-birth issues which included getting another pulmonary embolism, leaving her bed-ridden for six weeks and delaying her training for this year's Australian Open.
She finally made her long-awaited full return in February, playing in Fed Cup against the Netherlands, losing in doubles with her sister then played the Sunshine Double where she lost to Venus and Naomi Osaka in Indian Wells and Miami.
She skipped the clay season to train at her coach's, Patrick Mouratoglou, academy in the south of France to prepare for the French Open. After winning her first round match, she was a set down to Ashleigh Barty, but that trademark Serena roar came after breaking to open the second. From that point on, the former world number one looked in full control and carried that form into her third-round win against Julia Goerges.
A pectoral injury that Serena sustained in doubles with Venus left her hampered, so hurt that she could not even carry her bag off the court after her match. The injury prevented us from seeing another showdown with Maria Sharapova so Serena's "come all the way back" was put on a brief hold.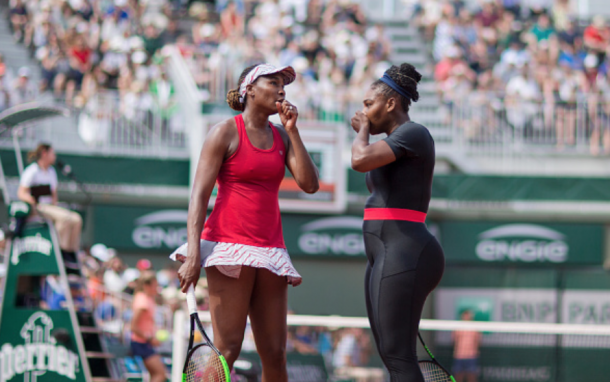 As per usual, Serena did not play a warm-up tournament before Wimbledon, and she was blessed with the great news that she was given a protected ranking and seeded 25th for the tournament. Without having to do too much, she eased by her first two matches before meeting Kristina Mladenovic in the third round.
Down a break in the first, it was no problem for her, reeling off three straight games to win the set. When called upon in the second set, Serena delivered once again to make it to Manic Monday. Her win against Evgeniya Rodina was no true test for her, but she finally met her true test against Camila Giorgi.
The small, yet powerful Italian went pound-for-pound with Serena in the striking department, taking the first set from the seven-time Wimbledon champion. However, like all great champions do, Serena found a way to victory.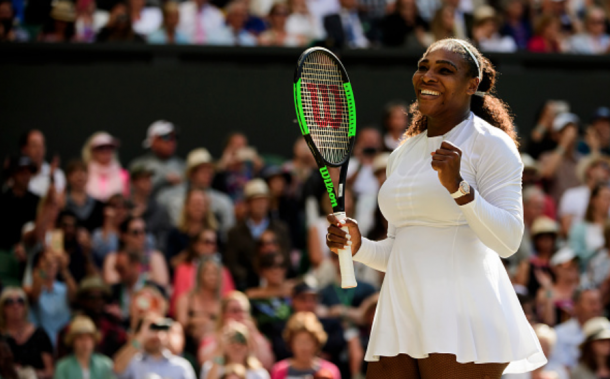 Like her French Open showdown, the American proved to be a bit too much for Julia Goerges. In the final, Serena met a familiar foe, Angelique Kerber. The pair had split their two Grand Slam finals meetings in 2017, one of them coming at Wimbledon.
Kerber was no comfortable opponent. After a rough 2017 which barely saw the German win more than half of her tour-level matches, she roared back in 2018 by captivating us in Grand Slam epics with Simona Halep twice already and seemingly back into top form. You could also say Kerber has made a complete "come all the way back" as well, from a mental standpoint that is.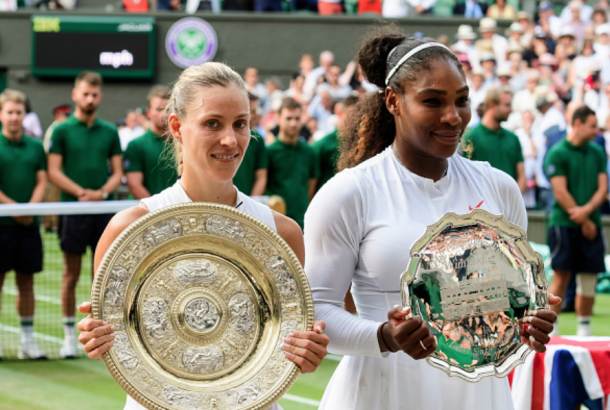 Whilst Serena was not at her best, you could not fault her for the brilliance of the former world number one who stood across from her, just sending balls back like the world-class counterpuncher she is. In the end, Angelique Kerber did indeed win the title, making it another first-time winner in a year that ends in 3 or 8 (1968 and 1983 are the exception to that fact).
Wimbledon did give us more magical moments in the 3s and 8s. We had Kerber's first title, ending the 22-year drought since a German won the title, as well as Kevin Anderson's magical run to the final. We'll also remember it for this though, both Novak Djokovic and Serena Williams didn't just complete a comeback but their "come all the way backs".