Former world number two and 2009 US Open champion Svetlana Kuznetsova began her path to Flushing Meadows with a confidence-boosting 6-2, 6-1 win over local hope Kristie Ahn in the first round of the 2018 Citi Open, with the Russian claiming her first win on a hard-court over more than a year.
Having dropped out of the top-100 recently due to a lingering wrist injury which forced her to be sidelined for six months, Kuznetsova's serve was firing on all cylinders as she astonishingly just gave up seven points off them and not facing any break points throughout the match — grabbing the confident win to set up a potential blockbuster second-round meeting with compatriot and good friend Ekaterina Makarova.
Kuznetsova strolls to take the first set
A tricky opening game from both players started the match as the two were rather conservative in their play considering that this is just their first meeting in history. Ahn came out firing, being the more aggressive player out on the court as she earned three game points but failed to convert as a series of unforced errors started to kick in. Her low first-service percentage of 50 proved to be costly, with Kuznetsova being more solid and consistent which allowed her to grab the opening break in the marathon game.
Firing her serves with ease, the Russian looked to be in top form after she easily consolidated the break for a 2-0 lead before she pounced on every opportunity that was freely handed to her, ultimately jumping towards a commanding three-game advantage as Ahn once again missed several game points on her serve.
Kuznetsova seemed to be unstoppable with the immense quality in her game, winning seven of the next 10 points to earn yet another chance to break serve. However, this time Ahn was able to put up some tough resistance, saving the break point with a forehand winner which paved the way for her to get onto the scoreboard after what seemed like an eternity.
Although the American was able to prevent the deficit from being pulled wide open, she was unable to cause Kuznetsova any trouble on the return, and the Russian eventually took the first set 6-2 after just a quick 40 minutes of play.
Kuznetsova closes out the comfortable win
The second set seemed to be the exact replica of the first — Ahn losing her service games in marathon affairs while Kuznetsova strolled through hers. Riding on her red-hot momentum, the former world number two powered to a stunning 4-0 lead within a blink of an eye without losing a point on her serve.
The golden opportunity came for Kuznetsova as she had four break points to earn a 5-0 lead alongside the chance to serve out the match and a bagel. However, despite how disastrous the scoreline was, Ahn continued to give it her all and her efforts were finally paid off as she survived a tough 20-point game to hold for 1-4 in the second set.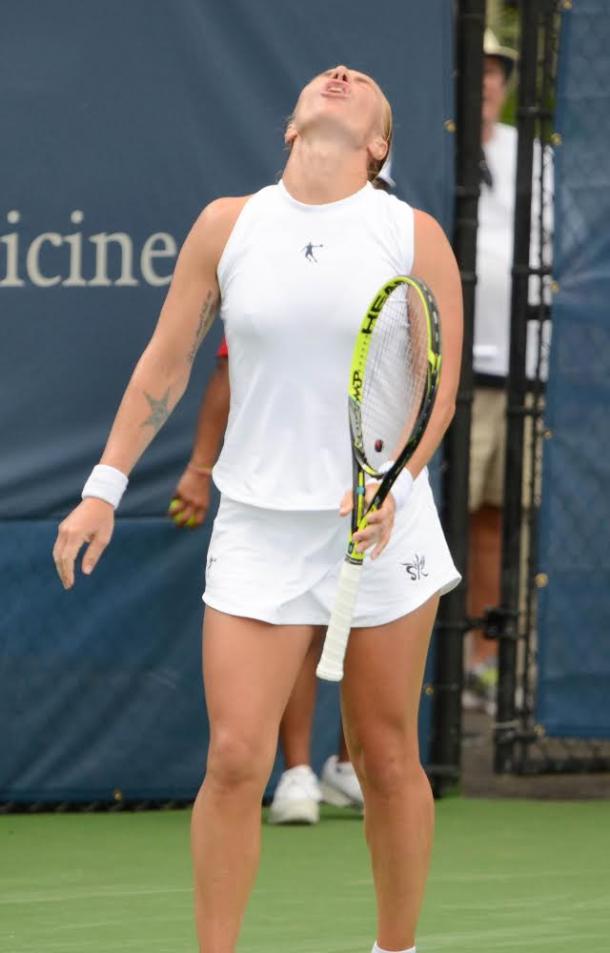 However, things were just not meant to be as an improbable comeback was not on the cards since Kuznetsova remained rock solid on her serve, rolling her way to the comfortable 6-2, 6-1 win after an hour and 20-minutes of play.