The Citi Open semifinals was a battle of the youngsters and this was the "oldest" battle with the eldest semifinalist, 21-year-old Alexander Zverev faced off against 19-year-old Stefanos Tsitsipas. It was the German who took the match, winning 6-2, 6-4 over the Greek to book a spot in his second consecutive final.
Zverev Runs Away With Opener
In just the third game, Zverev struck with the break. Down 15-40, Tsitsipas went for a risky serve and volley play, a bit different for a baseliner like him, but needed to go with a different look. He was called for a foot fault and proceeded to double-fault.
The German just had the bigger weapons as he was playing right on the baseline, contrasting his opponent. Another break of serve went Zverev's way as a frustrated Tsitsipas sat in the chair and began to berate himself and smack himself in the head.
Down set point, the Greek got the crowd on his side after two excellent points but could not get a break chance as Zverev took the opener 6-2.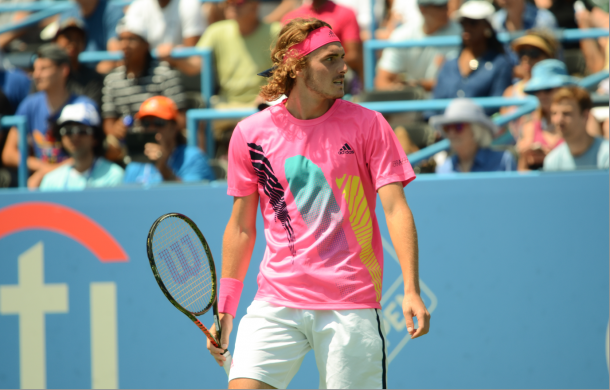 Dramatic Ninth Game Proves To Be Turning Point
Servers were dominant until the ninth game where Tsitsipas flirted with three break points. The two entertained the crowd with some flashy points, one of them finished of Tsitsipas with a diving volley winner after returning the German's return with a drop volley.
Zverev was utterly upset on the eighth deuce where he thought a serve was out and ready to challenge it but lost the point since he did not show "immediate interest" in challenging the call. He quickly showed he go over it by hitting a forehand pass.
15 minutes later, Tsitsipas cracked by hitting a forehand into the net after a second serve to give Zverev the chance to serve for the match. It was pure dominance from Zverev closing out the match as he held at 15 as Tsitsipas dumped a backhand into the net.
The key stat in the match was that Tsisipas did not get any looks on the Zverev serve, not earning a single break point. His serve was disappointing as well, winning only 64 percent of first serve points and 42 percent of second serve points.