In the youngest final since the 2007 Indian Wells final between Rafael Nadal and Novak Djokovic, Alexander Zverev successfully defended his Citi Open title after defeating Alex de Minaur 6-2, 6-4. The world number three became the first man to win back-to-back Citi Open titles since Juan Martin del Potro did it back in 2008 and 2009.
Dominant First Set From Zverev
After a late finish for de Minaur, who went the distance with Andrey Rublev and fought off four match points in the second set tiebreak, you could just tell early on that he wasn't as sharp as he would like. The 19-year-old Australian fought off an early break point but saw the break of serve come immediately with Zverev ready to pounce in the third game.
The German did just that, setting up triple break point and breaking once again. De Minaur finally held in his third service game and was trying to get looks in on the Zverev serve, but he was just overpowered by the world number three who was the fresher of the two players.
Zverev never faced a single break point for a 6-2 opening set.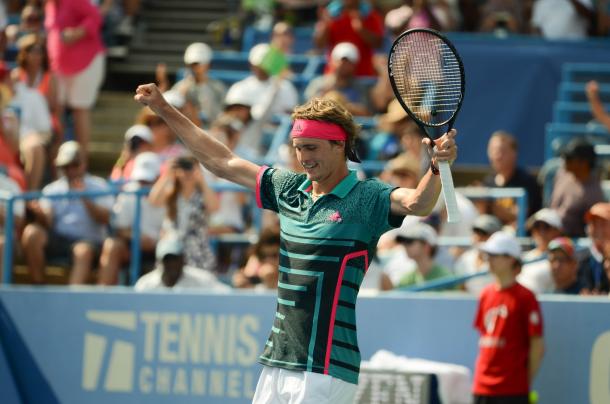 Zverev Needs Only One Break
It looked like de Minaur had settled down on serve, holding with ease after his first two service games and to start the second set. That was anything but the case with Zverev cracking a forehand winner to break at 30 for a 2-1 lead.
De Minaur was getting looks in the Zverev serve more this set. The German wasn't getting as many first serves into play, allowing the 19-year-old to jump and attack them with his backhand down the line. Despite a 15-30 lead in the fifth game, he still did not see a break point opportunity.
The top seed continued to assert his dominance by forcing de Minaur to go for more and produce errors out of him. Two unforced errors set up double break point, but the Australian was able to fend off both and an eventual third break point for the hold.
The Sydney finalist continued to flirt with danger on his serve, going down two match points. Once again, the heart and determination he had shown all week was prevalent, but it was just not enough on the Zverev serve as the German closed it out 6-4 for a second consecutive title.