Rebounding from a disappointing first set, former top-five player Johanna Konta beat world number 11 Jelena Ostapenko in a blockbuster first-round clash at the 2018 Rogers Cup, triumphing with a 6-7, 6-1, 6-2 scoreline after two-hours and three minutes of play. The Brit, after claiming poor results this year, showed what she is capable of on the hard courts recently, following up her win over Serena Williams with this terrific win having also proved her tough mental strength which allowed her to produce the comeback.
Ostapenko's serve was unsurprisingly the biggest weakness in her game during the match, although she also failed to remain composed during the crucial moments which ultimately led to her loss. The Latvian sent in just 46 percent of her first serves while winning just 37 percent of points behind her vulnerable second serves and throwing in 10 double-faults. Whereas, Konta was extremely solid on her serve, particularly towards the closing stages of the match, firing eight aces and winning more than half of her second-serve points.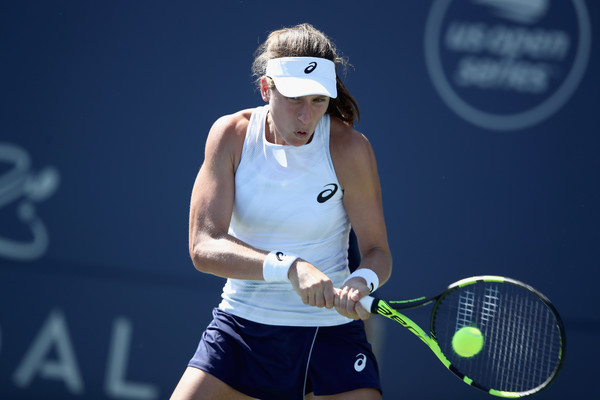 Ostapenko edges the tight first set
Ostapenko had the worst possible start to the match — kick-starting the thrilling second day of play here in Montreal, she started her campaign with consecutive unforced errors as she was broken to love in the opening game. Contrastingly, Konta came out of the blocks firing, overcoming a double-fault by producing a series of unreturnable serves which allowed her to consolidate the break comfortably. However, another double-fault from the Latvian gifted the Brit with a second successive break, handing her a three-game advantage within a blink of an eye.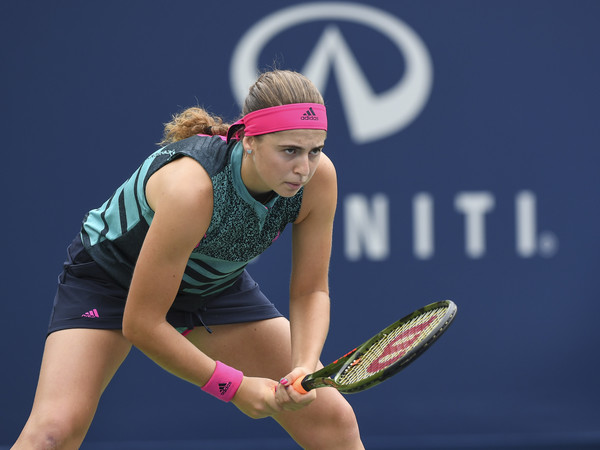 Ostapenko finally managed to get herself onto the scoreboard after fending off two game points which could have given Konta a commanding 4-0 lead, though now she relied on a series of backhand errors by her opponent to retrieve one of the breaks back. Yet another complicated service game for Ostapenko ensued, and this time she almost lost a 40-0 lead but regained her composure ultimately to close out the game and hold for a 2-3 deficit. Whatever Konta could do, Ostapenko aimed to do even better as she won three consecutive games of her own, coming out of nowhere to level the scores.
Nonetheless, her joy was short-lived as Konta came up with several powerful returns off the inconsistent Ostapenko serves, and remained solid at the baseline to regain the lead. Despite so, the Latvian remained mentally strong and stepped up her game to claim two consecutive games for a 5-4 lead, her first lead of the match after holding serve from 0-30 down.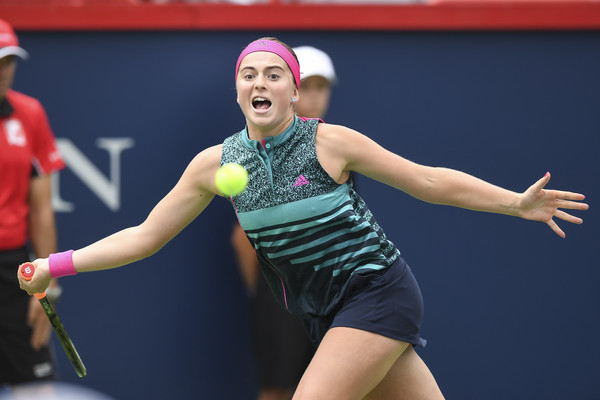 Serving to stay in the first set, Konta benefitted from an on-court coaching session with Michael Joyce and put in a confident service hold, her first hold since her opening service game. She did it from 0-30 in the 12th game once more, sending the set into a tiebreak. Ostapenko began proceedings with a stunning backhand winner and was also the first to earn a set point. She was ultimately second-time lucky, taking the first set after Konta threw in yet another unforced error on her forehand.
Konta takes the one-sided second set
Overcoming her earlier disappointment, Konta began the second set with a confident hold which definitely gave her the momentum and rhythm she needed particularly having held serve just thrice in the first set. Surprisingly, it was the Brit who drew the first blood after a fantastic return sealed her the break for a 2-0 lead in the early stages. The Latvian was struggling with the consistency in her game and this allowed Konta to claim a formidable 3-0 lead within a blink of an eye.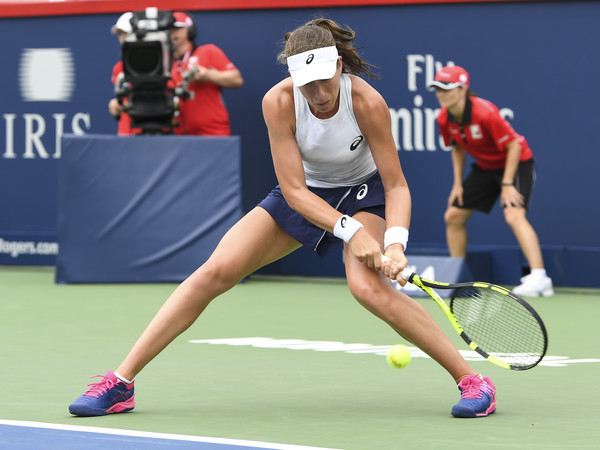 Despite Ostapenko getting onto the scoreboard with a terrific service hold, Konta achieved what she wasn't able to in the first set — holding serve for a 4-1 lead. This seemed to be an insurance service hold as Ostapenko completely lost the plot with her game going haywire. Even though she called for an on-court coaching session, she failed to regain her composure and started producing a slew of unforced errors, ultimately allowing Konta to extend her lead with some outstanding defence.
Serving for the set at 5-1 up, Konta saw a set point being saved by a brilliant Ostapenko forehand winner and conceded a break point opportunity. However, the Latvian was too rushed and started to overhit more often, being increasingly frustrated with herself. After sending down yet another unreturnable serve, Konta successfully claimed the second set 6-1 to level the scores.
Konta strolls to take the win
It was a tight start to the deciding set but it was the poor errors from Ostapenko which once again got her into deep trouble. The Latvian gifted the break to Konta after a series of unforced errors, but the Brit returned the favour with an unfortunate double-fault in the fourth game to level the scores at 2-2.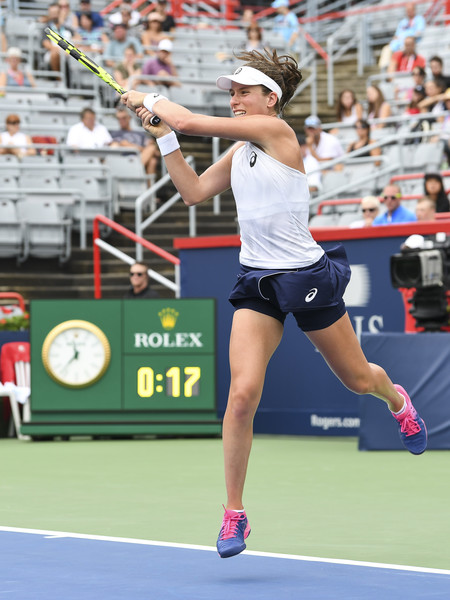 However, failure to consistently find her first serves proved costly for Ostapenko, allowing for a third successive break to occur as Konta managed to regain the lead within a blink of an eye. This time, the world number 43 was able to consolidate the break for a 4-2 lead, putting herself closer than ever to the win.
With the huge deficit being placed in front of her, Ostapenko lost the momentum and her game gradually faded away. Her tenth double-fault of the match saw Konta earning yet another break point before a stunning backhand return winner sealed her another break alongside the golden opportunity to serve out the match. Having nerves of steel, Konta sealed the impressive win with her eighth ace of the match, claiming her biggest win in terms of ranking this year.