 It was simply a one-way traffic for former world number one and five-time Grand Slam champion Maria Sharapova as she easily outclassed an old foe in Sesil Karatantcheva with a straightforward 6-1, 6-2 scoreline after a mere 82 minutes of play in their first-round encounter at the Rogers Cup. The Russian stormed to the second round within a blink of an eye where a possible showdown with compatriot Daria Kasatkina or rising star Maria Sakkari will take place.
Sharapova impressively lost just eight points behind her serve throughout the encounter, without facing any break point at all. Whereas, she won 70 percent of second serve return points while Karatantcheva put up an extremely poor serving display — sending in 11 double-faults in just seven service games while also holding serve just thrice. Furthermore, she hit just six winners to 25 unforced errors while Sharapova, with this not being her best performance, blasted 17 winners to 20 errors.
Sharapova overcomes the rain to take the opening set
Sharapova started the match in the most desired way — finding her first serves and smashing the balls past her opponent, overcoming a double-fault to do so. This clash was also extremely interesting as the Russian will be playing against the shot clock as well, the first time in her professional career where such a feature is being implemented. Karatantcheva also got off to an excellent start on her serve; jumping out to a 40-0 lead before suffering a huge scare but still managing to grab the hold.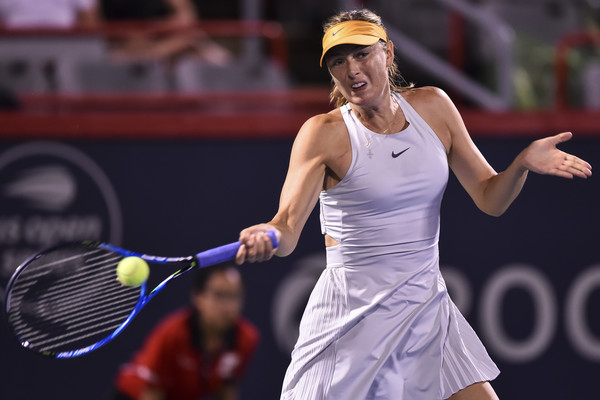 From there, the Russian started to make occasional unforced errors but was still solid enough on her serves, taking the initiative while being the more aggressive player out on the court, overpowering her opponent completely. Karatantcheva was having some huge troubles on her serve, and she ultimately threw in four double-faults in the fourth game to get broken, allowing Sharapova to surge towards a commanding 4-1 lead within a blink of an eye.
Just when play was suspended for a couple of hours due to a rain delay, the players returned onto the court at around 10 pm local time but was forced off court after a brief resumption of play since the rain started to have its party once more, postponing the continuation of the match to a second day.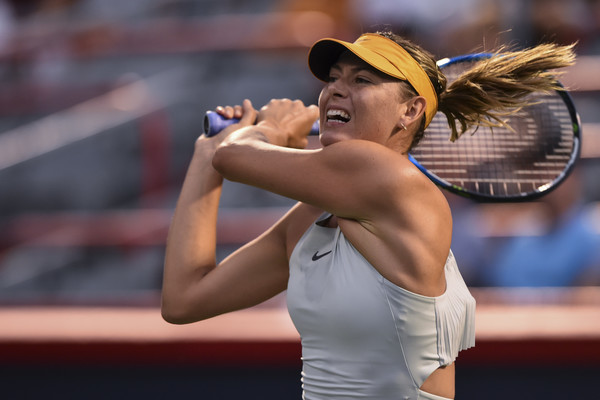 Upon resumption on the second day of play, Sharapova blasted a huge return winner before prevailing in a marathon game to grab the insurance break alongside the golden opportunity to serve out the set. With her consistent serves, the Russian was able to ease to take the first set 6-1 after 44 minutes of play, firing 10 winners to just 11 unforced errors while limiting her opponent to just two winners.
Sharapova strolls to take the second set
In what was the longest game of the match having lasted over eight minutes and 18 points, Sharapova stormed to claim yet another service break as she fended off three game points and was fifth-time lucky in the set, producing huge returns to leave Karatantcheva helpless on most occasions.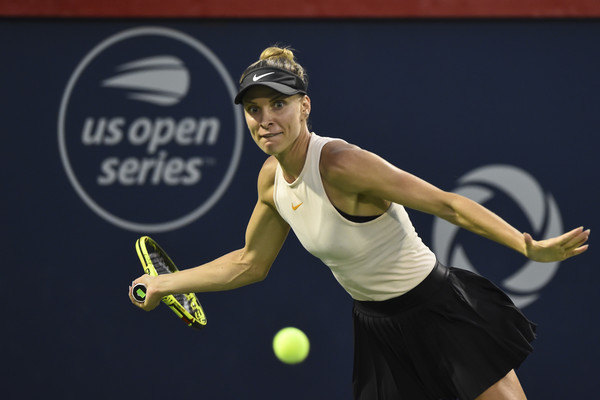 The former world number one and five-time Major champion looked unstoppable on her serve as Karatantcheva failed to find her good returns, and had many troubles trying to send a return over the net. Within a blink of an eye, Sharapova was able to extend her lead by breaking serve for the fourth consecutive time with the help of an unforced error by the Bulgarian.
Absolutely strolling through her service games, she lost just one point on her serve throughout the entirety of the second set, before Karatantcheva was able to put up some sort of a fight by holding her service games twice and preventing a bagel loss. However, Sharapova was able to close out the comfortable win after just an hour and 22-minutes of play, sealing her place in the second round.