For the second straight men's Toronto edition of the Rogers Cup, a Canadian teen made a spectacular debut on Centre Court. Two years ago, it was Denis Shapovalov. On Tuesday, it was Félix Auger-Aliassime. One day before his eighteenth birthday, the Montreal-native scored the biggest win of his career by beating a top twenty player for the first time in his career in the form of world number 18 Lucas Pouille.
Contesting his first ever match at his home nation's biggest tournament, Auger-Aliassime shone as he got off to a brilliant start in the first-round match and never looked back. The teen dominated the play from start to finish, eventually putting Pouille away 6-4, 6-3 in front of an excited Toronto crowd.
Quick start for Auger-Aliassime
Competing in just his third Masters 1000 event and first main draw match at a tour-level event on home soil, Auger-Aliassime did not seem at all overawed by the occasion, opening the game with a strong hold which included three unreturned serves.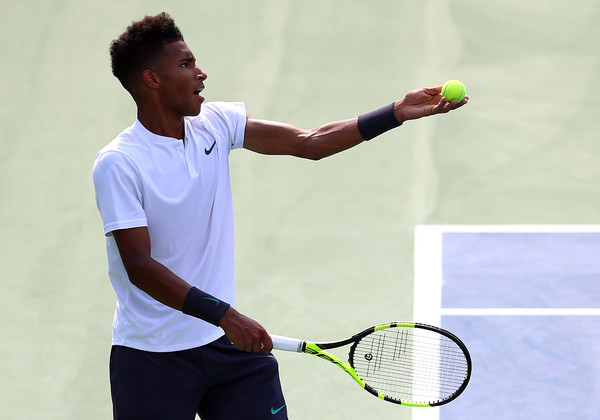 He was showing confidence with his groundstrokes too, pushing Pouille to deuce in the Frenchman's opening service game. He earned a break point when Pouille sent a backhand into the net and was then gifted the break when Hawkeye confirmed the Frenchman's second serve was out. Consolidating the break was tricky, as Auger-Aliassime went down love-40 in the very next game, but some strong hitting from the Canadian allowed him to save all three break points and hold.
He had chance to make it a double break at 4-1 when Pouille double-faulted at deuce, but the Frenchman saved it with a forehand winner. Some cracks started to appear in the Canadian's game after he failed to double his lead, as a missed smash at deuce on his own serve gave Pouille a break point. Staying aggressive, Auger-Aliassime went big and fired a forehand winner up the line to save it.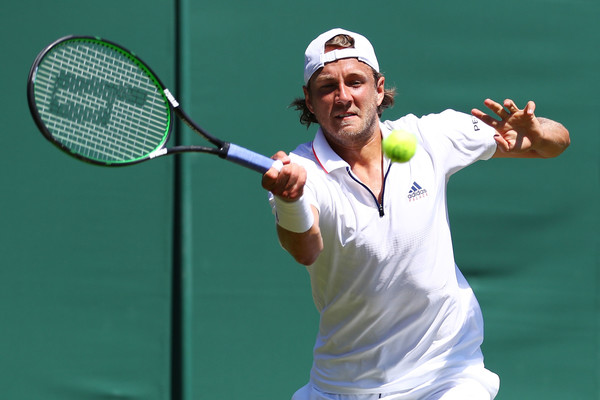 More break points came as the teen looked to serve out the set at 5-3. He saved the first at 30-40 by painting the back corner with a forehand, but a pair of massive forehands from Pouille would finally break the Canadian's serve and close to 5-4.
Undiscouraged, Auger-Aliassime bounced right back. He attacked the Frenchman's serve and was rewarded with a pair of break/set points at 5-4, 15-40 after a Pouille double fault. The Frenchman would pull a forehand wide to surrender the opening set.
Teen shows no fear
The brief drop in form from the Canadian late in the opening was quickly forgotten as he stayed aggressive to start the second set. In the fourth game on Pouille's serve, he had a love-40 opening of his own after Pouille sent a forehand long. Auger-Aliassime would miss the first two break points, but Pouille failed to execute a serve-and-volley on the third, sending volley wide to put the teen up 3-1.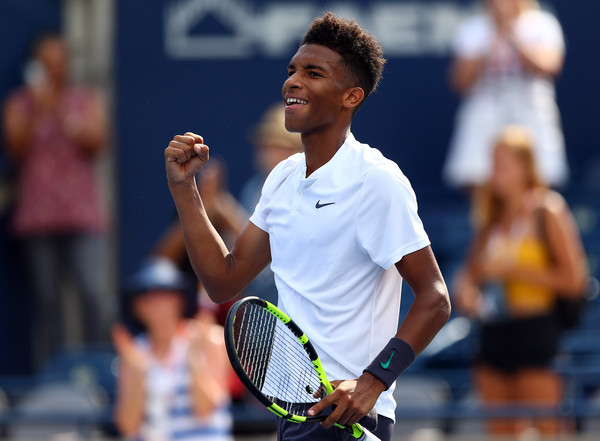 After getting his break in the opening set, Auger-Aliassime looked a bit shaky. This time, he was rock-solid. The 17-year-old looked like a seasoned veteran as he calmly strolled through his final service games. After securing the break, Auger-Aliassime only lost two more points on serve, closing out the victory with back-to-back holds to love.
By the numbers
While Auger-Aliassime was clearly the stronger player in the match, winning 57 percent of total points, statistically it was closer. The pair had nearly identical service numbers, including five aces each, first serves in (59 percent for Auger-Aliassime, 55 percent for Pouille), and first serve points won (80 percent for Pouille, 76 percent for Auger-Aliassime).
The big two differences that gave the Canadian the edge were second serve points won and break points. Auger-Aliassime took full advantage when Pouille missed his first serve, winning 64 percent of the Frenchman's second serve points. The Canadian won 67 percent of his own. Both men had six break points in the match. Auger-Aliassime converted three of his, while Pouille only managed to convert one.
Auger-Aliassime matched has matched his career-best performance at Masters 1000 event by reaching the second round (Indian Wells earlier this year). He will look to reach a new benchmark when he takes on qualifier Daniil Medvedev in the second round.