For the first time in his young career, 19-year-old Stefanos Tsitsipas has beaten two top-ten players in a tournament, scoring his second such victory in as many days on Thursday at the Rogers Cup. A day after knocking off seventh seed Dominic Thiem, the Greek teen sent shockwaves through the draw by knocking out Wimbledon champion Novak Djokovic in an epic three-setter.
Tsitsipas was aggressive from the start, taking the game to Djokovic with his big hitting. Despite narrowly letting the second set slip away, the teen stayed focused and refused to buckle. He grabbed an early lead in the final set and never gave it up, holding on to eliminate the three-time Rogers Cup champion 6-3, 6-7(5), 6-3.
Tsitsipas comes out swinging
Right from the start of the match, it was clear what the pattern of play was going to be. Tsitsipas was not backing down from anything, willingly going toe-to-toe with the former world number one in deep baseline exchanges. He even showed a willingness to challenge the mighty Djokovic backhand in numerous crosscourt exchanges.
His reward was a look at a break in the Serb's first service game. Under the barrage, Djokovic looked tight and sent a backhand into the net at deuce to go down 40-AD. Tsitsipas would net his own backhand and then failed to put a return in play on his next two advantages, with Djokovic eventually holding. It looked as though the hold gave the ninth seed confidence, as he went ahead love-30 in the next game, only for Tsitsipas to win four straight points.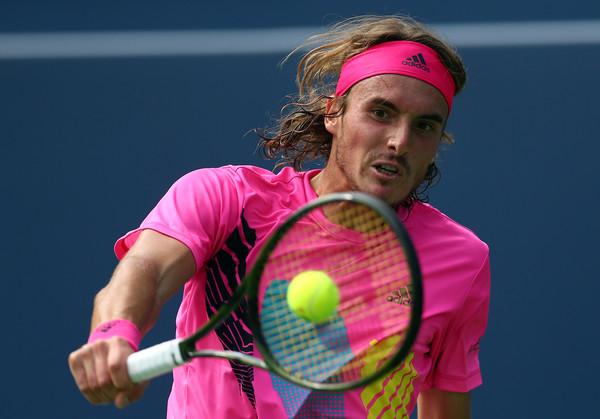 In the sixth game, Djokovic's tight play would again come back to bite him. He dug himself into a love-30 hole, which Tsitsipas quickly extended to love-40 with some big hitting. He would miss the first two break points, but on the third Djokovic sent a forehand long to hand his opponent a 4-2 lead.
Perhaps the most important point in the match came in the next game at 15-30, when Djokovic stubbornly refused to back down during a hard-hitting exchange. With Tsitsipas at the net, the Serbian returned a handful of overheads and managed to push the Greek back to the baseline, only for Tsitsipas to whip out a beautiful drop shot that caught Djokovic looking. He would hold that game before serving the set out to love two games later.
Djokovic survives to fight on
The three-time Rogers Cup champion looked a bit looser in the second set, hitting a bit more freely in the rallies which allowed him to defend his serve more easily. Unfortunately, it did nothing to help him find a way past his young opponent's big hitting as both men were holding easily.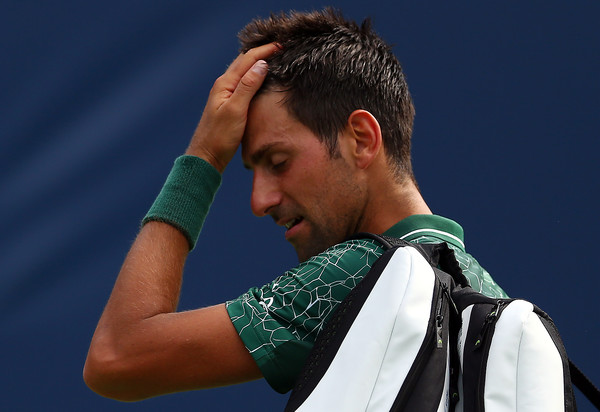 Tsitsipas' opening came at 4-all, when Djokovic committed three consecutive unforced errors to go down 15-40. This time, the Serbian was able to find a few good shots in a row and saved the break points, the first with a big serve and the second when Tsitsipas miss-hit a forehand, to keep his nose out in front.
Apart from the ninth game, neither man came close to a break in the second set. The ensuing tiebreak was essentially decided in the first two points. First, Djokovic defended his serve in a titanic rally to score the opening point. On Tsitsipas' first service point, he sent a backhand long to give Djokovic the minibreak. That would be enough for the Wimbledon champion, who defended his serve for the rest of the tiebreak, converting his third set point (after losing consecutive challenges by about a millimetre) to send the match to a decider.
Tsitsipas hangs tough
Djokovic is one of those players who, after winning a tight third set, is known for running away with deciders, especially against younger and/or lower-ranked opponents. It is also not uncommon for young players to crumble in the final set against a megastar like Djokovic after being so close to victory in the previous set. Neither of those things happened.
The second set started practically the exact same way as the opener, with Tsitsipas looking calm and collected while Djokovic was a bit tight. In the Serb's first return game, he went down love-30, fought back to level, only to send a forehand wide to go down 30-40. The Greek would frame his return but set up a second break point with a well-constructed, aggressive point. At 40-AD, Tsitsipas painted the baseline with a backhand drive up the line to take the break lead.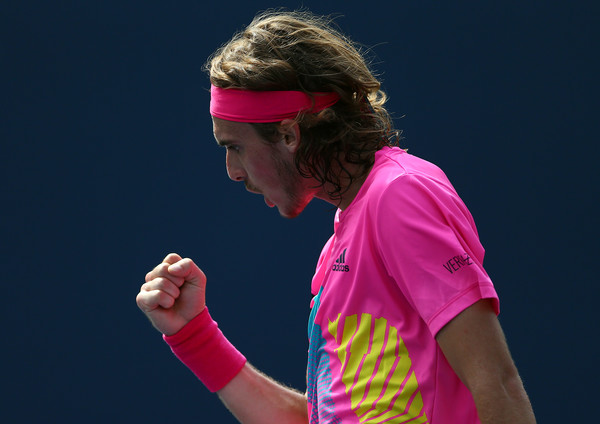 For the first time all match, there were some signs of nerves from the Greek as he looked to consolidate the break. He was tentative and made some poor choices, particularly at the net, and fell behind 15-40 on his own serve, the first break points against him all match. But with his back up against the wall, he stayed calm, drawing errors on both to hold serve for a 3-0 lead.
That would be Djokovic's last gasp as, despite trailing early in a few games and struggling with his first serve, Tsitsipas was completely in control on his own serve. The Serb kept the pressure on by holding his remaining service games, but that did not seem to bother Tsitsipas. The 19-year-old would hang on to his last three games to score an epic win.
By the numbers
Tsitsipas did everything just a bit better than Djokovic in this match. They each had 11 aces, but the Greek only had two double faults to his opponent's four. He won 84 percent of his first serve points and 68 percent of his seconds, a huge number when playing Djokovic. Most importantly, he saved the only two break points he faced in the match.
By no means were Djokovic's numbers bad, 73 percent first serves won, 61 percent of second serves and saving eight of ten break points. Unfortunately, he failed to get much going on his return, a rarity for one of the tour's best returners.
Tsitsipas is through to the quarterfinals of a Masters 1000 event for the first time in his career. He will meet either Daniil Medvedev or defending champion Alexander Zverev in the last eight.