Even a rain delay could not stop Johanna Konta after the unseeded Brit stood up to the occasion, continuing her good form as she ousted former world number one Victoria Azarenka in a blockbuster and delayed second-round clash at the 2018 Rogers Cup, triumphing with a one-sided 6-3, 6-1 scoreline.
Konta was performing incredibly well — blasting 20 winners and just 17 unforced errors past the two-time Major champion within an hour and 23 minutes of play. Furthermore, the former top-five player lost just four points behind her first serve throughout the encounter, not being broken by Azarenka, whom pundits used to label as the best returner in the game. Azarenka underperformed as her groundstrokes were going haywire and she committed 16 unforced errors while overpowering her opponent on just seven occasions. She failed to protect her vulnerable second serves and went 0/4 on her break point conversion rate.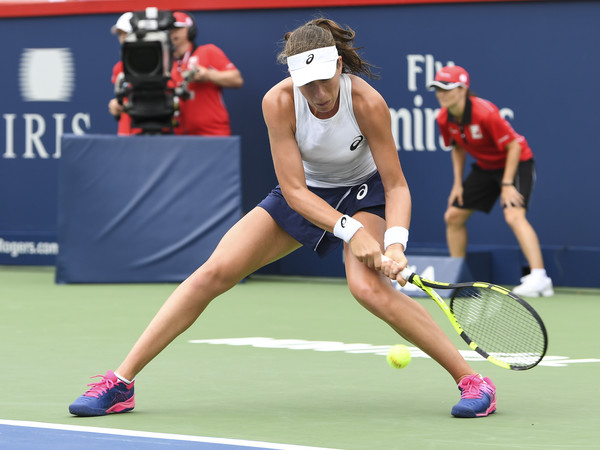 Konta powers to the first set
It was the perfect start from Azarenka as the former world number one was able to redirect the pace from Konta's game in the early stages. The Belarusian started the match with a confident service hold as she turned defence into offence with ease, looking to mount a deep run as a wildcard. Nonetheless, the powerful Konta was firing on all cylinders particularly on her serve, leaving no mercy on her backhand wing as the Brit got herself onto the scoreboard in quick fashion as well.
Excellent service placement and consistent baseline work allowed Azarenka to remain solid on her serve, and six consecutive service holds came and went for both players with no break points surfacing. However, with her immense power, Konta finally drew the first blood and broke serve in the seventh game with a stunning return winner.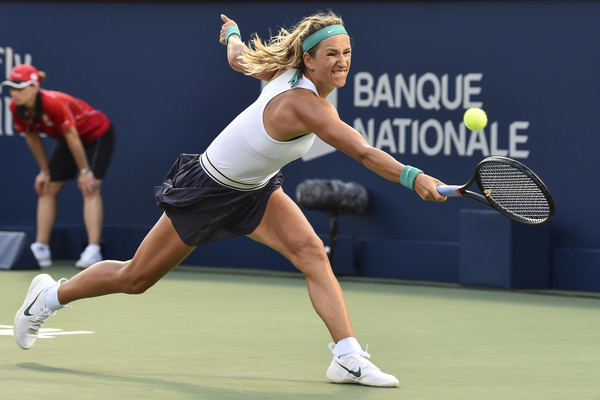 Facing no troubles on her serve, Konta easily consolidated the break to love and was just one game away from grabbing the first set. Azarenka then committed a slew of unforced errors when she was under pressure at the baseline, gifting the first set 3-6 to Konta. It was a terrific set played by Konta, firing 10 winners to just six unforced errors and not having to save any break point throughout the set.
Konta overcomes rain delay and late nerves to claim the win
Konta had a nervy start to the second set despite having the momentum from the first running in her. She lost a 40-0 lead and conceded a break point opportunity, which was Azarenka's first of the match. However, the world number 43 was able to fend it off with an unreturnable serve, ultimately paving her way to claiming the tricky hold.
Everything seemed to be clicking together for Konta, who was simply unstoppable by any means. She broke serve and was leading by a set and a break before consolidating for a commanding three-game advantage in the second set with an ace. Just when Konta was ready to close out the match, rain started to have its party and eventually forced the match to be postponed by a day.
Even though play continued the next day, Konta's momentum did not stop as she continued to sail through the second set, grabbing yet another break despite losing the first two points of the day. She stormed to take two consecutive games for a formidable 5-0 lead within a blink of an eye, putting herself at an advantageous position to close out the win.
However, Azarenka was determined to put up a tough challenge as she held her serve confidently before surging back to earn three break points. Nonetheless, Konta was just too rock solid and never seemed to let loose; and she was third-time lucky as the Brit finally closed out the impressive win over the Belarusian former world number one in just 83 minutes.