 Caroline Garcia was able to put up a tactically-perfect performance against former world number one and five-time Major champion Maria Sharapova in the third round of the 2018 Rogers Cup as the Frenchwoman stunned the Russian with a surprisingly straightforward 6-3, 6-2 scoreline after just an hour and 28-minutes of play.
Garcia was playing some extremely clean tennis, firing 15 winners to just 10 unforced errors, and very rarely you will see the hard-hitting world number six hit such a mere number of errors. Whereas, Sharapova was uncharacteristically passive throughout the match, failing to pounce on her great start and lost 12 of the last 15 games of the match which committing 23 unforced errors along the way.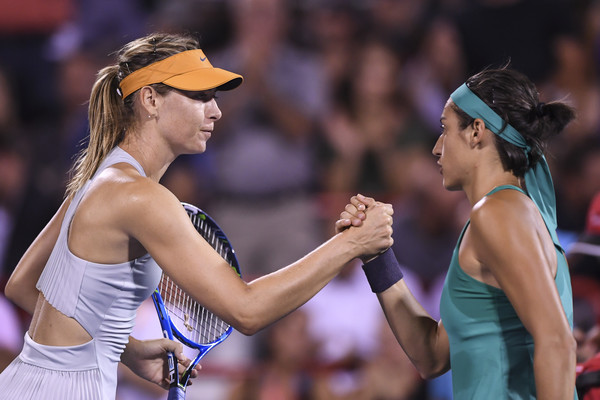 The Russian's low first-serve percentage of 40 proved to be costly, coupled alongside eight double-faults, as Garcia ruthlessly went for the returns and earned her rewards while Garcia lost just 14 points behind her solid serves. Garcia will now face world number one and nemesis Simona Halep in her second consecutive quarterfinal appearance in this tournament.
Garcia wins six of the last seven games to take the first set
It was a terrific serving performance from Sharapova to start the match with, despite a low first-serve percentage. She sent in two aces and another unreturnable serve to grab the nervy hold in the opening game, although this would send off an ironic message considering how poorly she served through the remainder of the match. Riding on her high confidence after losing just five games in two matches, Sharapova blasted three consecutive backhand winners for the early break and a 2-0 lead.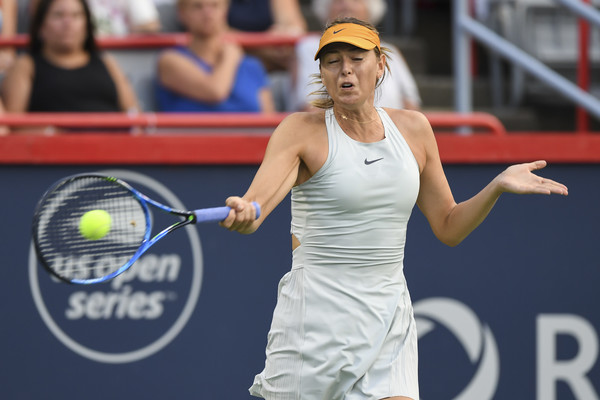 However, Garcia came roaring back into contention after becoming the first player to break Sharapova's serve in the tournament this week. Sharapova failed to consistently find her first serves which proved to be costly, allowing Garcia to return level on the scoreboard within a blink of an eye.
From 2-3 down, Garcia rattled off four consecutive games to take the opening set 6-3 while even though Sharapova called for an on-court coaching session in the midst of the rout, she was unable to step up her play and experienced a dip in her form and confidence. The Frenchwoman claimed 16 of the last 20 points, putting up a clinical display to claim the first set over her nemesis.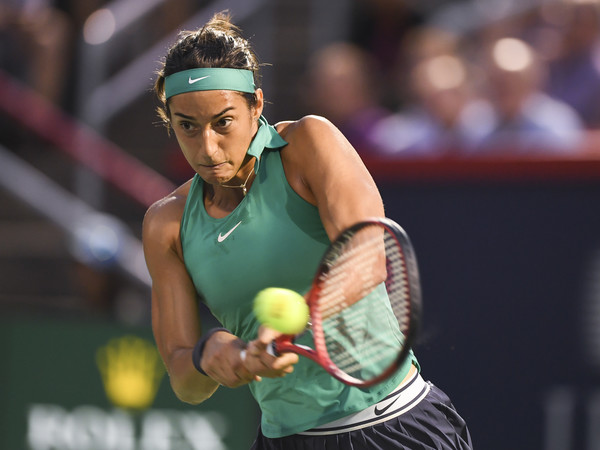 Garcia storms past Sharapova
Riding on her momentum, Garcia stormed towards an asserting service hold in the opening game of the second set. The Frenchwoman was finding the corners and the lines while Sharapova failed to deal well with Garcia's pace on her shots, especially when the Russian was forced to enter an unfamiliar territory of being defensive throughout the match.
Sharapova dug deep to remain in contention, firing down two aces to remain on serve although the break from Garcia could just come at any moments. For the first time since her first return game, Sharapova was able to earn a break point with yet another stunning backhand winner but was unable to convert her chance as she sent a backhand straight into the net.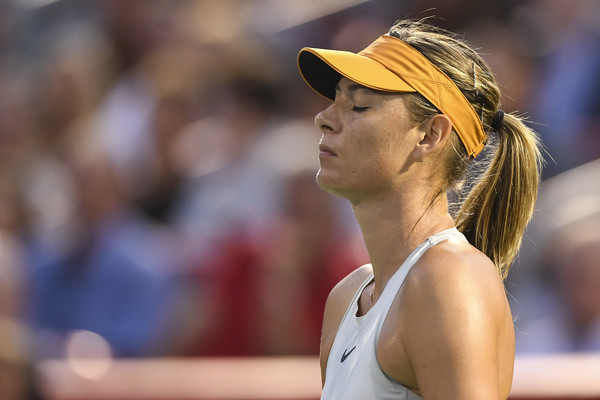 Garcia took full advantage and grabbed the close service game to remain ahead on the scoreboard. The fourth game was a definite thriller — Sharapova needing more than 10 minutes of play to fend off four break points, all with her nervy second serves. She came up with some incredible defensive skills on one of them, and her efforts were finally rewarded when Garcia sent a huge drive volley into the net as well.
However, the break always seemed to be coming and after all the intense battle, Sharapova had nothing left in the tank after that tough hold for 2-2. She lost 16 of the last 21 points and her game completely crumbled while Garcia found confidence in hers. Consecutive double-faults completely ruined Sharapova's rhythm while serving to stay in the set, and her eighth of the day came on match point as Garcia celebrated the impressive win.