A lot has changed since Rafael Nadal and Stan Wawrinka's last match, the 2017 French Open final. The Spaniard has returned to number one in the world, while the Swiss is down to 195. But one thing that hasn't change is the quality of tennis.
The two battled for just over two hours on Thursday night at the Rogers Cup, sandwiching another rain delay, with the world number one narrowly edging Wawrinka in two tight sets. The Swiss was looking more like the three-time grand slam champion we're used to, but he could not match Nadal's big hitting deep in the sets as the Spaniard claimed victory 7-5, 7-6(4).
Rain delay can't stop Nadal
Nadal came out of the blocks looking to impose himself in the rallies. Practically every point longer than a few shots was being one by the Spaniard, who was keeping Wawrinka pinned back with deep groundstrokes. He had a chance to seize an early break after the Swiss failed to close out a game and netted a forehand to go down 40-AD. But Wawrinka saved it with a forehand winner and managed to survive a second when Nadal sent a return long.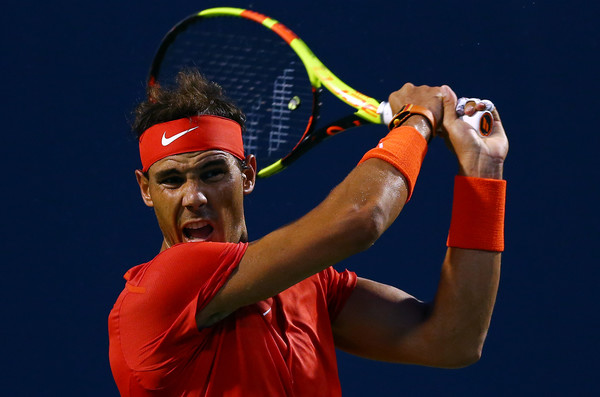 Wawrinka settled in after the tough first game and managed to keep up with Nadal in the rallies, even push him around a bit. At 4-all, the Swiss had his opening when a couple of errors followed by a big forehand winner up the line gave Wawrinka a love-40 opening. But he could not take advantage, missing back-to-back returns and then netting a backhand to blow the opportunity. It was nearly costly as Nadal held a pair of set points in the next game at 4-5, 30-40 and 40-AD, but Wawrinka used his serve to save both.
After Nadal held for a 6-5 lead, the light drizzle that had been going on for a couple of games intensified, forcing a stoppage in play for around 45 minutes. When they came back, Nadal looked to reassert the control he had at the start of the match. With Wawrinka serving for a tiebreak, the Spaniard attacked, going quickly up love-30. The Swiss would rally but failed to covert on a few game points. At a deuce, Nadal caught Wawrinka moving forward with a low slice backhand passing shot winner. The Swiss would net a forehand on the set point to drop the opener.
Rafa rallies for tough win
It looked like the world number one was going to run away with the victory as his great defense seemed to be wearing the Swiss down early in the second set. Wawrinka would send a drive into the net at deuce on his own serve and proceeded to fire a backhand long to go down an early break.
Despite having played back-to-back three-setters, Wawrinka was still taking massive cuts at the ball and was rewarded when Nadal missed a backhand down the line at 30-all in the very next game to give the Swiss a break point. Wawrinka would rip a backhand winner up the line to reclaim the break. Nadal was suddenly looking shaky on serve, like he had in his opening match, and committed back-to-back unforced errors from 30-all in his next service game to suddenly find himself down a break.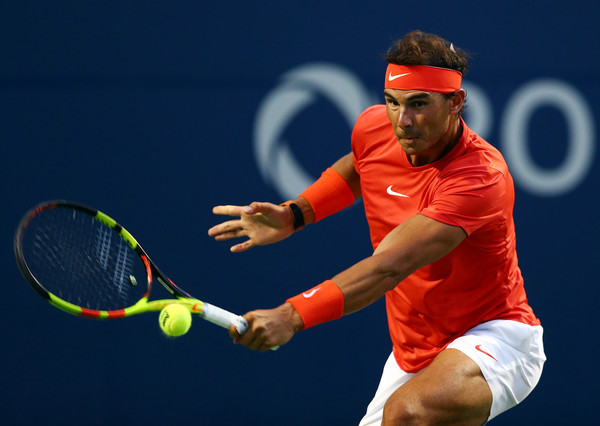 Wawrinka would hold that lead until he served for the set at 5-4. Looking to avoid a decider, Nadal suddenly upped his level and was back to bludgeoning Wawrinka with his deep forehand. At 30-all, Wawrinka sent a forehand long to give Nadal a break point. The Swiss then made the classic mistake of hitting an average approach shot to the Nadal forehand. The world number one was ready and ripped one of his trademark forehand passing shots up the line to level at 5-all, celebrating with a series of fist pumps.
This time, Wawrinka managed to serve his way into the tiebreak. They matched each other shot for shot up to 3-all, when a deep return from Nadal drew an error for the minibreak. He would then win his next two service points to take a 6-3 lead. Wawrinka saved the first match point but hit a soft second serve on the second which Nadal stepped in and crushed with his forehand for an emphatic winner.
By the numbers
Wawrinka played a fantastic match, but his first serve percentage hurt him. He only put 54 percent of his first serves in play, which is not nearly enough when playing Nadal. The Swiss only managed to win 48 percent of his second serve points, the most important being the final point of the match when Nadal's return practically left a trail. Nadal was solid on serve, winning 75 percent of his first serve points and 63 percent of his seconds.
The world number one will have another big-hitting test in the quarterfinals in the form of Marin Cilic, who defeated Nadal in his most recent hard court tournament, the Australian Open (albeit due to retirement by Nadal).