As a former world junior number one, there have always been expectations for Stefanos Tsitsipas. But unlike many former junior stars, the young Greek quickly appears to be living up to expectations.
After strong results throughout the 2018 season, the 19-year-old has taken the next major step forward this week at the Rogers Cup, knocking off three straight top-ten opponents, the youngest person to do so since Rafael Nadal in 2006, to reach his maiden Masters 1000 semifinal.
Following his quarterfinal victory over defending champion Alexander Zverev, Tsitsipas spoke about his run and how things have evolved.
A hard-fought win
Tsitsipas trailed at various points throughout the quarterfinal duel with Zverev, but never capitulated. He was down 5-2 in the second set and faced a pair of match points in the epic tiebreak which Tsitsipas described as "a hell of a tie-break. We played lots of points, lots of rallies. A really exciting tie-break. The people seemed to love it." He won it 13-11 to force a decider.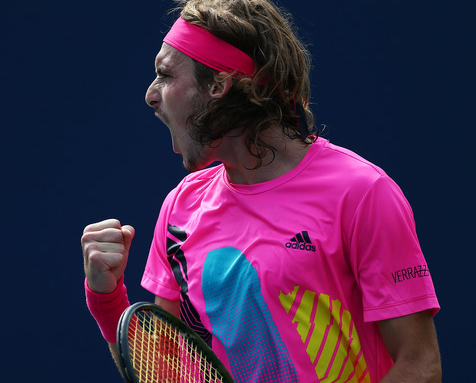 After all that tension and the constant fighting to survive, "we started the third set. I felt like I was there. I felt like my serve was not at its best at that moment. My first serve percentage was not really high. I was a bit worried about that, if I'm going to keep my first serve percentage higher. And it still didn't work that well for me. He had plenty of break point opportunities on my serve. He didn't convert them.

But I knew that his serve was working pretty well at that moment. He was serving really well. And I was just trying to figure out things to somehow maybe -- I knew that I'm serving worse than him, so I was trying to save it with some better baseline game, I would say. And I was pretty lucky, and also I used my chancesat the last game. I made him play. And I was very patient, and it paid off at the end."
Zverev was scathing in his analysis of the match, calling it "pathetic." Tsitsipas said he'd heard about his opponent's feelings and had a very zen response: "Well, there's a quote that -- I'm working with a sports psychologist that's really good. And he told me something, and I remember it since like four or five years. That a good player can be seen in his bad day. And I completely agree with that."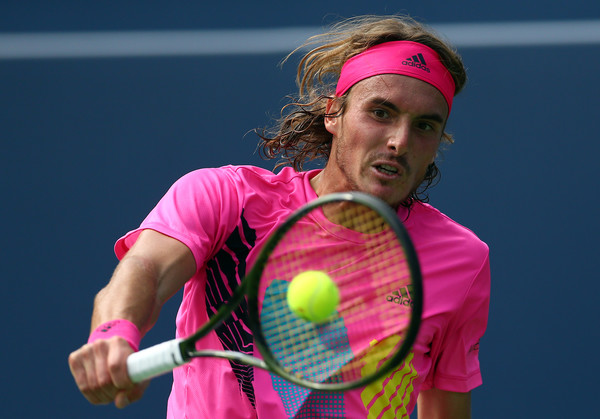 However, Tsitsipas did agree that "The level of tennis today, in my opinion, was not the highest. It was all right. People seemed to love it, love the show and everything." He was slightly more positive, saying, "I played okay. He seemed -- I don't know. The conditions are different here. So it's really tough for me to compare with Washington [where Zverev beat him in straight sets]. Because Washington, you know, with the conditions and everything was completely different. Speed, surface, it was slightly faster there.

So I would say I played more clever this time. I kind of fooled him when I was on the court and did some things that he didn't expect me to do. And I changed my plan since last week. And as I said, I got lots of experience last week and managed to pull it out today in the match."

Big steps forward
A year ago, Tsitsipas was playing a challenger event in Slovenia. Now he's into a Masters 1000 semifinal. When asked if a year ago he would have believed where he is today, he said, "No way. No way. Of course I wouldn't believe that. But yeah, I changed completely since last year. I'm a different player. The same person, though, but different player.

I have changed a lot. I have evolved in my game. I have become a more solid player, a better thinker when I'm on the court. And ofcourse part of this, as I said, hard work, dedication, and being really involved in the sport and loving it since my -- I mean, from a very young age, and having a huge passion about what I'm doing."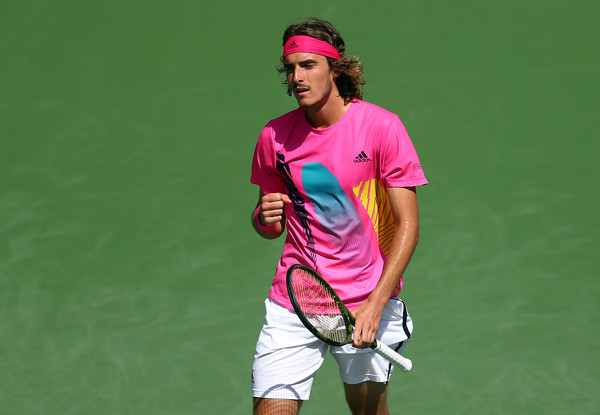 While his expectations are high, the significance of what he is doing is not lost on Tsitsipas. The youngster explained that "achieving such things makes me feel nice. You know, I'm very proud of who I am and at such age to do this kind of results, which I never expected. I always thought it's going to be take more years for this to happen. But with the hard work that I've been doing, it's no surprise to me. I believe I have the game to compete against these players. I'm feeling very confident.

And in terms of, as I said, of my game, I feel like I belong in this level. I feel like I have it and that I can compete against these players and play lots of matches against them and have a positive head-to-head against them. And I feel proud of myself. I feel proud of my country. And I feel proud that I'm showing my best out on the court on such big stages, and that I can make tennis in Greece the thing."
As for why things have improved for much for him, the 19-year-old had a simple answer: "Because of hours on the court practicing and perfecting it."