 Things have been getting gradually tougher for Rafael Nadal at the 2018 Rogers Cup. The world number one got through his opener in straight sets and had to battle through two more tight sets in the second round before mounting a major comeback for a three-set win in the quarterfinals.
He trailed Marin Cilic by a set in the quarterfinals, but still managed to dig deep and find a way to win. After the victory, Nadal reflected on how he managed to win a match that looked unwinnable.
Settling the score
The last time Nadal and Cilic had met on court, the Spaniard retired in the fifth set of their Australian Open quarterfinal. Seven and a bit months later, Nadal was able to see the match through to the end, coming back from a set down to take out the Croatian.
But last night's battle in Toronto had nothing to do with Melbourne. When asked about the Australian Open, Nadal explained that "I never believe on revenges at all. No, no. It's not because of Australian Open match, not at all. Was just because have been a very important match for me. Being in semifinals is great news at the start of the hard court season in a good way. And winning three good matches in the first Master 1000, yeah, so important for me.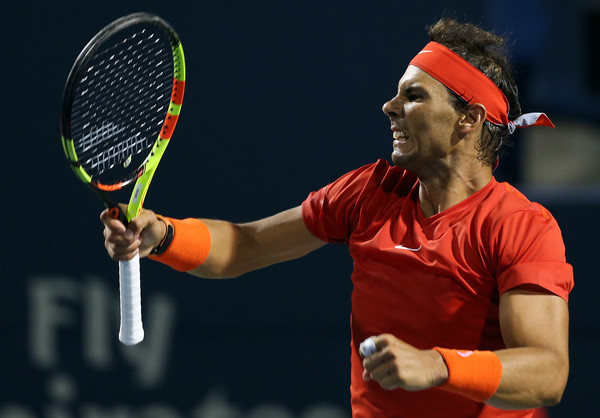 And especially the way that he played in that first set was unstoppable, no? So I resisted. I play with the right tactic. I tried to find my solutions, but was so, so difficult. So that's why it was an important celebration, no? It means a lot to me to be in the semifinals."
As for this match, Cilic was looking unstoppable during the first set. How did Nadal turn it around? Facing that Croatian's forehand barrage, "the match became so difficult. I had a good break. Well, safe, of course, the first game of the second was the key. He had break point. If he had the break in that first game of the second set, the match will be so difficult, no? Because the dynamic was very bad for me and unbelievable good for him. So I know that beginning of the second set will be decisive.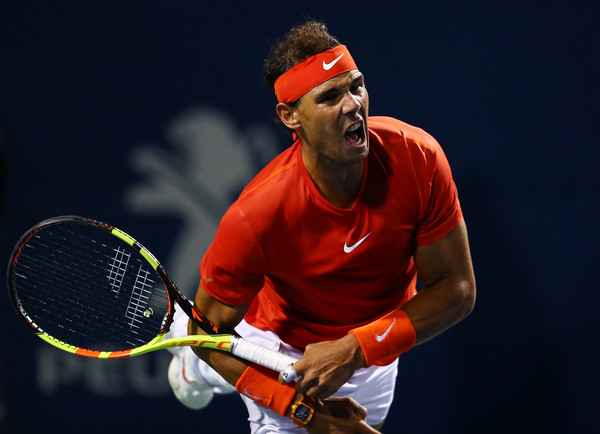 And then in the 2-1, I had that break that he missed couple of balls and was the first time in the match that he make some mistakes, and I had the break. So, yeah, it was so important. Maybe that was a key moment. And of course that last game of the second set that he was 40-15, and he make two mistakes. So yeah."
Finding positives
Nadal's first appearance in Toronto since 2010 has not been easy, with his last two matches being particularly close. But the world number one seems fine with that, saying, "this kind of matches are important and good to play. That's why we wake up every morning, go on court and practice hard. That's why we play that kind of matches. That really means a lot.

You have the chance to play in front of a great crowd. Amazing support for me tonight. Can say thank you very much to all the people here in Toronto. And, yeah, the energy, the passion, I love to play this kind of matches. I'm very happy for everything. It's been an important week for me, and things keep going."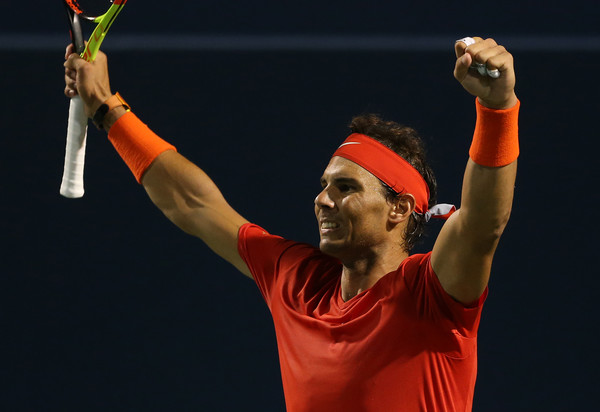 With a US Open title defense coming up and finding his hard-court form being so important after only playing one event on the surface this year prior to the summer, Nadal is staying focused on where he is at this moment. The way he sees it, "I'm in semifinals, man. That's the most important thing. I said before at the tournament, no, I was not -- I didn't practice a lot before here. I needed some period off.

And coming here is always difficult. Was the first match for me on --first tournament on hard after a while. And all the facts makes the tournament difficult. But being honest, semifinals is a great result. Is a Masters 1000. And when 19 of the top 20 players have been playing here, so being in semifinals is great news. And without playing more or less well it's impossible to be in that round.

Already won a couple of good matches against tough opponents. So let's see how the things go tomorrow. A tough opponent. He's playing well. He's dangerous. He hit the ball so hard too. So let's see. I need to keep playing aggressive and keep serving well. Then we'll see. I'm happy about the things and I'm happy about my result, and it's an opportunity to keep going."
Nadal meets Karen Khachanov in the semifinals of the Rogers Cup on Saturday night.