 World number one Rafael Nadal has withdrawn from the Western & Southern Open in order to rest ahead of the year's final major, the US Open. Nadal just captured his 33rd Masters 1000 title after winning the Rogers Cup over Stefanos Tsitsipas.
The Spaniard has had some long nights due to the weather in Toronto which has seen him play late a couple of nights, including his semifinal match which was delayed due to rain but still finished on Saturday night, albeit past 11:00 PM local time.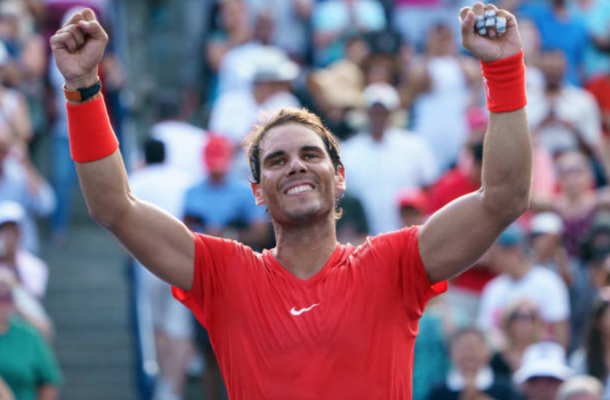 Nadal Makes It Official
After his Rogers Cup victory, the Spaniard talked to the press and was coy in his press conference about the idea about playing at the last major warm-up before the US Open. When first asked about playing in Cincinnati, Nadal said he could not give an answer at the moment.
The following question was then brought up about five years ago in which Nadal had won Toronto, Cincinnati, and then the US Open. His response was telling. "I don't know. Is not -- for me personally it's not the moment to think about that. For me just having this trophy with me means a lot. It's a very important moment for me. As I say to him, I can't answer the question. I really just finished, do pictures with all the staff here.
I need to come back to speak with my team, to speak with the people who are close to me and really make a decision about what is going on in the next week and the next couple of weeks. So let's see. There is a tighter too because we have the Davis Cup semifinals after the US Open. So we need to think about the things that we can do or the things that about we can't do, no? So it's all about the decisions. As you know, I only want to play. I want to be everywhere. I love this sport.
I don't like to miss events. But at some point if I don't stop for myself, my body stop me. So that's the experience that I have. So I have to talk with the people who are next to me and make a decision about the next week and about the schedule until the end of the season."
The Spaniard posted on his official Facebook page to announce his withdrawal from the tournament.
"I am very sorry to announce that I won't be playing in Cincinnati this year. No other reason than personally taking care of my body and trying to keep as healthy as I feel now. I am very thankful to my friend Andre Silva, Tournament Director of the Cincinnati tournament, who after speaking to him on the phone understood what I said and understands the situation.
I am sure the tournament will be a success and I wish him and his team all the best. I am also sad for those amazing fans in Cincy and around who always gave me great support. I am sure I'll see them next year and I am sorry I won't be with them this year. Thanks for all the support as always."
Nadal was defending third round points from the tournament last year. He defeated Richard Gasquet and countryman Albert Ramos-Viñolas before being taken out by eventual runner-up Nick Kyrgios.