Here is your VAVEL USA ATP Weekly Update. Every Monday, we will be posting results and analysis from the previous week's singles action on the ATP World Tour, along with a preview to the upcoming week. Keep coming back to VAVEL USA every Monday for your ATP Weekly Update.
The first crown jewel of tennis' summer triple crown was handed out this week in the Great White North, with the best player in the world asserting his dominance over a field of youngsters who are showing their increasing eagerness to take over the ATP World Tour. Here's what happened on week 32 of the 2018 season.
Last Week's Results
Toronto
In a tournament where the NextGen put on a show, it was a familiar face holding the trophy at the end of the 2018 Rogers Cup. World number one Rafael Nadal added to his already enormous trophy case by claiming his fourth title in Canada, record-extending 33rd Masters 1000 title and 80th career title overall.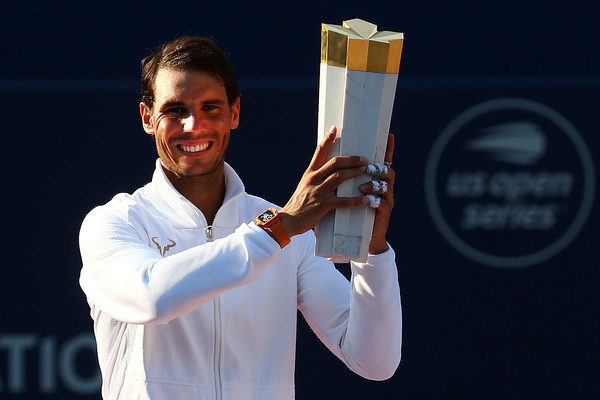 Nadal was strong in his first hard court event since the Australian Open, taking out rivals Stan Wawrinka and Marin Cilic before stopping a pair of youngsters to claim the title, putting an end to Stefanos Tsitsipas' magical run in straight sets in the final.
Even though Nadal brought home the trophy, it was Tsitsipas who stole the show in Toronto. The NextGen star made history by becoming the youngest person since the ATP World Tour was formed in 1990 to beat four top ten players in a single tournament.
He beat Dominic Thiem (8), Wimbledon champion Novak Djokovic (10), defending champion Alexander Zverev (3) and Kevin Anderson (6) to reach the final, the latter three in epic three-setters, saving match points in the Zverev and Anderson matches. He nearly pulled another escape when he broke Nadal serving for the title, but ran out of gas in the tiebreak.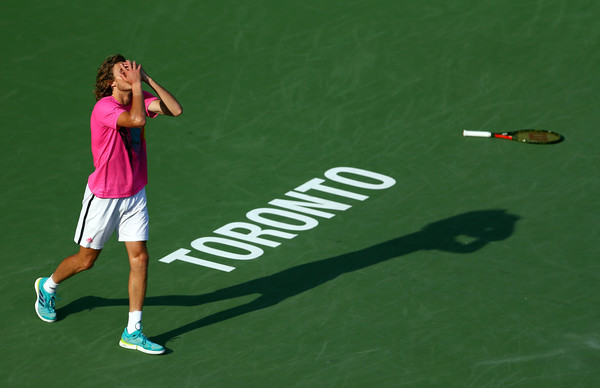 Tsitsipas, who celebrated his 20th birthday on finals Sunday, was joined in the semis by young gun Karen Khachanov, who upset John Isner to reach his first Masters 1000 semifinal. Last year's surprise semifinalist, Denis Shapovalov, failed to recapture his magic in his hometown, falling in the third round.
Rankings Update
Mover of the Week: Stefanos Tsitsipas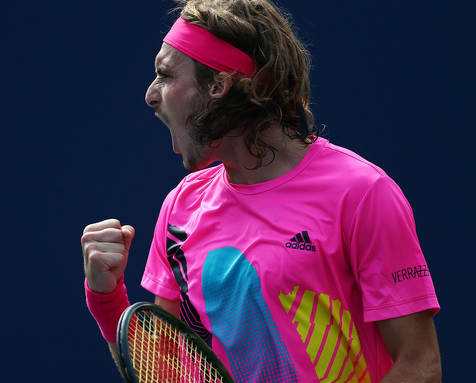 The Greek's historic run in Toronto saw him rocket up to a new career-high ranking, moving up 12 spots inside the top 20 for the first time at number 15.
Despite pulling out of the Rogers Cup just before his opening match with a wrist injury, Juan Martin del Potro moved up to a career-high ranking of number three in the world thanks to Alexander Zverev failing to defend his title. Karen Khachanov jumped up 11 spots to a new career-high ranking of number 27. The title for Nadal stretched his lead at number one over Roger Federer to nearly 4000 points.
Race to London
| | | | |
| --- | --- | --- | --- |
| Place | Name | Points | Change |
| 1 | x-Rafael Nadal | 6760 | - |
| 2 | Alexander Zverev | 4265 | - |
| 3 | Roger Federer | 4020 | - |
| 4 | Juan Martin del Potro | 3530 | - |
| 5 | Novak Djokovic | 3445 | - |
| 6 | Kevin Anderson | 3180 | +2 |
| 7 | Marin Cilic | 3095 | - |
| 8 | Dominic Thiem | 3005 | -2 |
| 9 | John Isner | 2560 | - |
| 10 | Fabio Fognini | 1850 | - |
| 11 | Stefanos Tsitsipas | 1727 | +11 |
| 12 | Kei Nishikori | 1710 | -1 |
Stefanos Tsitsipas' finals run vaulted him into the Race to London, as he cut his ranking in half moving up from number 22 to number 11. He is currently around 1300 points back of Dominic Thiem, who slipped two spots down to eighth, flipping spots with Kevin Anderson who jumped two spots to number six.
By reaching the quarterfinals, Rafael Nadal became the first person to clinch a spot at the ATP Finals. There are still seven spots up for grabs.
This Week's Action
The second and final pre-US Open Masters 1000 event will take place this week, serving as the final warm-up for most of the tour's best before New York.
Cincinnati
There ain't no rest for the wicked or the ATP World Tour as 18 of the top 20 will be in action this week at the second summer Masters 1000 event, the Western and Southern Open. Seven-time champion Roger Federer is back in action leading the field. Rogers Cup champion Rafael Nadal is not making the trip after his long run in Toronto, withdrawing on Sunday after the final in Canada.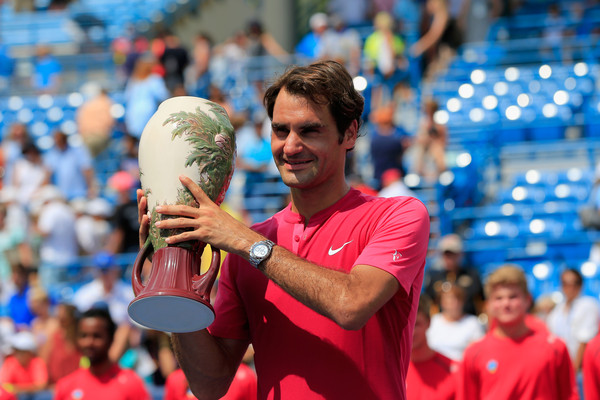 Grigor Dimitrov is the defending champion and will be looking to defend the largest title of his career. Nick Kyrgios, the 15th seed, is the defending runner-up although he could be in trouble as a hip injury has hampered him all summer. Novak Djokovic, seeded 10th, will be looking to complete his set of all nine Masters 1000 titles by finally grabbing the trophy in Cincinnati.
VAVEL USA will be bringing you coverage of the 2018 Western and Southern Open directly from Cincinnati as VAVEL USA's own triple threat of writer/editors, Max Gao, Pete Borkowski (me) and Noel Alberto will be on the ground at the Lindner Family Tennis Centre. Keeping coming back to www/vavel.com/en-us/tennis-usa/ and follow us on twitter @VAVELUSATennis for everything you need at the Western and Southern Open.
Check back next Monday for a wrap up of week 33 and a look ahead to week 34 on the ATP World Tour. Come to www.vavel.com/en-us/tennis-usa/ every Monday or follow us on twitter @VAVELUSATennis for your #ATPWeeklyUpdate