Serena Williams kicked off her Western & Southern Open campaign with a rout of Daria Gavrilova in the opening round. This was her first match after losing to Johanna Konta in stunning fashion in San Jose then withdrew from the Coupe Rogers in Montreal. She spoke to the press about motherhood, training regimes, and more.
No Relaxing
Serena won the opening set 6-1 and despite the scoreline, she said it's never easy despite getting that first break because it's just the beginning of the match.
She also spoke about playing back-to-back and to her, it isn't a problem because right now she isn't getting byes because of where she's ranked, but she's okay with it.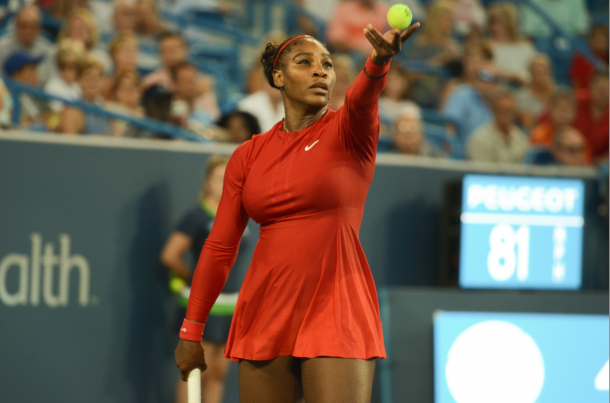 Andy Murray's Support
Serena was asked about how it feels to have Andy Murray as a voice for women's tennis, considering his position in tennis as one of the most well-known people as well as going through his own ups and downs like Serena is currently going through herself.
She said, "Well, yeah, he has been such a great supporter for women, especially women's tennis. I really think he's a great guy. He really just is connected and understands the future and the world and life. He's really in sync with that. It's been really great to have his support."
Motherhood And Qai Qai
When asked about if being a mom is her greatest accomplishment, Serena said for sure it was. Someone also brought up Serena is now a grandmother because of Olympia's doll Qai Qai who she is taking care of. She smiled and said, "Yeah. Yeah, I'm kind of having to take care of Qai Qai now because Olympia is living her life. She's young. She wants to live her life. And, you know, she's just like, Mom, I'm going to be free. It's all right. I love Qai Qai."
Training Regimes
Serena said she had blood clots after giving birth to Olympia and has had a history of having them before. Due to that, her training regimes may have changed, especially the intensity of them. She said, "It's definitely been something I have to watch. I have been doing that, and so so far, so good."