If Milos Raonic wasn't happy with his performance last week at the Rogers Cup, especially on serve in his second-round loss to Frances Tiafoe, he had every reason to smile on Tuesday in Cincinnati. The two-time Western and Southern Open semifinalist kicked off his 2018 campaign in dominant fashion, only dropping three points on serve in a straight-sets win over Dusan Lajovic.
The Canadian started applying pressure on his opponent's serve midway through both sets and was rewarded with breaks. Once he gained the lead, he relied on his monstrous serve to carry himself across the finish line 6-3, 6-3 in under an hour.
Pressure pays off for Raonic
Raonic did not wait long to start putting pressure on Lajovic's serve, reaching break point in just his second return game when he smacked a forehand return winner up the line to take a 30-40 lead. Fortunately for the Serb, Raonic let him off the hook by missing a second serve return wide. Lajovic would avoid another scare in his next service game when he went down love-30 but managed to win four straight points to hold.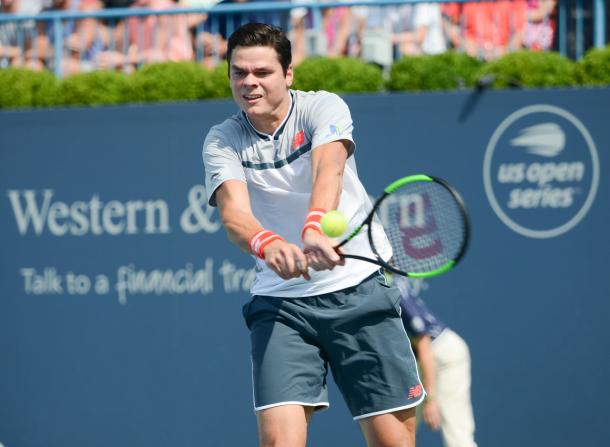 For the third game in a row at 3-4, Lajovic ran into trouble on serve, this time sending a forehand long to go down 15-40. Raonic would net his return on the first break point, but the Serbian sent a forehand long on the second to surrender the break. Up to that point in the match, Lajovic had only won one point on the Canadian's serve, meaning the set was essentially over. Raonic would hold to love to wrap up the opening set in only 29 minutes.
Raonic rolls
Lajovic would do a slightly better job of standing up to Raonic in the early stages of the second set. He would triple his total return points won by winning two more in his first three return games, albeit in two separate games. In the entire match, Lajovic would never get past 15 on the Canadian's serve. Still, he managed to keep up and defend his serve well to get to 3-all in the second set.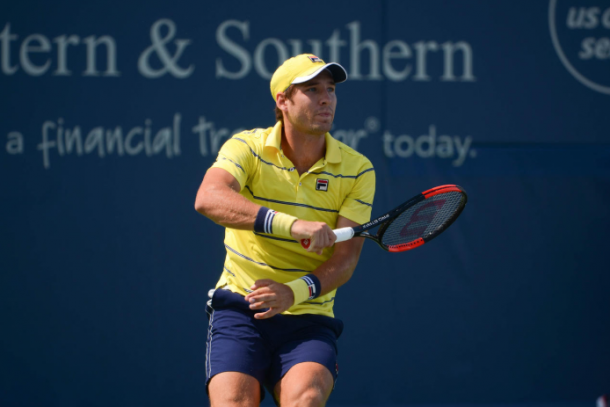 At 3-all, 30-all with Lajovic serving, with Serbian got caught stranded at the net and Raonic rifled a forehand passing shot winner to set up a break point. Lajovic would send a backhand long to surrender the break, and essentially the match.
After Raonic consolidated to love, he would have a chance to break for the match when Lajovic, now serving to stay alive at 3-5, double-faulted at 15-30 to set up double match point. The Canadian would crush a forehand up the line that Lajovic could not handle, wrapping up the victory after only 56 minutes.
By the numbers
Raonic has had many great serving performances over the years but this may have been one of his best. He won 36 out of his 39 total service points in the match: 18/19 on his first serve (95 percent) and 18/20 on his second. (90 percent). Given how few points he lost on serve, it wasn't even really possible for him to face a break point, which he didn't.
His return numbers were not terrible either, as he won more of Lajovic's first serve points than second (46 percent to 31). He converted three of his five break point opportunities, including both in the second set.
Raonic has already dodged a bullet in the second round. Originally, he was to play world number one Rafael Nadal, but following the Spaniard's Rogers Cup title run last week, he withdrew from Cincinnati. Instead, the Canadian will be the heavy favourite against lucky loser Malek Jaziri.