Ninth seed Karolina Pliskova overcame the crafty Agnieszka Radwanksa in a back-and-forth match to kick off her 2018 Western and Southern Open campaign on Tuesday in straight sets. The match was full of momentum swings, but the former world number one hung in during the tough moments and managed to break her Polish opponent down to claim a 6-3, 6-3 victory.
Radwanska comeback falls short
Pliskova wasted no time in putting her power to work. In the very first game she was rewarded for aiming for the baseline with her forehand, going up 15-40. She would miss her returns on both break points but had two more looks at 40-AD. She netted a backhand on the first but ripped a forehand winner on the second to secure the break to start the match.
At this event last year, Pliskova was ranked number one in the world but has slipped to number eight. She was looking a lot like a world number one as she crushed a backhand winner to go up 15-40 on the Pole's serve at 3-1 and added her second break by using her big hitting to draw an error.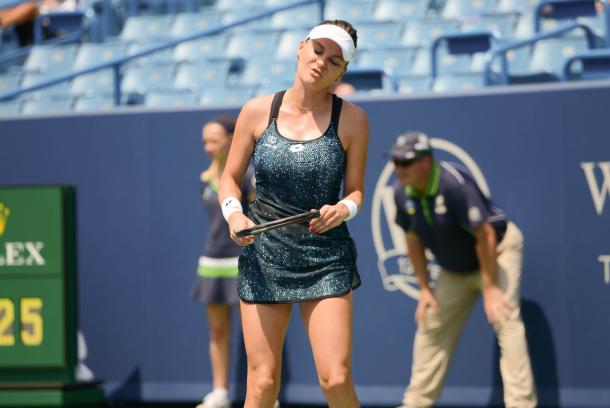 At 4-1, looking to consolidate the double break, Pliskova's level suddenly dropped. She would double fault to go down love-30 before Radwanska sliced a backhand winner up the line to make it love-40. After saving the first break point with a big serve, the Czech double-faulted on the second to surrender the break. Radwanska would consolidate to close to 4-3.
With Radwanska serving at 3-5, Pliskova threw everything at her to try and avoid having to serve out the set. She had her first break/set point at 30-40 but sent a backhand wide. Radwanska would come up big a couple of times in the game, saving three more set points, one with a serve that clipped the line and one by firing a backhand winner up the line at the end of an epic rally, but it was all for not. On the fifth set point of the game, the Pole couldn't handle Pliskova's power and stabbed a backhand wide to drop the opening set.
Pliskova survives early pressure
Radwanska had been coming on as the opening set progressed and had a chance to take the initiative early in the second when she took a 15-40 lead on Pliskova's serve in the opening game. The Czech was up to the test, saving the first break point with a winner and the second with her serve. She would save two more break points at 40-AD, including one with an ace, before holding.
Pliskova would repeat the escape in the fifth game when she once again went down 15-40 before saving the first break point with a forehand winner and the second when Radwanska netted a backhand. She then had a chance to seize the break when she went up love-40 on the Pole's serve but let herself down by missing her return on her first break point before sending consecutive forehands out to let Radwanska back to deuce. The Pole needed five deuces to hold.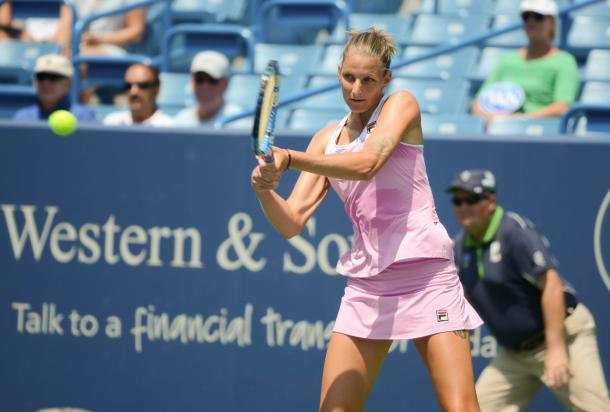 In her next return game, Pliskova again gave herself a good chance to break, firing a forehand winner down the line to go up 15-40. This time, Radwanska could not dig herself out of the hole, netting a forehand to go down 5-3. Pliskova would hold to love in the following game to wrap up the match.
By the numbers
Pliskova survived an extremely poor second serve performance, only winning 39 percent of her second serve points and double-faulting five times. However, she was solid on her first serve, winning 78 percent of those points. She was also efficient on break points, saving seven of the eight she faced.
Radwanska also struggled on second serve, only winning 45 percent. She managed to save 11 break points against her serve in the match, although she was still broken four times.
Pliskova will meet Aryna Sabalenka, who surprised Johanna Konta in the first round, in round two.