When the Western and Southern Open draw came out, Milos Raonic was likely dreading his second-round match. Instead, the Canadian took full advantage of Rafael Nadal's withdrawal to advance to the third round in Cincinnati by beating the world number one's replacement, Malek Jaziri, in straight sets to set up a blockbuster clash.
Jaziri got into the draw as a lucky loser when Nadal withdrew, meaning not only did he get to play in a Masters 1000 event, he got a bye. When he finally took the court, he was subjected to a full Raonic barrage. The Tunisian had no response for the Canadian's monstrous serve, getting aced more times than he won return points. Raonic, on the other hand, did just enough on return for a 6-3, 7-5 victory.
Raonic attacking early
Perhaps the toughest part of playing against Raonic is the mental pressure of knowing that you need to hold serve because you may never break. Jaziri got a full dose of that pressure early in the opening set, as he found himself at deuce in his opening service game. Fortunately for the Tunisian, Raonic misfired a pair of forehands wide to allow him to hold.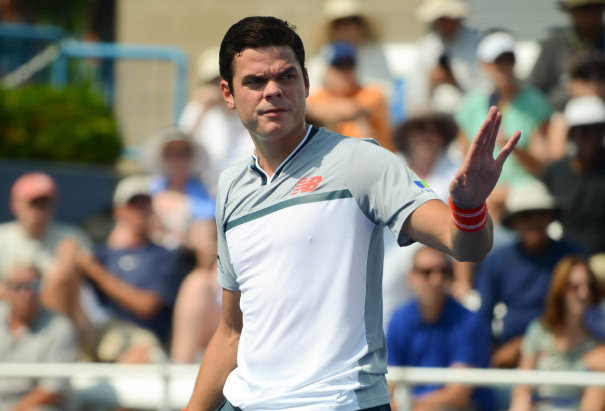 Two games later, the Canadian got a hold of a Jaziri serve at 30-all and ripped a forehand return winner up the line for his first break point of the match. He would miss a forehand up-the-line wide but got a second look and this time Jaziri sent a backhand long to surrender the break.
The Tunisian had no chance to get back in the set. Raonic cruised along on serve, holding to 15 in his next two service games to take a 5-2 lead. Jaziri would hold to make the Canadian serve out the set and had one of his better return games, getting to 30, but Raonic still managed to hold with four serves that were not returned, including two aces.
Late break sends Canadian through
Raonic's high serving level would drop a bit in the second set, giving Jaziri his first small chance to get back into the match. At 3-2, the Canadian threw in a couple of double faults to allow Jaziri a deuce opportunity. At deuce, Raonic again missed his first serve but the Tunisian overcooked his return to give the advantage to the Canadian. Raonic would erase any threat with an ace.
In the very next game, Jaziri had a critical double fault of his own to go down 30-40 but saved the break point with a forehand winner. He then had his best opening on the Raonic serve when he went up love-30, only for Raonic to hit back-to-back aces to level at 30-all, an unreturnable serve for game point, and closed with another ace.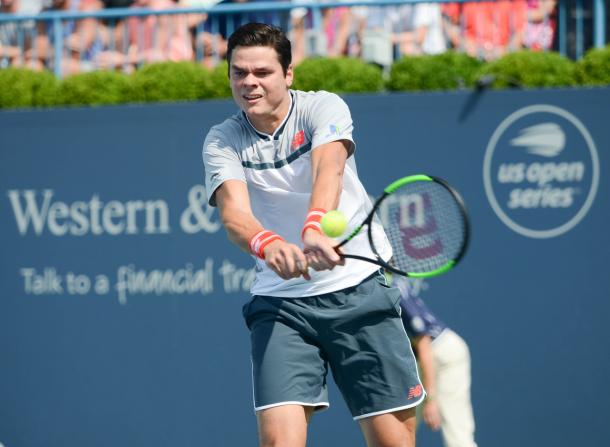 At 5-all, Raonic would get a hold of some returns, striking consecutive return winners to take a 30-40 lead on the Tunisian's serve. Jaziri proceeded to send a forehand wide to surrender the late break. Serving for the match, Raonic was clinical. He opened the game with a huge serve that Jaziri couldn't get back into play. That was the last time the Tunisian would touch the ball in the match as Raonic followed it up with three straight aces to seal the victory.
By the numbers
Raonic's serve has been dialed in through two matches in Cincinnati. In this match, despite only having 11 service games in total, the Canadian fired 20 aces, five full games worth. Aces accounted for 44 percent of his service points won and 29 percent of his total points won in the match. Raonic only lost one point on his first serve in the whole match, winning 97 percent of them (33 of 34) and has yet to face a break point in the tournament.
In the third round, Raonic will be looking to defend his recently-reacquired title of Canadian number one when he takes on 19-year-old countryman Denis Shapovalov with a spot in the quarterfinals on the line. Shapovalov ended Raonic's seven-year reign as the Canadian number one back in May, but Raonic retook the top spot after the teen lost early last week at the Rogers Cup.
Shapovalov will need to reach the semifinals if he is to reclaim the Canadian number one spot, as a win over Raonic would tie them in points, but the veteran owns the tiebreakers. Shapovalov won their only previous meeting in a very similar context, that win also coming in the round of 16 at a Masters 1000 event. The teen beat Raonic in straight sets in Madrid on clay back in May, a week before usurping him as the Canadian number one.