In the second meeting between Canada's two biggest singles stars, veteran Milos Raonic had his revenge on his 19-year-old countryman Denis Shapovalov, who had won their previous meeting back in Madrid on clay in May. This time around, on Raonic's preferred speedy hard courts at an event where the 27-year-old has reached two semifinals, the Canadian number one defended his spot with a straight-sets win.
Raonic, who had yet to face any opposition on serve so far at the Western and Southern Open, was able to mount more pressure on his opponent's serve in the opening set, where he still had to save a set point before taking it in a tiebreak. Both men would manage breaks in the second set before Raonic scored a second late break to wrap up the win 7-6(6), 6-4.
Shapovalov finally cracks at key moment
Initially, the pair had been scheduled to play at 11 am on Centre Court, but the ongoing rain throughout the day meant they were shunted off to court 10 and did not start their match until almost 3:30 pm. Once they did, Shapovalov started sluggishly with a double fault and a backhand into the net. After winning the next point for 15-30, the rain started again, forcing the players off the court for about 45 minutes.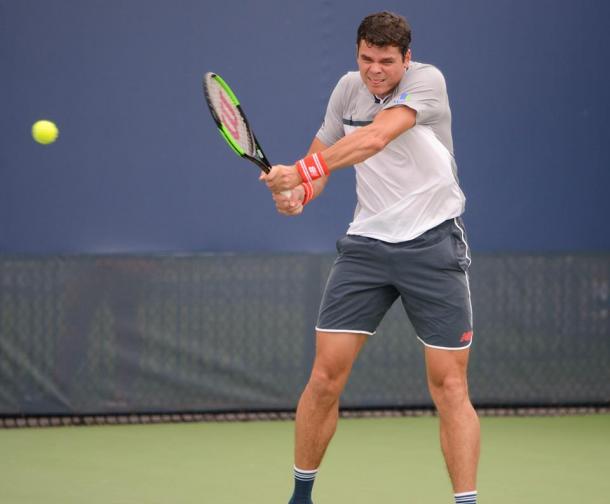 When they returned, Raonic had a chance for a break when he rifled a forehand winner to go up 30-40, but some strong attacking tennis from Shapovalov ended in a volley winner and the youngster held. In his next service game, Shapovalov double-faulted to go down 15-40, but he managed to save both break point.
At 3-all, the 19-year-old let a 40-15 lead slip away and sent a forehand into the net to go down 40-AD. He was let off the hook when Raonic narrowly missed his return wide. In the next game, Shapovalov got his first look on return when the veteran double-faulted to send a game to deuce, but Raonic would hold.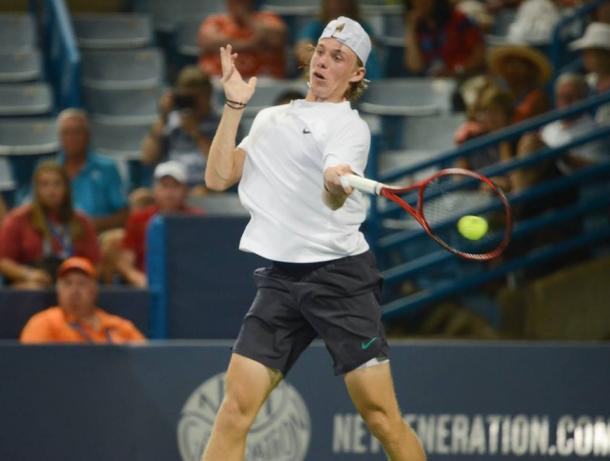 The set needed a tiebreak which, like the set itself, mostly went with serve. In fact, the first ten points were won by the server until Raonic missed an easy backhand volley on his own serve to go down 6-5. With set point on his racquet, Shapovalov would rush a forehand that he sent just out. He then netted a forehand to give Raonic a set point, which the veteran used his giant serve to convert.
Raonic stays calm for victory
Perhaps with the weight of the missed set point at 6-5 in the breaker weighing on his mind, Shapovalov started the second set slowly. He found himself under pressure again in his first service game and went down 15-40 when he couldn't handle a passing shot into his feet. After Raonic netted his return on the first break point, he fired another passing shot into his younger compatriot's feet that again Shapovalov could not handle to grab the break.
Raonic had not yet faced a break point on his serve in the tournament, so his victory seemed all but assured now that he had the break. However, at 4-2, he played his worst service game of the week, double-faulting three times, including at love-40, to gift Shapovalov the break back. The youngster would hold to level at 4-all.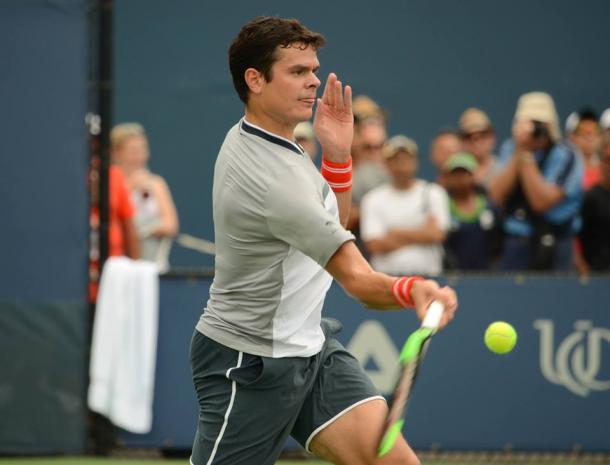 Serving to stay in the match at 4-5, Shapovalov ran into trouble. He sent back-to-back forehands long to start the game and go down love-30. He would rally, and the game went to deuce. There, Raonic's return clipped the baseline allowing him to get the upper hand in the rally, going on to draw an error with a massive forehand to set up match point. There, the 6'5 Canadian chased down a drop shot and chipped a backhand past Shapovalov down the line for a winner.
By the numbers
Both men are known to possess big serves, although big serves come with a higher risk of misfiring. That was the case in this match as both had eight double faults. For Raonic, that was not too devasting as he countered them out with a dozen aces, but it was a disaster for Shapovalov who only had two.
Raonic won 86 percent of his first serve points which was huge considering he put 67 percent of his first serves in play. Shapovalov won a solid 75 percent, although he missed more first serves and only won 41 percent of his second serve points. The younger Canadian managed to save five of the seven break points he faced, but that wasn't enough as he only had one break point on the Raonic serve, although he did convert it.
Raonic will meet the winner between defending champion Grigor Dimitrov and Wimbledon champion Novak Djokovic in the quarterfinals.