Novak Djokovic isn't done yet. The former world number one has not been his best this week at the Western and Southern Open, but despite trailing one of the tour's best servers multiple times, Djokovic found a way to scrap into the semifinals. The Serb came back from a break down in the final set to knock off Milos Raonic in a wild three-set quarterfinal just hours after wrapping up his third-round comeback win over defending champion Grigor Dimitrov.
Djokovic had lost the opening set of his last two matches and nearly did again against Raonic, who served for the opening set at 5-4. But the 10th seed would break and take the opener, only to drop the second and trail by a break in the third. But Djokovic never stopped fighting, battling back for a 7-5, 4-6, 6-3 victory.
Djokovic fights back
The match started with a bang. After Djokovic held to open proceedings, Raonic, one of the tour's best servers, needed 15 minutes to hold his opening service game. First, he had to battle back from 15-40 down, saving the break points with a winner and a 131 MPH serve, and faced three more break points at 40-AD. He saved them all, two with monstrous servers. Despite numerous double faults, including a few on game point, the Canadian found a way to hold.
The next time he stepped up to serve, Raonic held to love. He then started to work his way into some Djokovic service games and at 3-all, he was rewarded for some patient baseline play when the Serb drove a forehand into the net for 15-40. Raonic would fail to convert, miss-hitting a forehand on the first before Djokovic saved the second with a volley.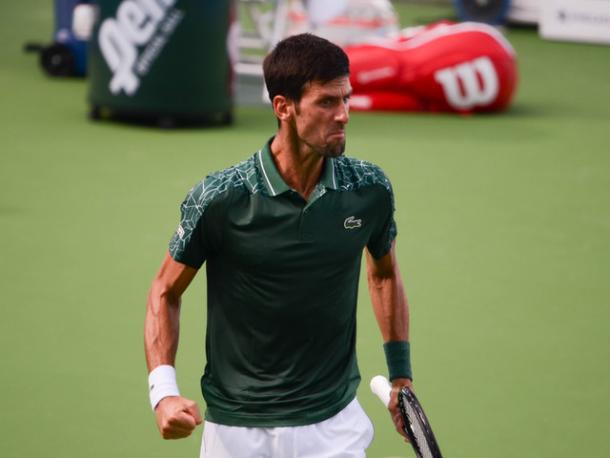 The 10th seed saved a third break point with a forehand winner but after firing a forehand into the net to go down 40-AD, Raonic crushed a massive inside-out forehand return to seize the break, leading to Djokovic smash his racquet.
Raonic would consolidate the break by crushing four unreturned serves for a hold to love. However, serving for the set at 5-4, he netted a routine midcourt forehand to go down 15-40 and then double-faulted on the second break point to level the set at 5-5. He nearly took it right back when he went ahead love-30 in the next game, but Djokovic found a way to hold.
Now serving to stay alive at 5-6, the Canadian's slide continued. He kept trying to attack the net but was struggling, missing a forehand volley to down 15-40. After saving the first set point when Djokovic netted a backhand, Raonic double-faulted the set away.
Raonic hangs on
The Canadian seemed undiscouraged after blowing the lead in the opening set and had the first opportunity in the second. At 1-all, he fired a forehand up the line to take a 15-40 lead on the Serbian's serve. After sending a forehand long on the first break point, Raonic showed some great patience in a long rally, eventually putting away a forehand winner to grab the early break. He consolidated to love.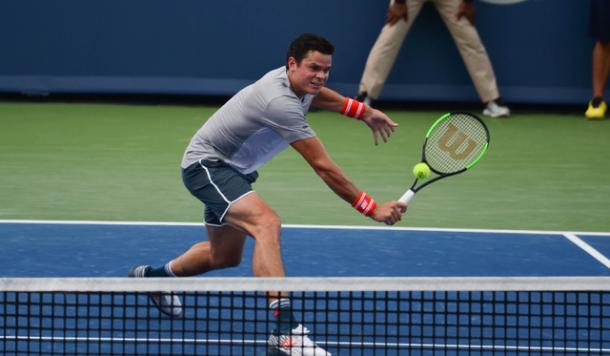 Raonic would maintain the lead mostly unchallenged until he served for the set at 5-4. He raced ahead 40-15 but missed his second shot on both set points. He set up a third with an ace, only to butcher a forehand to send the game back to deuce. Djokovic sent a return long to give the Canadian a fourth chance and this time he drew an error with a huge forehand to send the match to a decider.
Another comeback sends Djokovic through
Having completed a match earlier in the day, Djokovic appeared to be running out of gas when he had to dig himself out of a love-30 hole to start the final set. He went down love-30 again in his second service game and, despite tying it up at 30-all, sliced a backhand long to give Raonic a break point. The Canadian fired a forehand wide, but got a second chance when Djokovic blocked a shot wide for 40-AD. There, Raonic channeled his inner Rafael Nadal, crushing an on-the-run forehand passing shot up the line for a winner to seize the break.
Considering how well he had defended his serve in the second set and what appeared to be some sluggishness from Djokovic, it seemed as though Raonic was in the clear. But in the very next game, he got into trouble with errors on key points. Four times in the game he committed errors to give Djokovic a break point. He saved the first three but the Serb returned the favour on fourth, smoking a big passing shot of his own which Raonic framed to level the set at 2-all.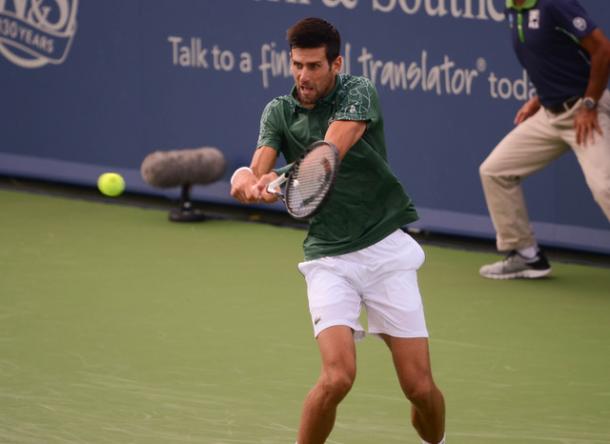 At 4-3, 30-15, Raonic stopped a point to challenge a Djokovic shot that hawkeye confirmed had dropped in. That would shift the momentum to the Serbian, who got a break point when Raonic sent a forehand wide at deuce. The Canadian would then net a forehand to put Djokovic within a game of victory.
Serving for the set, Djokovic went down love-30 by missing consecutive backhands. But Raonic would let him off the hook by returning the favour, sending back-to-back backhands into the net. A third in a row gave Djokovic a match point where the Serbian smacked a forehand passing shot winner to book his spot in the semifinals after two and a half hours.
By the numbers
Despite 21 aces, it was a disappointing serving performance from Raonic. The Canadian double-faulted nine times, only put 59 percent of his first serves in play and struggled when he missed, only winning 40 percent of his second serve points. On the other hand, it was a fairly strong rally match from the Canadian, who had 47 winners to 34 unforced errors, a strong ratio by the Canadian's standards.
Djokovic was solid, finding himself in the 60s in terms of percent of first serves in, won, and second serve points won. Djokovic had nearly twice as many break point opportunities as his opponent, 14 to 8, and was as such rewarded with four breaks of serve while only allowing three against his own serve.
Djokovic will meet Marin Cilic in the semifinals.