Roger Federer is through to his eighth Western and Southern Open final after David Goffin retired from their semifinal clash with an injury. Federer edged a tight opening set in a tiebreak, but after getting some work done during the changeover, Goffin only lasted two-and-a-half games in the second set before pulling out with a shoulder injury.
Federer edges early battle
There was nothing between the two men or serve for almost the entire first set. Through the first eleven games, only three did the returner lead in a service game, that being Goffin at 0-0: 15-30, 1-1: love-15, and 4-4: love-15. However, Federer was the only one who managed to push a game to deuce, that coming at 5-4 as Goffin served to stay in the set. The Belgian held without facing a break point.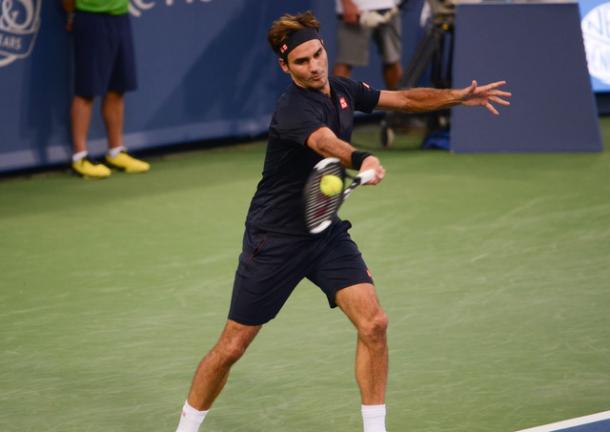 As Goffin served to stay in the set at 5-6, he ran into trouble. He went down 30-40, the first break point of the set, but managed to save it. Federer had two more break/set points at 40-AD but was unable to convert either.
It appeared that saving those set points would give Goffin momentum as he took a minibreak lead on the very first point of the tiebreak. But Federer struck right back, winning the next two points on Goffin's serve to take a minibreak lead of his own. He backed it up by winning his next two service points to stretch the lead to 4-1. The breaker would go with serve until Federer put himself up 6-3, at which point he converted his fourth set point on his opponent's serve to take the opening set.
Goffin can't continue
During the changeover, Goffin had the trainer out working on his right shoulder. After the match, the Belgian explained that he had begun feeling pain in his playing arm earlier in the week but it had gotten considerably worse after his quarterfinal win over Juan Martin del Potro.
Federer came out to start the second set swinging, charging into the net and putting away a volley winner to go up 30-40. He still was unable to convert the break point as a deep forehand from Goffin drew a stabbing backhand long and the Belgian was able to hold.
Goffin had his best return game to start the second set thanks to some sloppy play from Federer. The Belgian reached deuce for the first time in that game, but Federer asserted his dominance, striking back-to-back forehand winners to hold serve.
Goffin would start out his next service game, but after faulting his first serve at 40-30, his shoulder had had enough. The Belgian walked to the net for a handshake, send Federer into the final.
Federer will meet Novak Djokovic in the final. They have reached a combined 12 finals in Cincinnati but with very different records. Federer is 7-0, while Djokovic is 0-5. Federer has beaten Djokovic three times in the final here, each time in straight sets.