Two-time Grand Slam champion Garbiñe Muguruza was not on many people's minds when they thought of favorites to win the US Open and rightly so due to the Spaniard's poor form headed into Flushing.
She was drawn with Zhang Shuai, who offers anything but a straightforward match but came through quite handily winning 6-3, 6-0.
Spaniard Takes Testing Opening Set
Zhang found herself facing 0-30 to start the match after Muguruza forced a couple of errors from her. She worked her way back for a game point, but the Spaniard went on to take a game with a drop volley winner.
The Chinese broke back immediately after a cross-court forehand winner. The first four service games of the match were quite difficult for both players to navigate as they all went to deuce, but the two managed to hold for two-all.
The 29-year-old Chinese player had the first comfortable hold of the match, holding at love for 3-2. However, that comfort would not come through in the seventh game as a couple unforced errors did her in.
Muguruza was made to battle for the set as Zhang came back from 0-40 down to get it back to deuce after a few winners. It was fifth time lucky for Muguruza as Zhang knocked a forehand long off the Spaniard's return.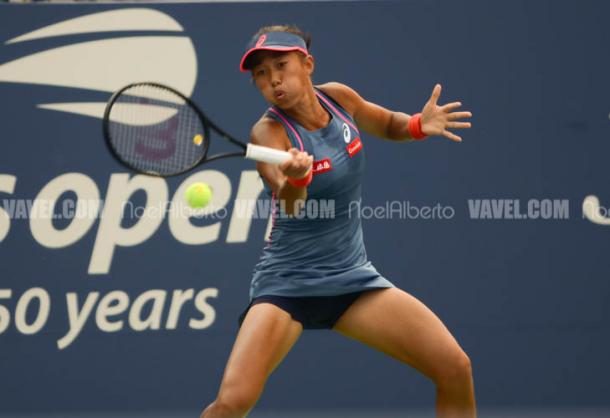 Muguruza Runs Away To Take Match
The error-filled game from the Chinese began to take over as that cost her an early break in the second set. She had a chance to recover the break but frustratingly missed a backhand into the net. Muguruza held for 3-0 with an ace and broke again, coming from 40-15 down on her opponent's serve.
It was pure dominance from Muguruza, winning eight of the last nine points to give her what turned out to be a straightforward victory. While it looked easy from the scoreline, the Spaniard indicated it was anything but in her press conference, "Yeah, I think it was a very intense match. I think the result, especially in the second set, doesn't match how tough it was for both of us. I think she's just such an intense player, you know, very flat and with a lot of rhythm.

So, you know, I think we were both aggressive. I'm happy that I played the match, of course, that I win. But I didn't play a lot of matches this summer, so I'm happy and, you know, not taking nothing for granted. So it's a step forward."